Who are you?
I'm not referring to the genetic makeup that defines you or the roots of a land that intertwine you
What am I?
Not interested in the skin that has caused divisions or religions claimed to create a clash of civilisations
What constitutes us?
Spare me your name, his ancestral claim, our history, their ethnicity and the cultural diversity, which may shackle or bless our global communities
Set me free
From these physical boundaries
These intangible weights
Encumbering human societies
Stop the spinning
Can I, for a moment, invert my eyes inwards to behold the magnificence of the human soul? Can I retrace my steps to that place before my face was engraved in the depths of my mother's womb? Before my name graced protected pages and life wrapped me in its cocoon?
Could I have been veiled by the drapes of heaven, sunbathing in honeyed lagoons? Or serenading palm trees, sheathed with golden lanterns, to a Ramadan moon?
I wonder
I was in my pure form; a spirit, unblemished; before flesh and sin were born; before selfishness gave way to Satan to adorn my veins and steal my virgin core; before war kissed my cheek and laid me on poverty's shore;
And he chose to bring me down - clay like - for a purpose and said he was closer than our jugular cord.
I am a piece of the earth and a piece of him
Adam and Eve birthed me
Mortal genes formed me but a part of Almighty has been imparted in me
My soul is my immortal bridge to where I once lived in eternal bliss
I can't wait for my carnal dress to shrivel and liberate my true, real self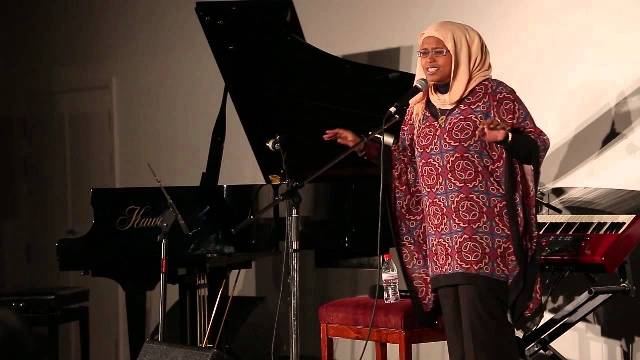 Source: Rooftop Rhythms Dubai on Youtube
Andariya: What attracts you to poetry writing and spoken word performances?
Hiba Rasheed: Writing has always been my outlet, companion and haven of introspection and self-evaluation since I was a child. I also come from a family of poets and writers. However, I didn't realize that I wrote poetry until my uncle, the late and established poet Salah Ahmed Ibrahim passed away. I was eleven years old at the time and his loss was my first encounter with the death of a loved one. I was overwrought with grief and consequently poured my emotions into words, which then became a poem. My deceased father asked me to read the poem at my uncle's funeral in front of 50 men. Although it was a frightening experience, I am grateful for my father for his confidence in me and subsequently, paving the way for me to embrace future on-stage poetry performances.
I am passionate about poetry as it is challenging to articulate a subject or experience or emotion with few words or lines as opposed to prose- which gives you an unlimited scope of words. There is also something musical about poems. I also enjoy writing my poems to hip hop beats and infusing them with rhyme and word-play.
Andariya: What topics strike you as important to bring forth in your verses?
Hiba Rasheed: Spirituality, introspection and injustice in all its aspects.
Andariya: Where have you performed your poetry in the past?
Hiba Rasheed: I have performed regularly and at special events. Luckily, there are many open mic events in the UAE. I have performed a few times at Punch in Dubai and Rooftop Rhythms in Dubai. Special events included '100 Thousand Poets for Change' poetry event at Maraya Art Center in Sharjah, Carolina Herrera 212 VIP perfume launch event at Mojo Gallery in Dubai, Adidas/Def Jam Poetry event at Burjuman Mall in Dubai, the launch party of the Shelter in Dubai, the international quarterly Pecha Kucha event at the American University of Dubai in Dubai and a radio performance on the former "Salam" show on Dubai Eye 103.8 FM. I also participated in Rooftop Rhythm's poetry slam 2018 competition and came in second place.
I have also collaborated with local rappers and producers on a few tracks that can be found on my Soundcloud page.
Andariya: Who are your favorite spoken word artists?
Hiba Rasheed: I have many favorite poets and spoken word artists. My favorite Sudanese poets are Najla Salih (Nubian Queen) and Enas Suleiman. They are great friends of mine and talented poets/spoken word artists.
On the international level, there are a bunch of UAE-based poets that I love such as Dorian P Rogers (Founder of Rooftop Rhythms) and Zeina Hashem-Beck (The Poeticians). I also love Ursula Rucker and the artists from Russell Simmons' Def Jam Poetry show.
Andariya: What would you advise poetry enthusiasts?
Hiba Rasheed: Writing is first and foremost for you. How will you know what you are capable of if you don't take that first step? No one is born a good writer. Writing is an evolution and process. There is a plethora of techniques which aid in improving your writing skills. Reading and enriching your vocabulary is significant. You could be a self-taught writer or study writing as a science in an undergraduate program. Always keep an open mind for constructive criticism as there is always room for improvement. Once your passion is unlocked and fuelled, the writing beast will be unleashed and it will be a bond for life.
Follow Heba's work on Twitter, Instagram, Facebook, Youtube & Linkedin and don't miss her powerful poetry performance #IamTheSudaneseRevolution (has Arabic subtitles).