Jubahub ( jHUB) is South Sudan's open knowledge and innovation hub; a community based initiative established by like-minded youth based on identified gaps and potential solutions to community needs. JHub was established in 2015 with funds from BMZ (the German Federal Ministry of Economic Development) and support from Icebauhaus and R0g Agency for Open Culture . JHub aspires to provide a platform for youth and diverse community members to dream, press and excel beyond their limitations.
As a platform, the main focus of jHUB is community empowerment, advocating for open knowledge, promoting peace and harmony in the community, innovation and creativity. The jHUB also offers co-working space that avails crucial resources such as internet, work desks and labs to nurture creativity and strengthen its core value of entrepreneurship . JHUB also embarked on researches on community relevant areas like food security and social entrepreneurship. JHUB's long term goal is to foster highly empowered youth who take on developmental ventures, driving a peaceful community and living in harmony. All the goals are geared towards peaceful co-existence and collaboration. JHUB centers around the idea that people should learn to appreciate one another by what they do best irrespective of their tribe, region or color. Innovation, entrepreneurship and creativity can be the languages that rule all the 70+ languages and dialects spoken in South Sudan.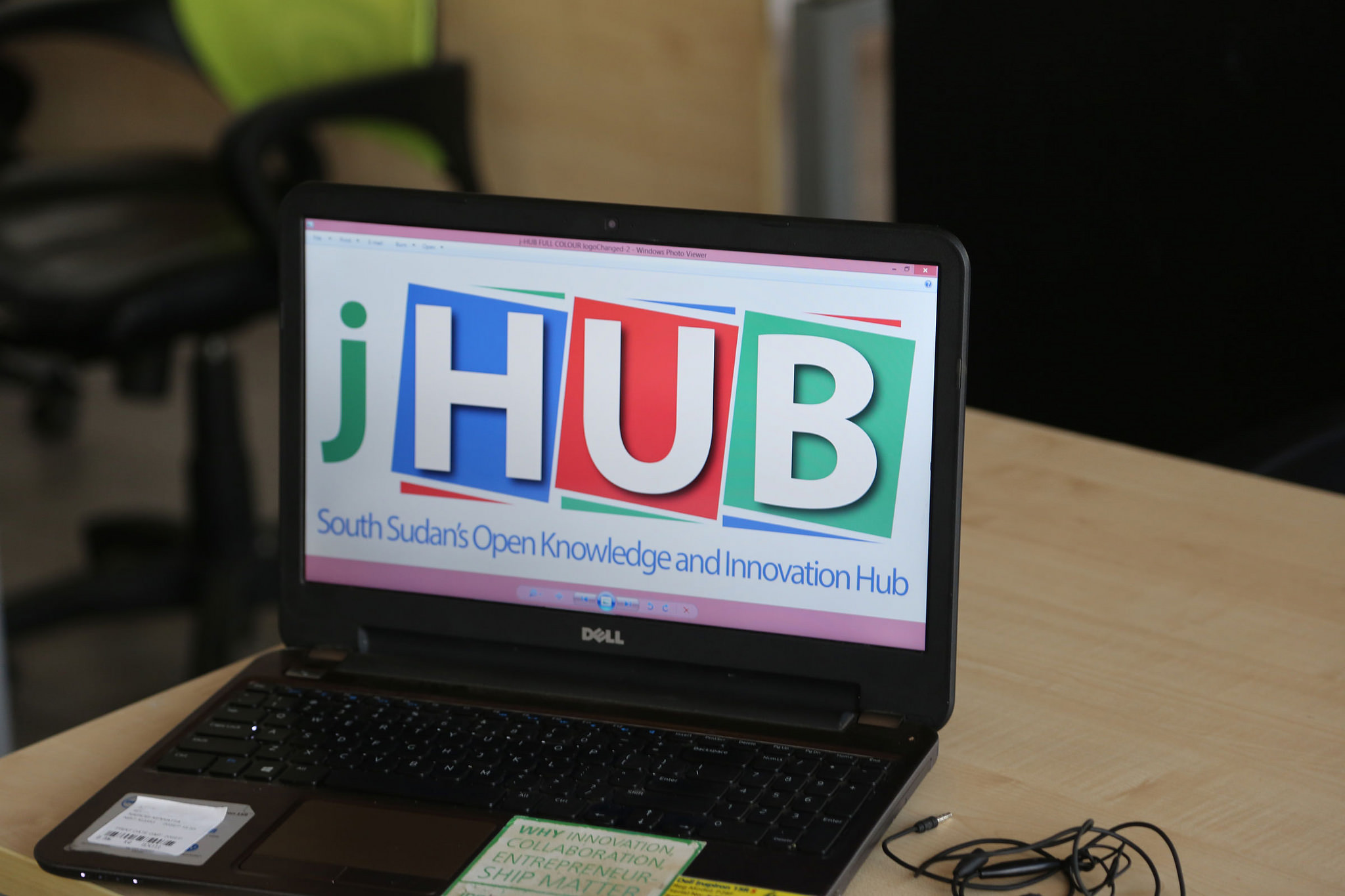 jHUB has been undertaking activities such as training in open knowledge and hardware skills, entrepreneurial management, media production and dissemination channels and reaching out to networks (with a newly set up sound and video lab). Some of the youth who were trained or used the open learning and co-working space are now employed in radio stations, utilizing the key soft and hard media skills they learned at jHUB. Others decided to train peers around South Sudan while some launched their own enterprises leveraging the knowledge and network amassed at jHUB. The services offered by jHUB have been used by diverse segments of the community, including Juba residents and displaced communities from around South Sudan. People come to jHUB to work, get trained or mentored, in order to gain skills they can use in their livelihoods and professional advancement.
In the next few years, jHUB looks towards an empowered South Sudan youth community and a greater impact of transformed, self reliant minds who focus on productivity and innovative ways of developing South Sudan. Reaching these goals will shine the light of hope and peace in the nation that seems to linger in the murkiness of conflict and post-conflict eras.