Ever stood in front of the closet not knowing what to wear for university, work, or whatever the outing was? I mean you wouldn't be normal if that wasn't the case! Mind you, I also have the same trouble every outing, but I'm here to share a few tips with you to ease the struggles; keeping in mind that Sudan's two biggest problems are:
the heat
Modesty is a must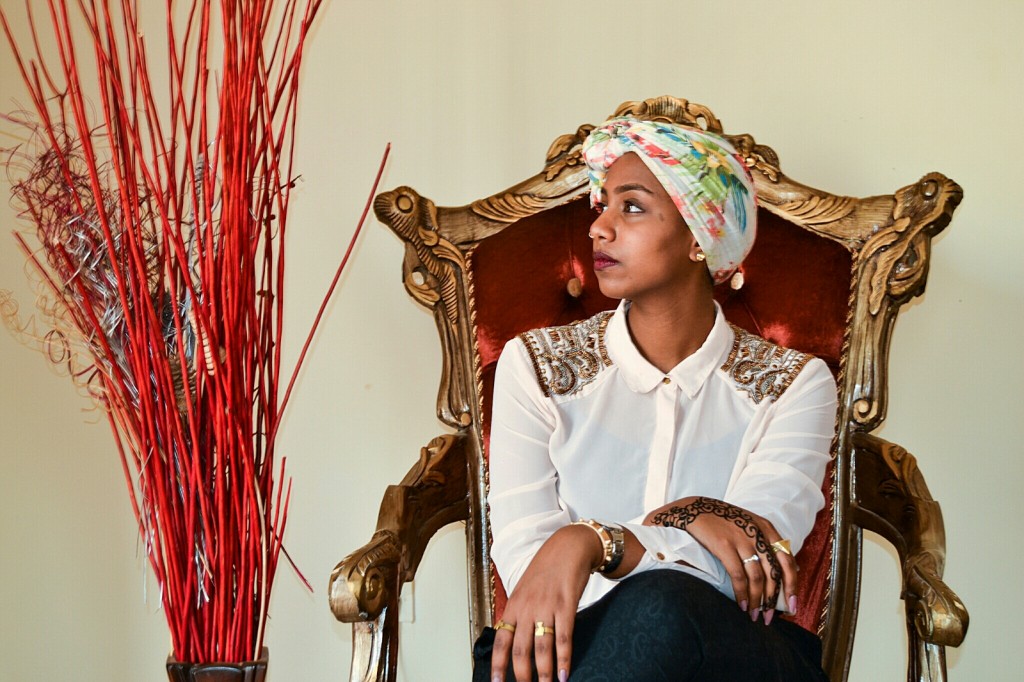 As we all know the heat in Sudan is unbearable making everyone want to lose their minds and walk around with hot shorts and a crop tops, but let's not forget the Haram Police and Buxi al Tara! For me, the number one solution to this dilemma is chiffon tops. Having them in every shade of color is handy, just like our mothers' Carina tops which they own in every single color (and don't get me started with Carinas; the worst and ugliest invention, sorry not sorry Ms. Carina).
Back to my praise of chiffon tops, they can be dressed up or down depending on the occasion and are both modest and heat friendly. They can be found in boutiques and markets in Sudan and if you're shopping outside then get them at a bargain from stores such as H&M, Stradivarius, Pull and Bear, Bershka, Zara, Primark, and the list goes on.
One of my favorite styles is pairing a chiffon shirt with high-waist pants, and of course my turban! This look is extremely comfortable and classy for work. For those that avoid wearing tight trousers, loose high-waist trousers or maxi still skirts are a good alternative. When it comes to scarves, play around with the colors you wear; pick colored scarves that brighten and spice up your outfit, especially if it's a plain palette. When picking accessories I always head straight to statement necklaces as I don't usually wear any arm candy; they definitely shake up the outfit.
Remember my hype over chiffon tops? Well it's not over yet, I have a few other ideas for you ladies; hijabis and non-hijabis. You know that half sleeved top you adore but can't wear to work because you're afraid to be judged and given the "ttttttsss di labsa shino, bala'3at" look. Well, now you can wear it with a chiffon top under, your collar on top and a fabulous statement necklace and voila! It gives you such a preppy look with a still skirt that's still appropriate for work, or even for that Ozone outing with your jeans. Here are two ways I dressed two different tops with a shirt underneath. Simple, causal, and preppy! If you want to try this for work, one piece of advice is stick with a still skirt and not a flowy one. Flowy skirts will give you a formless silhouette with this style of shirts- and to be honest it'll just look tacky. When it comes to pants as I said you can pair it up with denim, chinos, or even tailored trousers, which will definitely give you a smarter look.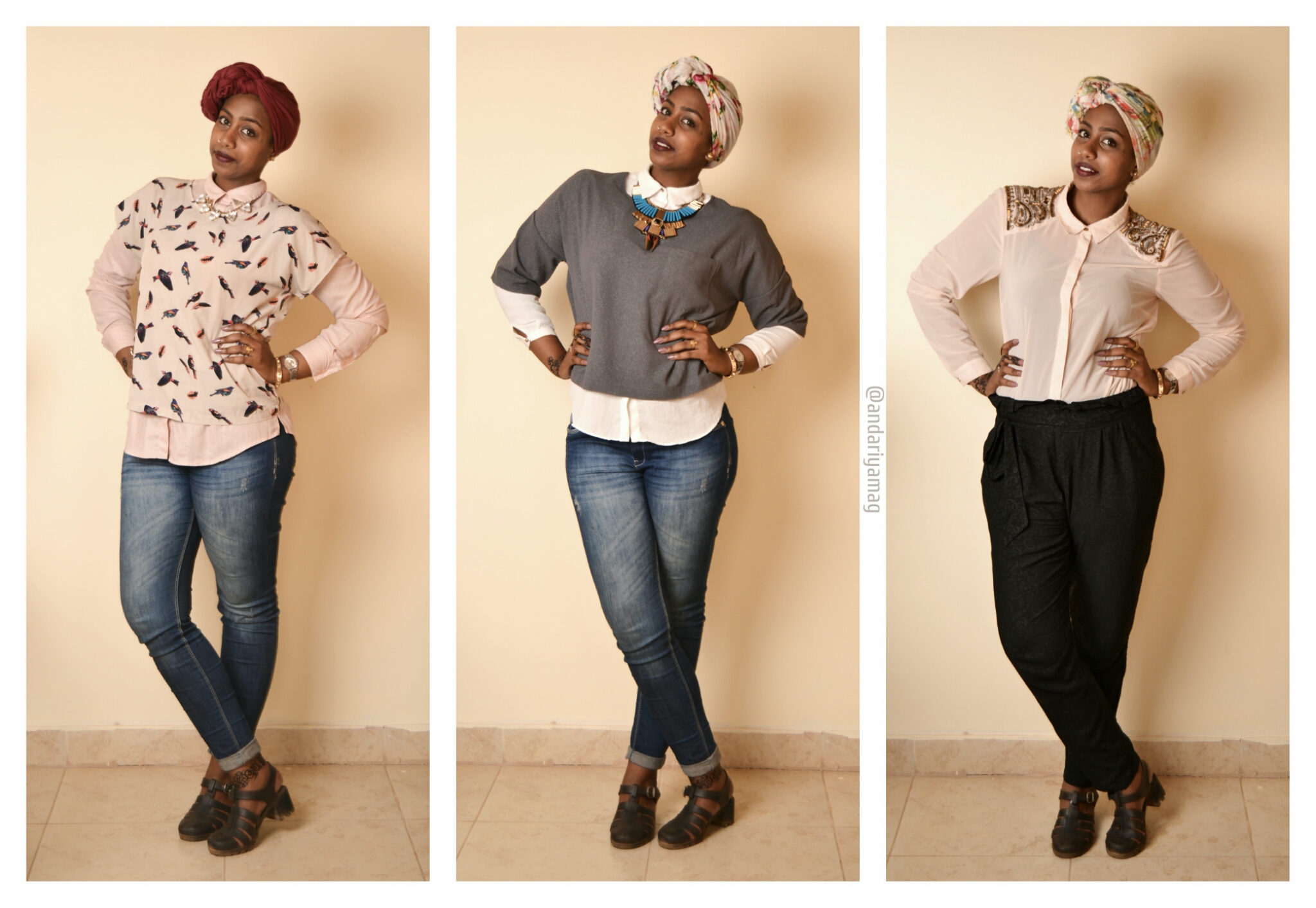 I now want to tell you about this piece I bought that I'm obsessing over. It's a trench coat but not really. I know one word you ladies will say…. HEAT. But no, it actually looks like a coat but isn't as heavy as one; it's lighter than a cardigan. You can pair it up with any outfit for work and it'll look classy, or even for an evening outing with your girlfriends and it'll look trèc chic! I got it from Zara and I must admit it was a bit pricey (gata3 dam galby). Yet, I firmly believe it was worth it and a keeper that can be used to dress up any plain outfit and make it look absolutely fabulous.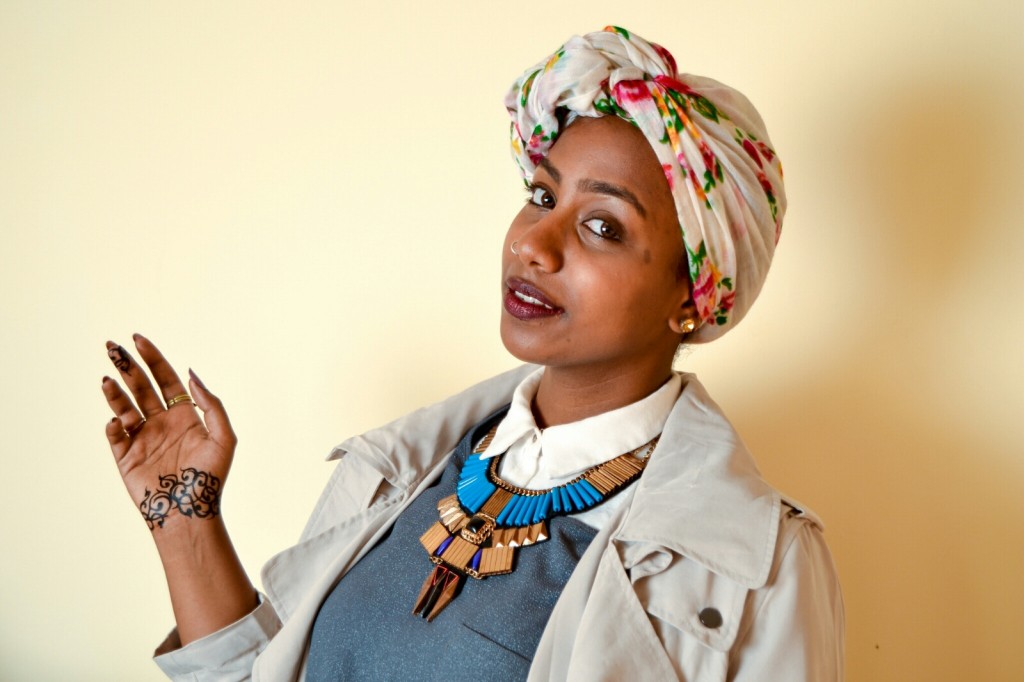 The last outfit I'm sharing with can be worn for a night outing. I paired a chiffon top (as usual, I guess you can figure out the theme is chiffon tops) that has some sequins and beads details on the shoulders, along with black loose high-waist trousers. The trousers have a faint print on them. Never be afraid to mix prints – that's what I always say. You can always tuck in shirts with high-waist trousers, but make sure they're loose so they're Sudan friendly. They will definitely transform the outfit from a casual one to a smarter dressy one.