As of 10th March 2020, the world's population is at over 7,781,240,130. Only over 3,856,321,700 (49.6%) are female while 50.4% are men. The Global sex ratio is 1.018, which means that we have slightly more men than women. World population is expected to reach 8 billion people in 2023, as it currently grows by 90 million per year. Uganda's population is projected to grow up to 41.6 million people by mid-2020. Of this, females constitute a majority 51% compared to males who stand at 49%. By mid-2020, the projected female population in Uganda is going to be 21.1 million. According to data from the Uganda Bureau of Statistics, Uganda has a total of 7.3 million households, 75% of which are in rural areas with at least 4.7 persons. About 30% of these households are headed by women. Women also currently have a longer life expectancy, currently at 64.5 years and up from 52.0 years in 2002. About 60% of the women aged 60 years and above in Uganda are widows. This means the entire family burden falls on them as heads and in most cases, bread winners. Also, the maternal mortality rate for women aged 15-49 is 368 deaths per 100,000 live births compared to 438 deaths per 1000 live births in 2011. Nearly all statistics indicate a great improvement in the overall life of a woman, but is this the case?
From as long as 1975, the world has been celebrating the International Women's Day. But does this day still carry the same meaning and importance as for what it was created? Commemoration of International Women's Day was adopted by the United Nations as a focal point in the movement of women's rights. It is commemorated annually on the 8th of March. This year's commemoration was under an international theme titled "I am Generation Equality; Realizing Women's Rights." In Uganda, the day was celebrated under a different theme; "Celebrating 25 years of the 1995 Constitution; Milestones on Promoting Gender Equality and Women's Empowerment in Uganda."
It is upon this theme that I based a small survey around Mbale town, where the national celebrations were held, with President Yoweri Museveni as chief guest. The ceremony was also graced by several dignitaries and representatives of all UN partners including UNICEF, UNDP, UNWOMEN among others. The UN Resident Coordinator Rosa Malango headed the delegation.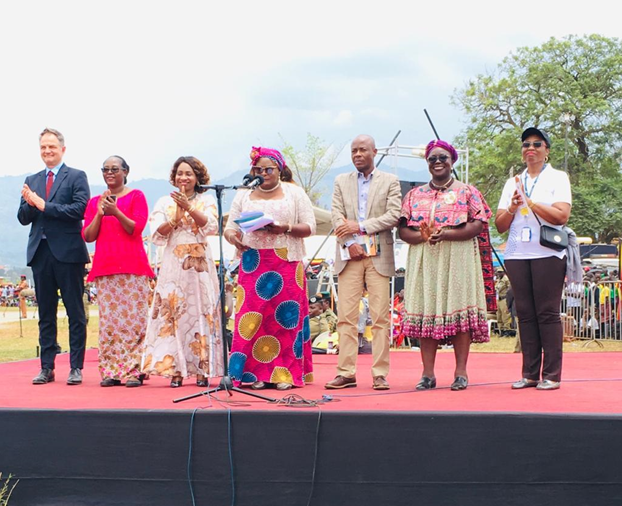 The UN Delegation led by Rosa Malango at Mbale on Women's Day 2020
On Sunday 8th March 2020, a number of women, especially those working in the market and operating small businesses like shops woke up to open for business as usual, despite the event being less than a kilometer away from their area. I asked, why are you not at an event celebrating you and advocating for your rights? Annet (not her real name) who sells Irish potatoes in the central market jumped in even before I could finish my question, telling me that such events are for rich women who have driven in from Kampala. "Why would I waste my time going for the event when my children need school fees? My business feeds the family, pays school and medical fees. So, forgive me madam if I leave such for women like you that can afford to move from Kampala" Annet said. She added that as village women, they thought those in Kampala would be busier than to show up for such an event, but no, they still show up 'just to be recognized by the president' she asserted. Come to think of it she added, "why would someone like me be going for such an event, it's not like my participation will add anything; no one will even notice my presence. That's not a place for someone like me".
Not far from her stand was her neighbor Maria (also not her real name) with a vegetable stand. Maria believed all they need is for their leaders to do surveys and inquire about challenges they face with their families and businesses and not just throw a ceremony and think everything is okay. She painfully said "I would love to see some of these leaders come here at least twice a month to ask about things that really matter. I want to tell them that our currency is too weak and this is affecting my business. I want them to know that the house I have built with my husband is only called my husband's house and I have no share, yet I contributed even more. When my child is getting married, I want to have a say, and I need my leaders to make all these happen, but how? They barely recognize my existence".
Image by Daily Monitor
Aren't these the issues the United Nations began this beautiful day to address? What do you understand the International Women's Day to be? Well some say it is like Mothers' Day, others say that it is a day to celebrate contributions of women to society. However, according to Annet and Maria, only a few selected women are celebrated and for these two, it is like the world doesn't recognize their contribution. Off I went to the venue Malukhu grounds for the long-awaited event. This started off with songs, poems and dances from school children all praising the President and the NRM government. Later, several women's groups also entertained guests one at a time. It was such a well-organized event. Like Annet and Maria had explained, the biggest number of women at the event had come from outside Mbale.
Very few residents were at the venue. It was a political event. All women marching, apart from those in uniform (Police, UPDF & Uganda Prisons), were clad in yellow, and carried banners praising and indicating support for the president. One by one, groups marched with "Mzeyi tulinawe" (Mzee we are with you), Mzeyi tukwagala 2021 (Mzee we still want you in 2021), other banners had their area members of Parliament to campaign for the next general election. Women ululated at every mention of the President. He was supposed to celebrate them, not the other way round. But is this all that women are needed for? I will admit, the most beautiful time at the Women's Day celebration was a parade by women in Uniform. They marched alone without their male counterparts and it was an amazing sight.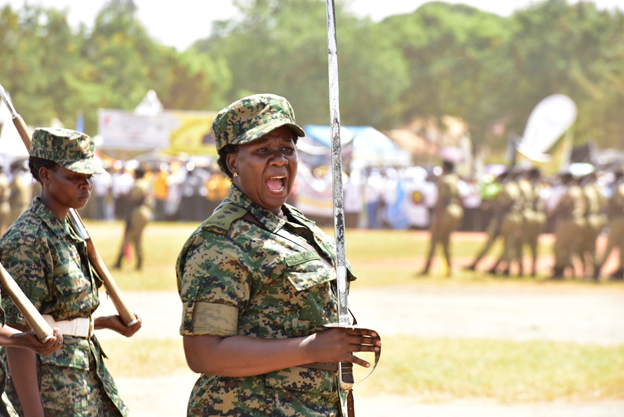 One of the parade commanders at the event
Speaker after speaker, they condemned gender-based violence. I remember vividly Rosa Malango's speech as she stated that beating women is something of the ancient time. "No woman should die because of her gender. Violence against women is the most ancient human rights violation. We must work together, to end this" she noted. She added that the world cannot reach sustainable development goals without eliminating violence against women and girls. She shared some of the statistics indicating that 3 in 10 girls have their first child before 18 in Uganda, 5 in 10 Ugandan females are married off before 18, 5 in 10 Ugandan women believe a man is justified to beat his wife for specific reasons and that a woman discovered to be HIV-positive may face physical violence, stigmatization, social rejection, and property violations.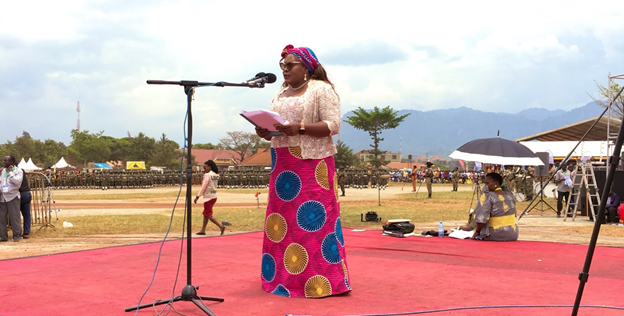 Rosa Malango delivers her speech at Mbale on Women's Day
The European Union Ambassador to Uganda HE Attilio Pacifici asked for men, women, religious leaders, traditional leaders, CSOs among other groups to work together to end violence against women and girls. According to UNWOMEN, 1 in 10 Ugandan women aged 15-49 experienced gender-based violence during pregnancy. HE Pacifici noted that the solution to end violence against women lies with everyone, the leaders, police, and schools among others. "This is not a problem about girls, but also about boys and men, we need to get them on board. Working with leaders, teachers, if we want to obtain changes" he said. The Ambassador also presented the Spotlight Initiative, which is a global multi-year partnership between the European Union and United Nations to eliminate all forms of violence against women. The programme was launched by President Museveni on the same day.
In his speech, President Yoweri Museveni said that women are the base of society and that old societies decided to marginalize and suppress them. The president added that this has since changed with the recruitment of women in the armed forces since 1986 by the NRA. "I salute all the women here and countrywide on this day when we celebrate the dignity and power of women. In my view, the major enabler to women empowerment is through economic emancipation" he noted. Mr. Museveni said that in order to eliminate the girl child economic dependency, government will increase funding to the women and youth through OWEC (operation wealth creation), and that in terms of sensitization, the men should be told that beating a woman is cowardly. He revealed that for the many decades he and the first lady Janet Kataha have been married, he never raised a hand at her.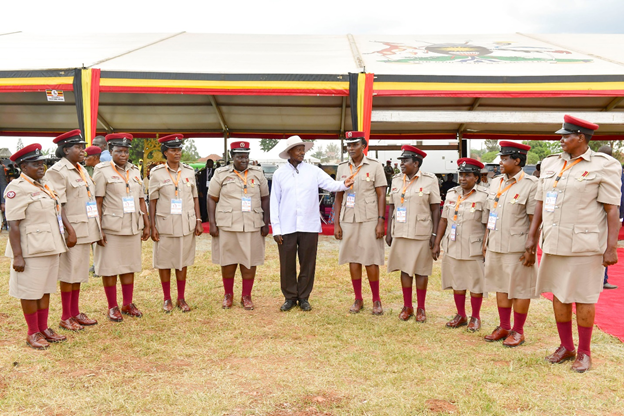 President Museveni poses with a group of women in uniform
In Uganda, women lose jobs daily for getting pregnant, giving birth or even having severe cramps. While many complain, no organization has taken lead on ensuring this form of discrimination ends. Many workshops and conferences have been held across the globe to talk about gender-based violence and discrimination, but the action is yet to be felt. With the launch of the Spotlight initiative, many women hope to be helped, except women like Annet and Maria, who still believe nobody cares about their lives. As long as women continue to be suppressed by husbands, brothers and fathers, Africa and especially Uganda still have a long way to go, as far as GBV is concerned. Uganda is readying for the 2021 elections, but I recently learnt, that even with the sensitization, men still ask their wives to remain home as they (men) are responsible for voting for the entire family.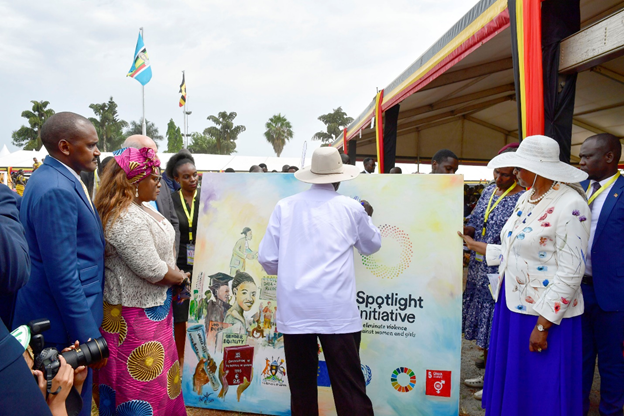 President Museveni flanked by the First lady, UN Country Representative & EU Ambassador, launching the Spotlight initiative in Mbale
With women having the largest percentage of voting population, all they need is a little support from fellow women who are in leadership positions and their male counterparts to change every stereotype against them. Women's Day in Uganda, is still about those that have made it and ones that support government, not the real women hoping to benefit from government initiatives. However, with the launch of the Spotlight Initiative, we remain hopeful that women deep down in the villages will benefit greatly.