All photos are by the author.
Who wrote the documents, history books, photographs and everything we know about the history of Sudan? How did they reach us? Do they come from credible sources, golna w galo or a game of Chinese whispers? Are artists today aware of the responsibility and power they possess if their creations go down in history as part of the archive? From haqeeba to pop culture, Locale has been supporting Sudanese artists since 2016 by publishing zines, developing a directory and holding exhibitions. While the group of four friends who founded Locale like to refer to themselves as art facilitators, their publications and contribution to the Sudanese art scene are far larger than that- as a collective and as individuals.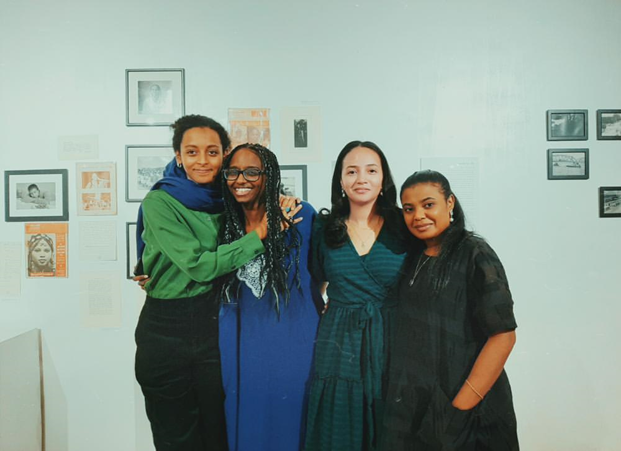 Locale team. From left to right: Rund Al Arabi - Artist, Safwa Mohammed - Poet, Aala Sharfi- Designer and Qutouf Yahia, Writer.
Locale's pro jects explore how art intersects with identity, culture, and belonging. Their work celebrates Sudanese heritage in a modern light, allowing us to experience the past and creates feelings of nostalgia for moments we were never present in. Locale's publications and exhibitions have been widely welcomed in Sudan and the Gulf region, and their publication 'Hunak' can be found at the Metropolitan Museum in New York. With an audience across oceans, Locale caters to a sea of art forms, taking the shape of the contemporary art scene and diving deeper into the Sudanese history and legacy.
Locale's most recent project 'This Will Have Been' digs much deeper into the past and teleports us into the future. At a time when the Sudanese present and past are being questioned, defined, retold and reclaimed, 'This Will Have Been' showcased the importance of preservation and named Sudanese people as the rightful gatekeepers of their own archive. Funded by 'Mophradat'- a non-profit association- the exhibition was held at the House of Heritage and ran from the 5th to the 12th of December. The exhibition engaged the audience in dialogue through thought provoking panel discussions, film screenings, photographs, sound recordings, books and old newspapers which are difficult to get a hold of. An interview with Rund Al Arabi, ¼th of Locale team, takes us behind the scenes of locating, reclaiming and activating the Sudanese archive.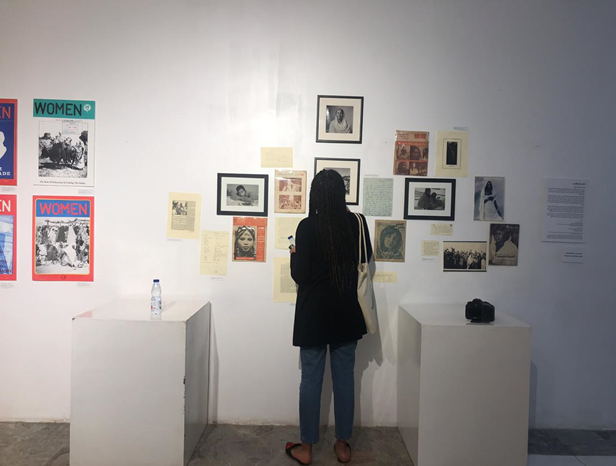 Sara Bedri: What is the reason behind the name Locale?
Rund Al Arabi: Locale's aim is to provide a space and platform for Sudanese artists to create and develop their theoretical and conceptual process and the artwork itself. We publish zines, curate exhibitions as well as different projects, by Sudanese people for Sudanese people. Locale is a wordplay on the word itself which means having a space.
Sara Bedri: What is the change Locale is looking to make?
Rund Al Arabi: We want to see more development and growth in the art scene, we hope to see more work that challenges the artist and the audience too. We want to see more work that relates to who we are, that we connect to and reflects how we really feel as honest and raw as possible.
Sara Bedri: You participate in exhibitions outside of Sudan. How does your non-Sudanese audience react to Sudanese culture?
Rund Al Arabi: We've been quite well received outside Sudan, especially with our publications which we've taken to several fairs, libraries and exhibitions around the world. We create work with the Sudanese audience in mind, but we believe it is this same practice that draws non-Sudanese audiences to us when they're looking for authentic contemporary representations of our culture.
Sara Bedri: As an artist, how do you feel art influences society?
Rund Al Arabi: Art is a form of expression and it comes from society itself. When I'm a receiver, seeing that someone feels the same way I do, makes it a unifying experience- which leads us to work and think collectively and in harmony with one another. Sometimes it's a way to explore how you feel and see the world and sometimes it helps you see from a different point of view and to wear shoes you've never been in. I love how it can be challenging and soothing at the same time.
Sara Bedri: Do you think art influences history or the opposite?
Rund Al Arabi: I think they intersect which is really interesting. There are patterns which emerge and it's a never-ending process in which both of them have an influence on each other.
Sara Bedri: What is the inspiration behind "This Will Have Been"?
Rund Al Arabi: The amount of research that we've been putting into our previous projects led us to creating this exhibition. The struggle we kept facing during our research process to find sources and credit stories made us realize and question the depth of this issue of documentation and lack of access to archival and academic content. We also realized the amount of work about Sudanese people that isn't written by us, which tends to twist our own narrative. We started digging deeper into the kind of archives we have in Sudan, the type of records, the power dynamics, the time itself, colonialism and how that affects how we see ourselves. Keeping that in mind, we wanted to work on a project that allows us to start this discourse on searching, reclaiming and activating the archive.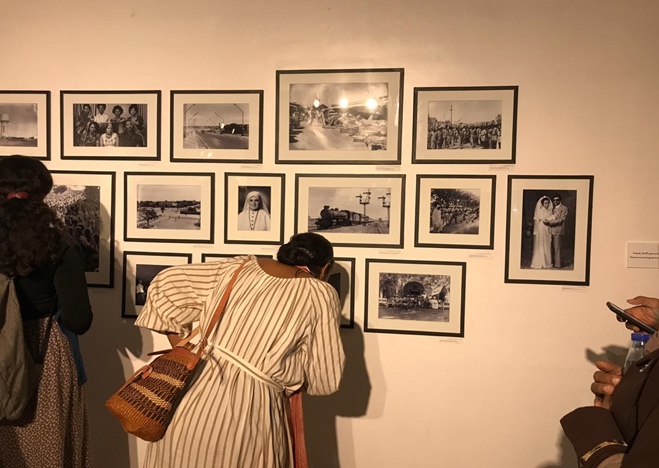 Sara Bedri: Can you tell us more about reclaiming the Sudanese archive?
Rund Al Arabi: This act of reclamation revolves around emphasizing the power we gain when we tell our stories with our own voices. Reclamation is addressing the issues that stem out of hearing our stories being told from the outside in. It can manifest in any study, body of work and act that contributes to the collective efforts of history creation in Sudan.
Sara Bedri: 8 days of exhibition is remarkable! What kind of difficulties did you face to make "This Will Have Been" come to life?

Rund Al Arabi: The biggest challenge was tracking down the owners of all the exhibited materials and building trust and reliability between us and owners of these works. We went through a long process of finding original materials and contacting owners inside and outside the country. It was especially difficult within Sudan because many of the collectors have had experiences with mishandling and mismanagement of their archives in the past and so they were incredibly protective of their material.
Sara Bedri: Can you tell us how you made it happen with the team located outside of Sudan and in different locations?
Rund Al Arabi: It required a lot of patience and a lot of going back and forth with each other, different time zones and different schedules, but we had the internet to stay connected. When we were finally ready to launch the exhibition in December of 2018, the revolution started and we paused for a while. After that, we wanted to launch our exhibition at the Military HQ sit-in but then June 3rd happened.
Sara Bedri: What is the outcome that Locale is hoping for?
Rund Al Arabi: Our goal is for each individual to be able to realize the impact they have on our culture & history, as well as highlighting the importance of this ongoing process of documenting and preserving it. We want to take matters into our own hands while getting our voices across to the government, reminding it of the role it has in funding historians and organizations that have already been working on such projects of preservation for years.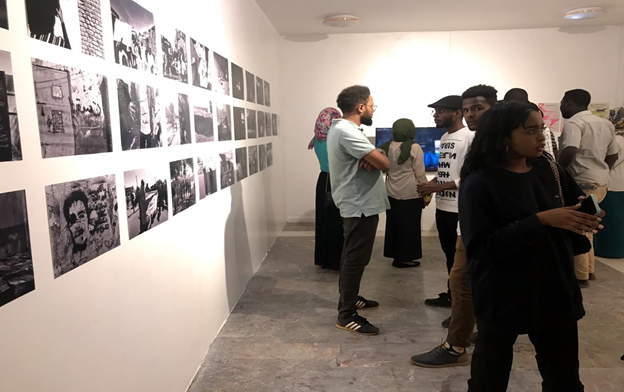 The exhibition attracted a full house of Sudanese and non-Sudanese visitors of all ages. Throughout the first three days, panelists engaged the audience in dialogue about various methods of preservation, filmmaking, the history of Al Sikka Hadeed (train tracks), Sudanese folklore, architecture and even culinary archives! Noon Adil, a Sudanese writer and art enthusiast believes that preservation is important to avoid repeating the same historical mistakes and to understand who we are. She said "I have lived my entire life in Sudan but always felt like an outsider. I thought the Sudan I was living in was the same Sudan that has always existed. It wasn't until recently- post the December revolution- that I learned more about our history and started to feel a sense of belonging." Leena Shibeika, an architect and active member of the civil society felt that the panel discussions and the exhibition added a lot to her. She reflected "before attending the first panel discussion, I wasn't aware of the amount of documentation available, I thought a lot of it was completely inaccessible and controlled by the previous regime. I was surprised and I have never been this close to a piece of work that is more than 30 years old."
I wholeheartedly agree as I too, in my 23 years of living in Sudan and the diaspora, have never come across a Sudanese antique or a piece of work that old- as in other than the previous regime. I was under the impression that Sudan's heritage was either lost or sold to the highest bidder. As a child, I was obsessed with the tale of the lost City of Atlantis and the more I learned about Sudan's drowned heritage (literally,) the more I felt like the story was real. Watching familiar faces and unsung heroes speak in panels with such enthusiasm restored all hope in me that not only can we build the Sudan we want but our sunken history can rise to the surface again.