Writers, visual artists and actors have played an important role in many countries and helped nations prosper and develop. Youth drive the change and revival in arts and culture, necessary to build impact and drive meaningfulness. In South Sudan, an art collective was formed to infuse society with art and expression to represent, build and engage South Sudanese communities.
The South Sudanese arts scene is no stranger to artistic groups that advocate for creative expression, including arts, drama, poetry and traditional dance groups. Some of the most notable ones include: the South Sudan Theatre Organization, South Sudan Poetry Club, Gutiat Cultural Group, Najoom Algad Theatre group, Nakuazan Dancing Group and Ibdaa Theatre Group.
Hope Society was founded in May 2014 by Deng Aling and four other artists to aid in nation building by promoting and improving the artistic culture of South Sudan.  The group is comprised of artists who hold a vision for South Sudan where art and cultural expression and development are key. The group intends to collaborate with artists from all walks of life – poets, writers, visual artists – to encourage productions and publications. They also want to propagate different positive cultural and peaceful messages through the arts. Additionally, they wanted to position South Sudan on the African and world maps for arts and cultural demonstrations. In the long run, the society hopes to improve school curricula to include more cultural aspects from various South Sudanese backgrounds.
Since the establishment of the society, it managed to organize art competitions, seminars and trainings for story-telling, composition and painting to encourage and support artists. An interesting aspect of the Society is its social-consciousness which drives humanitarian goals along with artful ones. The Society wants to use arts and cultural projects to promote peace in South Sudan, and they advocate for humanitarian volunteering and organizing of the art community.
We had the opportunity to speak to the founder of the Society, Deng, about the scene, its challenges & opportunities and way forward for Hope Society and other actors in the arts and culture scene in South Sudan.
Andariya: What is the impact of arts and culture on South Sudanese society?
Deng Aling: To be honest I think arts and culture are running in the blood of all South Sudanese. What is needed is figuring out how this potential can be unleashed. Many activities of arts and culture are based in Juba which isolates other provinces where arts and culture shine only during celebrations, such as Christmas, Independence Day, etc.
Arts and culture need more work to be effective and have a strong impact on driving social change. Drama and songs are playing this role but I believe that they still need a lot of work, both in urban and rural settings.
A: How is the arts and culture scene looking these days?
DA: The most challenging aspect remains infrastructure and financial resources; whereas there is a glaring lack of dedicated national or private galleries and museums & empathy towards financial investment in arts. Additionally, artists source local materials from Khartoum or Kampala, which shows the dire need for local trade in art supplies to lessen the complication of the sourcing aspect of the process.
More specifically, for the theater there's a dire need for actors coaching, creative scenarios and professional producers. This weakness results in productions of sketches but not full plays. The infrastructure problem appears again whereas there are no properly set up theaters in Juba. The same problem occurs with short stories writers and novelists, because before becoming good writer you need to be a good reader. However, there aren't any public libraries, diverse bookshops or saloons and book clubs to promote local writers.
There are so many talents that are in need of nourishment, exposure and positioning. With proper guidance and facilities like libraries, arts clubs and saloons, forums, galleries, theaters, training and workshops, festivals and competitions inside and outside the country, the talent pool can prosper with great writers, artists, actors, producers and film makers.
I think the key players are the different cultural groups who are struggling to stay, work and collaborate sometimes with private sector companies. The ministry of Culture and Cultural organizations should involve and empower these groups to prosper and grow. South Sudanese are inspired by the future that they see, a future they desire; one where they are effective locally, regionally and internationally. Artists here as in everywhere want to participate in changing and developing their communities into better.
A: How can artists increase their impact in South Sudan?
DA: Art in South Sudan is very socially driven, but generally isolated from the public. Artists should share their work with the public and involve them in meaningful discussion. What's happening right now is a cultural crisis as much as it is political; cultural intolerance is affecting the society and tearing it apart. Simple things such as some proverbs, jokes and songs that disrespect certain groups can set up an extremely volatile environment. Therefore artists have to play a facilitating role to help in healing and rebuilding the South Sudanese conscious by their works reaching the public.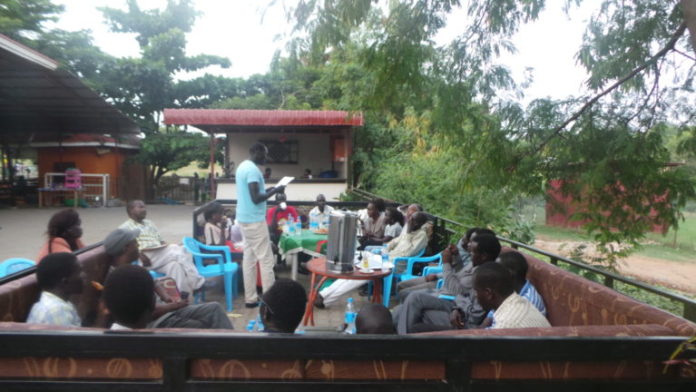 A: what are the overarching goals of Hope Society?
DA: In light of the infrastructural challenges, we want to establish our own cultural centers in the capital as well as beyond, to stimulate art growth in these locations and the communities they are in. We already opened our branches in Wau and Aweil and look towards Yambio as our next destination.
The importance of this is bringing all artists including writers, poets, visual artists and scenario writers in to one place. When we share what we compose before publishing we get criticism and new ideas which will help in improving our collective abilities. It's also very useful connecting artists and having them engage in discussions to share anecdotes and experiences as well as network for joint projects.
A: what are some of your achievements so far?
DA: Our first exhibition was titled "Let's Paint for Peace" and held between 17-19 June 2015; it featured nine artists who are also members of the Society. We then organized a fine arts workshop between 21-24 July 2015, titled "Peace and Stability" and directed by Prof. Khalid Kodi of Boston College. We also organize frequent artistic gatherings where Juba based artists and visitors exhibit their latest work, poetry is read and literary discussions are curated. Events are usually open to the public, and participants range from Hope Society members, South Sudan Poetry Club members, Gutiat Cultural Group, South Sudan Theatre Organization and Ibdaa Theatre and Drama Group. We also get students of Juba University and other independent artists.  On August 24 2015 we announced the three winners of our short story competition. We also held our first tri-lingual poetry night in collaboration with the French Institute – poets showcased their pieces in English, Arabic and French. Our last event for 2015 was #Unite4Heritage whereas languages, traditional dances and culture were the forefront of discussions a panel held in collaboration with UNESCO.
Our programs have a special focus on women's development, especially for artists. Hope Society firmly believes that the only way to empower women is to let them depend on themselves. We work to put this value in each and everyone we target in all programs. Our programs encourage artists to engage and develop the collective scene by exhibiting their art works; for example handmade crafts. This is an important aspect of building an integrated artists environment where each artist is equal in creating, showcasing and developing themselves.
Our upcoming events include special art days for children as well as short story competitions. We also plan on working closely with theater groups to organize workshops, scenario competitions and a theater festival to enliven that aspect of our cultural acumen.