Sudanese artists are stroking a notable imprint on the international art scene. Most of us have come across works by world-class painter Ibrahim Al Salahi, social activist and artist Khalid Kodi and acclaimed cartoonist Khalid AlBaih. There are bright and upcoming talented artists in the diaspora, deriving their inspiration from the rich cultural juxtapositions shaping Sudan. We had the chance to touch base with rising visual artist Huda Hashim to discuss the recurring bold colors, Nubian architecture, and Islamic calligraphy gracing her work.
Andariya: What's your background and what inspired you to pursue 3D texturing and modeling?
Huda Hashim: I was born in Liverpool, England and at the age of 2 moved to the Kingdom of Saudi Arabia where I lived for 13 years. There I attended the British International School of Jeddah and then moved to Dallas (Texas) by 10th grade. My exposure to different countries and cultures from a young age greatly influences my artistic vision and who I am today as a person. My interest in architectural visualization, 3D animation and traditional painting led me to the University of Texas at Dallas where I received a Bachelor's degree in 3D Animation and a minor in Visual Arts. 3D modeling is the process of building models using programs such as Maya. 3D texturing is the "digital surface painting" process of taking a model and adding life to it through color, texture and manipulating the amount of light it reflects. I'm currently pursuing a Master's of Arts degree at UT Dallas and will be graduating in May of 2015.
If I could express my stories through words then I would have no reason to paint. I always believed in the potential of inspiring others through the arts and worked on several 3D animated pieces and exhibited my artwork in several venues. My personal research began when I examined traditional museums and exhibitions that I describe as "empty rooms with plain white walls and spotlights that cater to enable only those physically present to enjoy the show." My goal is to become an international artist, but how can I bring the world to Dallas to see my show? Where can I find the right space to showcase what Sudan looks like? Now this is where fireworks go off in my mind! I developed the idea that designing a 3D environment to exhibit my work is cost efficient and I am able to share it on the web for the world to see. Therefore, I create 3D architectural visualizations on the computer that incorporate my traditional hand drawn paintings to showcase my artwork in a global and digital medium. Additionally, the ability to design and build a 3D environment that is home to my artwork tells a story in itself. I am effectively inviting viewers from all around the world to enter the environment I created in 3D and see my story and artwork.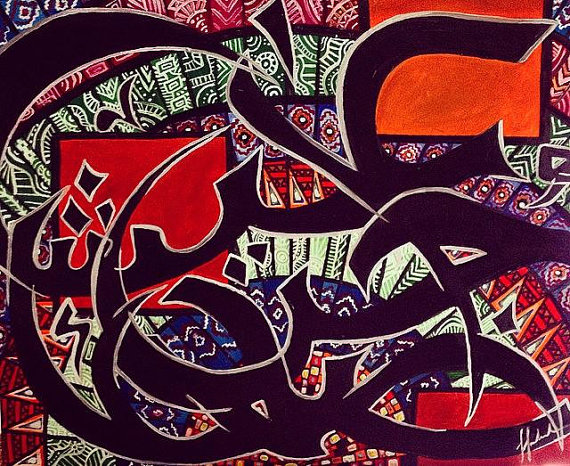 image credit: Huda Hashim
A: What inspired you to create Hudarts?
HH: I previously believed that I would be working at an architectural firm or an animation studio and was paving my way towards that. Halfway through my college career my plans changed and I launched Hudarts in 2012, after a class I had taken at UT Dallas. I was inspired by my computer science professor who would always ask at the beginning of every class "what is your hobby?" We went down the row answering his question. At first it was interesting to hear others' hobbies, but by the end of the semester we were all bored of hearing the same thing. Mine was always "architecture and painting." On the last day of class he said;"turn your hobby into a career and you will never have to work a day in your life." As easy as it sounds, it was a tough transformation. I feel blessed and humbled by the endless love and support from my family and friends who helped make Hudarts a reality. It took me a whole summer of planning, researching and learning how to create a start-up and before I knew it, www.hudarts.com was mine. I put up pictures of my artwork and links to 3D animations and virtual games I created. I was then invited to my first Islamic Art exhibition where I sold my first painting ever. From then on, I have sold over 50 paintings and have helped and worked on 3 architectural visualizations of homes that have been built in real life.
A: What does a regular week in your life look like?
HH: They call me the "energizer bunny." I'm currently a full time graduate student, a teaching assistant for an "introduction to animation" college course of around 140 students and running Hudarts; so my week goes by very fast. I consider myself a night owl and could easily be up and energized until 4 or 5 AM working on my 3D projects. I get so excited every time I complete modeling one part, that I can't resist continuing. With time, I have come to realize that artists creative juices run when there is balance in life. Although some days it's easy to get caught up working, being around loved ones, getting some fresh air and enjoying life is vital and healthy. That's the great thing about being your own boss, you pick your hours and you have the power to choose which projects to work on. Work is work and home is home.
A: What are your connections to Sudan and its identities, layers and compositions?
HH: When I was a kid I remember thinking that going to Sudan meant going to visit my family's house. I never comprehended the idea that there are people outside my family that live there as well. As the years passed and I grew older, I began to explore and experience the country more through meeting inspiring people. I volunteered at orphanages, humanitarian organizations and architectural firms and these experiences opened my eyes to a Sudan I never knew about.
The simple emotional connection I was making with the people of Sudan was a layer I wanted to explore more and more. I started to connect and collaborate with Sudanese around the world as much as possible; to hear their stories and be inspired by them was gold to me.
My new collection coming out in June 2015 tells my stories, connections and experiences in Sudan in an abstract way. We all connect and understand art in our own unique way so I invite the world to understand and interpret the beauty of Sudan. Interpretation has a beauty of its own and must be preserved as part of the artful experience
A: Who and what inspires you?
HH: The beauty of Islam and Islamic calligraphy has always fascinated me since a young age while living in Saudi Arabia. I am blessed to have had the opportunity to live there and be exposed to the beauty of Islamic teachings, art and architecture. By creating Islamic calligraphy pieces, I share the beauty of Islam one painting at a time.
Second, Sudan; the people, environment and strong culture.
Elseed would most definitely be my artist idol and Zaha Hadid is my architect idol! Their ideas and ways of expressing culture are unique and inspiring.
Elseed is a Tunisian street artist who produces intricate and contemporary Arabic calligraphy on walls around the world, spreading beautiful Arabic sayings and their meanings and also creating an inspiring storytelling movement one wall at a time.
Zaha Hadid is a renowned architect whose work exhibits her deep inspiration by culture, nature, landscape and all living things. She creates landmark projects that challenge traditional architecture by creating intricate curves and unique sensuous shapes of buildings. Her ability to tell stories through her architecture is mind-blowing to me; for example creating a space that looks like sand dunes for a Middle Eastern environmental company. Her connection between inspiration and applied work is very strong.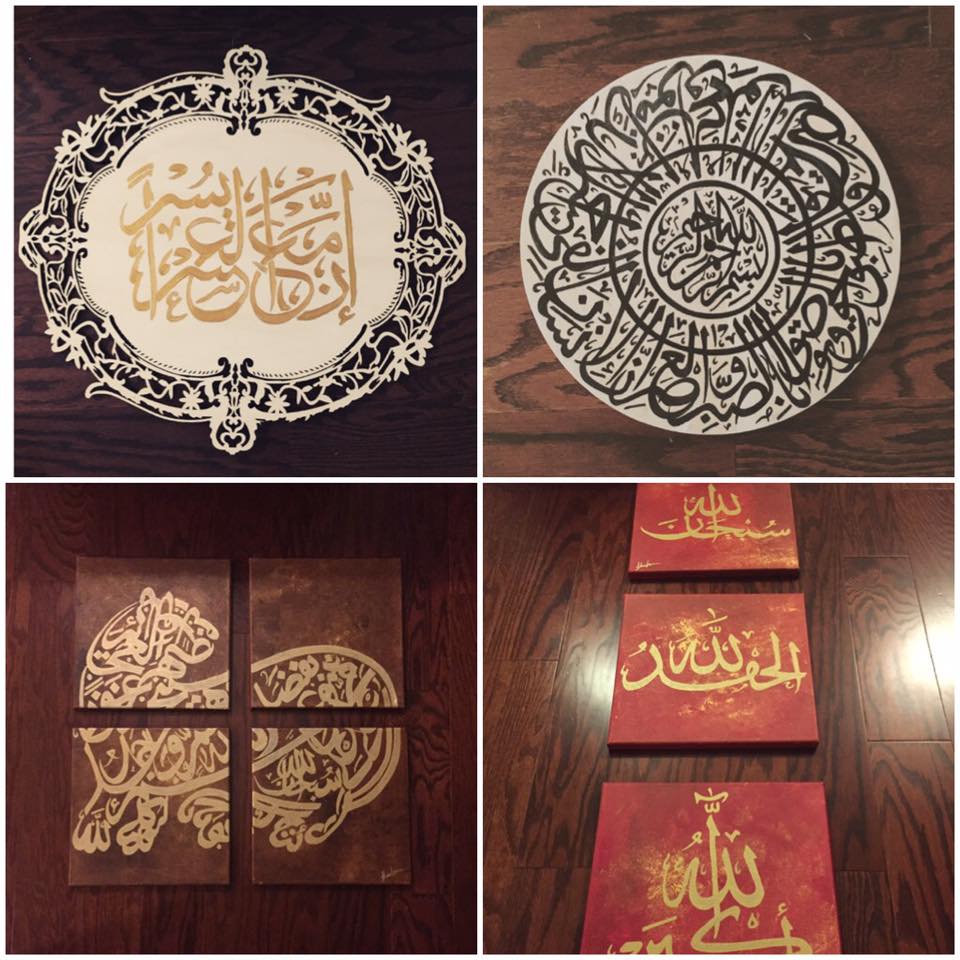 image credit: Huda Hashim
A: What are your plans for the remainder of the year?
HH: In June of 2015 I will have my first solo exhibition in Dallas, showcasing my Nubian inspired artwork titled "Tribal Revival". My 3D virtual exhibition with the same artwork will launch the same day on www.hudarts.com for the world to see. I plan on exhibiting my Islamic calligraphy paintings in July at the annual Islamic Art Revival Series Exhibition. Hudarts will be expanding this year with several new surprises and I can't wait to share them with everyone soon!
–
Huda's art can be viewed on her website or Facebook page and purchased from her Etsy store.
Watch Huda Hashim create one of her pieces in this fun video.