In August 2018, Hope Society concluded the project of flags and posters as voices in the city of Wau by organizing a workshop for displaced people in the United Nations camp. The camp is the largest in South Sudan, where 35,000 people are currently living. This artistic project aims at empowering citizens and raising their voices by bringing them together in one place to discuss various issues, usually related to culture, beauty, war, peace, love and humanity. These ideas are conveyed into flags or posters by tearing worn out clothes, which are then collected and sewed into a beautiful and simple artistic piece. The pieces allow the viewer to understand the mystery of any flag or poster without asking much.
The project was implemented with the support of the Open Society Initiative for Eastern Africa (OSIEA) as a result of the partnership between the association and Professor Khaled Kodi , a professor of African art at Boston College in the United States of America. In the first stage of the project, six artists were selected by Hope Society, namely: Akut Deng, Emmanuel Lunga, Paul Manas, Martin Wade, Sulaiman Ahmed and Sara Juma. They were then taken to Kampala to attend a capacity-building workshop, which included training artists on the use of various materials for art, turning dirt and empty bottles of water into artworks, as well as sculpting and cutting techniques. The workshop took place over two weeks at the Faculty of Fine Arts. The team then worked with South Sudanese women living in Kampala in a three-day workshop and closed with an exhibition.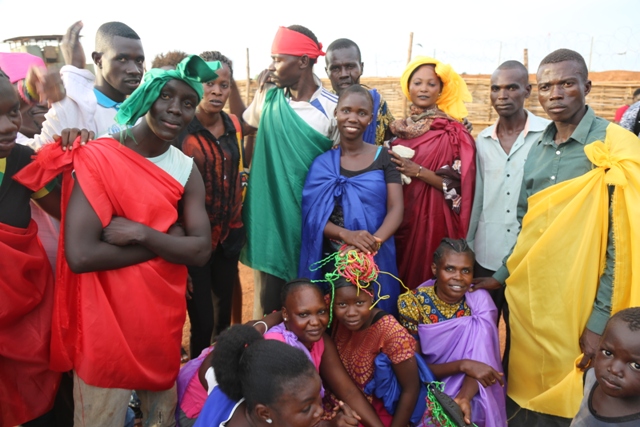 Photographed by Sandy Contino
After returning to South Sudan, Deng Aling, founder and director of Hope Society, Professor Khaled Kodi, the workshop's trainer, Wick Ayom, Finance and Administration Officer and artists Sara Juma, Akut Deng and Emmanuel Tito traveled to Wau. Twenty five participants were selected for the workshop, mostly young people of both genders. The workshop began inside the camp on Thursday, August 2nd, and ended on Sunday, August 5th, with an exhibition inside the camp square, attended by more than 1,000 displaced people.
"I have been an artist since I was young, but I did not find the support and encouragement to continue drawing," Joseph Daniel, a resident sculptor at the camp said of his experience. Joseph, who has been in the camp since 2016, adds "this workshop restored my lost hope andreminded me of the things I had forgotten for a very long time. I am happy because I learned new experiences which will be of good use in my work. Because of this workshop I will return to drawing again, and I hope for Hope Society to support us with painting materials and art, for us not to despair."
Andariya met the young sixteen-year-old talented artist Henry Angelo. He believes he can make a difference through his brushes. He breathe nothing but art, but was confined to bed and suffering from malaria when Hope Society arrived at the camp. He left the hospital and came to the venue of the workshop, which is not far from him, moved by a desire to learn and communicate with artists coming from Juba. He was following Kodi's lecture on fine art and how the artist can be effective with art in its various forms. He sat for a few minutes but his body did not help him. He suffered a bout of malaria terrible enough that Professor Kodi asked him to return to the hospital (after he learned of the story of his escape from it) and take a rest to come the next day stronger. With his young resolve he refused, as if he wanted to tell Kodi that the God of Art will heal him, especially since Wau city breathes art and culture.
Photographed by Sandy Contino
Henry tells his story to Andariya: "since I was little, I used to play with clay and make small shapes with it, from which I began to draw, and I continued painting even when I entered school. The difficulties I faced were the lack of papers and pencils." He was in a school but not anymore, because of the displacement into UNMISS camps. In the sixth grade, when the armed conflict began, Henry used to draw people for a low price so that he could help himself. He painted portrait of people's faces and they would give him a small amount of up to 70 SSP and sometimes 100 SSP, which he used to buy papers and pencils. Angelo stressed the need to do more of such workshops, saying, "we urgently need these workshops that encourage the artist in the long term in the field of fine art, as the workshop provided very rare opportunities to meet artists from outside Wau and South Sudan, such as Khalid Kodi".
On the other hand, Asmaa Abakar, one of the participants, was looking at one of the works that they produced in the workshop. She was one of the first to escape to the camp after the outbreak of the war in 2016. A mother of several children, she notes "my husband is in Khartoum and I am here with my children. I have not done anything since I came to the camp. Life for me is so boring here in the camp because it is not like life in the city." She adds that she learned a lot from Sarah Jumaa (an artist and member of Hope Society). Asmaa commented further "Sara encouraged me not to give in. Whatever the bad things were, tomorrow will be better, and she taught me how to use colors, although I'm not a painter, I'm actually a singer, but what I've learned here is beyond imagination. I attended more than 20 workshops, and during all those years, I did not learn as much as what I have learned in this workshop. This workshop gave me the most important thing which is a bright hope. I hope they find us outside the camp when they return next time."
Andariya also spoke to Deng Aling, the founder of Hope Society and a contributor to the Andariya platform since 2015. Deng noted "therest of the team and I have been through many experiences, but what we found in Wau was different and caused us psychological shocks due to the suffering we saw in the camps". Deng added, "we only hear of the numbers in the camps in different states of the country but we have not bothered to visit them. We were very impressed and I was sure that we did the right thing this time, by working with the displaced people in the camp. It really opened their eyes towards many surrounding things, and how the people outside have not forgotten about them."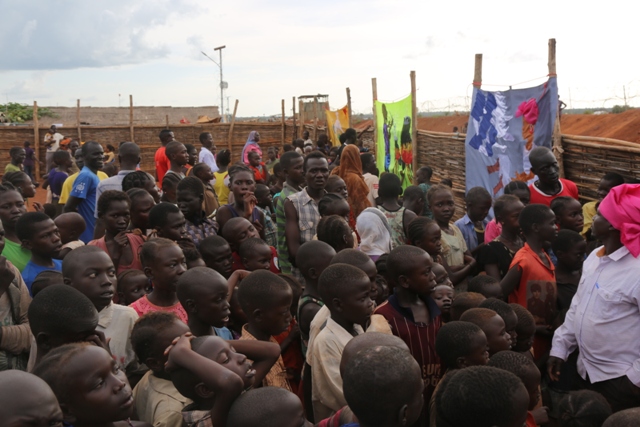 Photographed by Sandy Contino
Referring to the idea of ​​the project, which was carried out in association with professor and fine-artist Khalid Kodi, Deng explained "the idea of ​​the flags was taken from the history and culture of African-Americans during the days of enslavement when they were sold on the markets and auctions." He continues: "the family members would tear pieces of their clothing and sew them together into the clothes of other members of the family as a memorial. So, they kept their memories with each other wherever they went. We were inspired by this idea from history. Clothes turned into flags and posters is becoming a kind of modern and influential artistic expression. And as I said, if you want people to get together, let them build something with each other. It is through this project that citizens are brought together in one place to discuss their ideas and transform them into action, and to send different messages of love, humanity and peace that we all desire for. We have learned so much from the people of Wau at the camp. Nothing is like their love of life, and their eagerness to learn shines through discussions and the making of the flags. This is the most successful workshop held by the Society since the launch of this project last year. Thanks go to our partners, especially OSIEA, who put trust in us to aim high, and who have generously supported the project and helped us in giving hope to people and working for peace and harmony."
Despite the suffering of the war, the consequent psychological trauma and the proportion of tragedies and abuses that occur, hope for peace, stability and a better tomorrow remains. Such initiatives contribute to the treatment of psychological trauma and instill hope among people while promoting a spirit of peace and reconciliation among citizens. Peace remains anticipated. It is the one thing that we can talk about at any time and place. Conscious people are the ones who promote and work for peace and stability.
For more information, visit the Society's website or their pages on Facebook and Twitter.