Growing up, every morning my siblings and I woke up to walk at least 5 kilometers to go to school. Nearly every child in the village that was of school age and could afford to went to the same schools. We were a community; we played, fetched water and firewood together, our parents knew each other and spent evenings together. Unlike today, we only got to do homework once in a while, since not all of us could afford kerosene to fill lamps that we used for lighting the homes. Some homes were worse as dinner was always under the moon since there was no money to buy fuel for the lamps. But we went to school, studied under the same curriculum, same syllabus and sat the same examinations as those in towns and cities who had access to electricity, time to rest and homework nearly daily. We passed, sometimes better than them.
Life was harsh- from school we went to the well to fetch water; an activity that would take you at least an hour or two. Then you get back home and help with the cooking and washing plus other house chores. We had no luxury of house helps. We used to afford reading books at least a week or a few days before examinations, but still managed to get whatever grades we did.
Children coming back from the well. mage by Humanium
What Changed?
A call to my mother's house help in the village whose child is in Primary 5, confirms my fears that things are far from changing for the better. Her child goes to the same school that I attended. While the staff have changed, some of the teachers that taught my siblings and I are still at the same school. No refresher courses for them, just the same teaching style, same material and most of them are not open to learning new things. Mum's house keeper tells me that since schools closed and the lockdown started, her daughter has been home helping out like any other child would do during holidays. The children at her school were not given any holiday work to keep them busy and remind them of school during this involuntary holiday. They will have to go back to school and start from where they had stopped.
However, this is not the case here in Kampala. The Ministry of Education recently came up with learning material for different classes and distributed it through different platforms including Facebook and WhatsApp. These are supposed to help parents conduct classes with their children. The ministry is also conducting lessons on different TV and radio stations to help students and pupils stay in the learning mood, so as not to forget about school. The minister of Education also First lady Janet Kataaha Museveni had initially announced that the first term which was interrupted by COVID-19 lockdown, would resume on April 27th 2020. However, this couldn't happen as the President announced an extra 21 days of lockdown and then another 14 days announced on May 19th 2020. Children had spent more than two months at home, which meant a change in strategy. The minister had held a televised address and advised parents to not dwell only on school and class work, but to use the time to get to know their children and teach them anything outside class they may not know. For example, many children born in Kampala do not know their tribal languages and end up using English. The minister advised parents to use this time to teach children their respective local languages. She also advised that parents teach children some handiwork like cooking, gardening among others.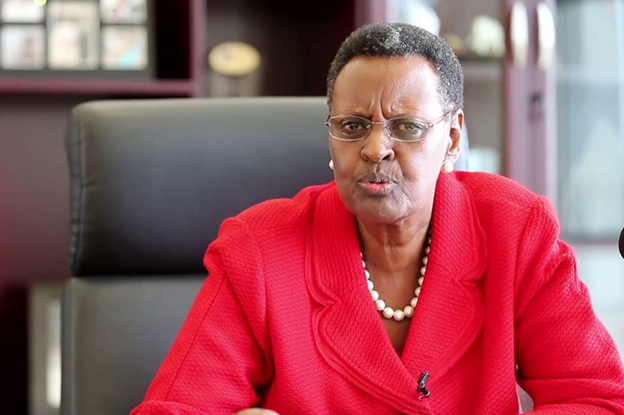 Minister of Education, also First Lady Janet Museveni. Image by Ugandan Wire
While this may sound difficult for a parent in the city or town setting to do, it is not the same for those in the rural setting. In fact, the latter are trying to learn to speak English as they already know their native languages. This is very difficult as many of their parents are not educated. They are at an advantage that by 5 years of age, a child can bathe itself, fetch water and in some cases fix itself a meal. This is different in the city where all work is done by the parents or house help. All a child has to do is watch cartoons, play with friends, do holiday work and sleep. So while children in urban centers are spending mornings, afternoons and evenings of each day on TV or their parents' smartphones learning class work, those in the village are busy digging, fetching water and firewood, helping bathe their younger siblings and cooking food. How do we bridge this gap, and who is responsible for this?
If anything, the Coronavirus has exposed the holes in the education system that many have complained about for years. Specifically, the inability of pupils and students in the rural settings to access education material their counterparts in urban centers do. While many of them are in government aided schools, those in cities and towns are mostly in private schools, with high fees that can afford them several kinds of learning materials including text books. Mum's house help's daughter still reads from the same books I did, more than 20 years ago. Some are missing pages, but she is supposed to answer questions relating to these books.
This did not just begin, it has been happening for more than 30 years but no one paid attention. Even with the COVID-19 pandemic that has forced the country into lockdown, the government has not moved an inch to fix it. After the lockdown is lifted, students in candidate classes will register for final examinations set by the Uganda National Examinations Board, UNEB. There will not be any exception for children in villages who did not get a chance to study during the lockdown. When results are released and they have failed, the minister will read out their districts and they will be shamed for underperforming. But under the same circumstances as those in towns, would they have performed better?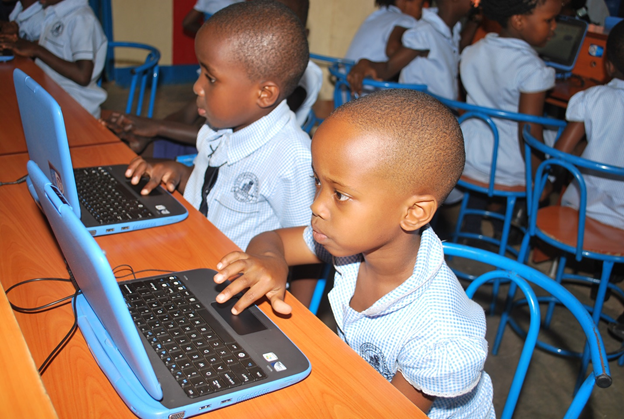 Children at a school in Kampala during computer lessons. Image by Victorious schools
The Gap Persists
Fifteen million children were sent home on March 18th, they were in all educational levels including kindergartens, primary and secondary schools as well as Universities and other tertiary institutions. Most of those whose schools are in villages are unfortunate as many have illiterate parents. In many cases, even when a child is given homework/holiday, they suffer to answer everything with no help from their parents. So what happens when a child does not know an answer? How can teachers be of help when children are home during holidays?
According to High Sound for Children (HSC) a local Non-Governmental Organization, 83% of Ugandans do not own a TV set and only 57% households in the country are connected to the national power grid. Children in the rural areas and informal settlements where communally owned televisions (7%) are the norm, cannot make use of the televised lessons as this would be in contravention of the government orders on physical and social distancing to stop the spread of the COVID-19 virus. Soon after the government announced the closure of schools on, different local Television stations introduced lessons and relied on teachers from different schools to deliver them.
The Ministry of Education in collaboration with one of the daily newspapers (The New Vision) printed and distributed school material for all classes to Resident District Commissioners. The distribution was flagged off on April 30th by the Permanent Secretary of the Ministry of Education, Alex Kakooza. Distribution is meant to be a door to door activity so as not to leave any students behind, especially those in villages. The New Vision also uploaded the material onto their e-paper, to allow parents that wanted to access them through computers and smart phones do so. But, was this enough?
A call to my village comes back with negative news as I am told such materials haven't reached them. Distribution of materials was part of the Preparedness and Response Plan to enable the continuity of learning during the lockdown. The plan was laid out by the Minister of Education, also First lady Janet Kataaha Museveni, indicating that learners would be taught on radio and TV. Thirty-eight radio stations and some TV stations were listed by the Ministry after securing airtime. This remains a challenge, as even with access to radio where they could learn from, children in the rural settings have no time to sit and learn during day time, when their parents need them in the garden digging or in the kitchen preparing lunch.
Alex Kakooza the Permanent Secretary of the Ministry of Education in a phone call tells me that they have printed "very good" revision materials that should keep the children occupied until the President issues a directive to re-open schools. "We printed revision materials. They may not be enough but local government authorities at their respective districts are re-printing them. They are being distributed door to door. The material is very good because it is from the UNEB and the National Curriculum Development Center" Kakooza tells me. I asked him if the Ministry has anything planned for university students, but he says they should concentrate on their course work and be ready to return to class when the President re-opens their institutions. "University students are given course outlines at the start of every semester. So, they should read in line with the materials provided by their respective universities, but not doing examinations. They should also try reading any material related to their courses online" he added.
Global Challenge
According to the World Economic Forum (WEF), 1.5 billion children are out of school due to the COVID-19 pandemic. Their health, development, learning, behavior, their families' economic security and their protection from violence and abuse have all been affected. Children's mental health could be the most affected. WEF indicates that younger children are at great risk, as high levels of stress and isolation can affect brain development, sometimes with irreparable long-term consequences. Many children and young people are also contending with family separations, caring for sick relatives and even the death of loved ones. Girls are particularly affected, with containment measures resulting in increased gender-based violence, child pregnancy and even child marriage. All this while taking on increased responsibility for household chores and caring for relatives. Migrant and displaced children and families may not be reached with vital information in a language they understand, fueling anxiety. For children in internally displaced camps, this may be one of the most challenging times of their lives. The fact that they do not have the luxury of owning an individual television or radio set makes life hard. They always meet communally to watch TV, but with the current social distancing rules mixed with the rainy days and nights things are not in their favor.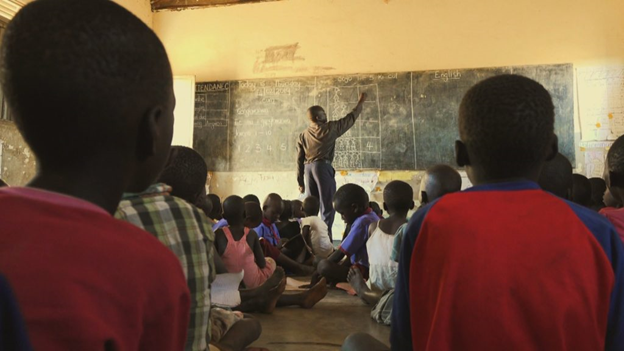 Children at a refugee camp in Uganda. Image by PBS
In his speech on Monday May 4th 2020, President Yoweri Museveni said he was more comfortable having his grandchildren at home than making the mistake of sending them to school during a pandemic that could lead to their death. He also said it was okay if children remained home even for a whole year, as long as they were safe. This left many parents and students worried that schools could remain closed for a whole year, meaning a setback especially for those in candidate classes. Parents are also worried especially about school fees for the second term as many have lost their jobs during the lockdown, while others have been forced to spend all their savings on feeding their families and paying bills during the lockdown that has been in place since early April in Uganda. For example, I had just paid my daughter's school fees for the first term from which she benefitted nearly nothing as the term had just began when she was sent home indefinitely. It remains unclear if schools will give parents any grace period when it comes to paying school fees for the coming term.
Despite efforts by the government through the Ministry of Education during the lockdown caused by COVID-19, it will be more difficult for children in rural schools to fairly compete with those in urban areas during the final examinations set by the Uganda National Examinations Board. On May 19th the President said that candidate and university classes will resume on June 4th but the rest will remain closed. A few months gap will be glaring between urban and rural schools, while many children are still at home waiting for their classes to also resume. The gap that exists between the two, is far from being bridged.
*Read the statement from HSC about the gap in education between urban and rural students.