Written and phtographed by Michael Ojok
Limited independent, nonbiased, balanced news from within the refugee settlement camps housing South Sudanese communities in Northern Uganda is not uncommon. This is due to that fact that professional reporters and journalists are not based in refugee settlement camps. Moreover the freedom of operation of media houses in South Sudan is also deteriorating due to pressure from the government characterized by suspension of operation and closure of radio stations like radio Morobo that is currently off air.
In an attempt to address this problem as well as fake news, Deutsche Welle Akademie (DWA)- Germany's leading international media development organization- has been training community reporters and professional journalists. DWA is also supporting the cross-border network (CBN), linking media seeking to provide consistent and conflict sensitive information to the civilians who have taken refuge in Uganda.
Hannington Ochan (a media expert) was one of trainers training over 20 participants. They were mostly from South Sudan living in the refugee settlement camps from Adjumani, Yumbe and Arua districts, as well as community reporters and journalists from Speak FM in Gulu (Northern Uganda). The trainings consisted of modules on the use of mobile smart phones to write and report to the various media houses on issues happening within the camps.
In a telephone interview with Ochan on what and how the participants can use their smart phones to produce news articles, he noted that smart phones are currently overtaking international media reporting because of their portability and accessibility. He noted that the participants were introduced to new android applications that can be used for reporting. Adding, "first we introduced the participants to various new apps they can easily learn how to use to make their reporting work easier". Also noting "some of the apps we taught them how to use are, Wave pad for recording, editing and saving sound bites and Dropbox, from where they can export them to Soundcloud and share on social media apps like Facebook and Twitter."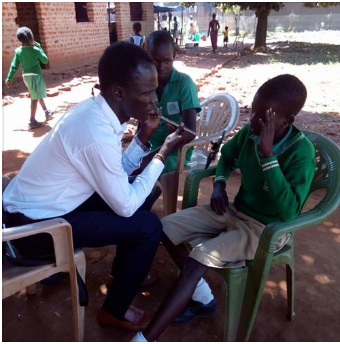 William Dhieu interviewing South Sudanese pupils in Gulu town during the training on mobile reporting
Ochan also mentioned that the community reporters were also trained on basic journalism ethics and codes of conduct to ensure quality and professionalism in the articles they write and content they produce.
Access to information from the camps eased
Mr. George Drilliga, the station manager of Radio Morobo in South Sudan, says his radio station has been able to get articles from the refugee camps thanks to contributions from community reporters who underwent the training on using their mobile smart phones to write, produce and share news. From more than 20 participants, 8 are professional journalists while 12 are citizen reporters, and 7 of the 12 are contributing content for radio stations across northern Uganda such as Morobo.
Drilliga, who also fled the conflict and now lives in Arua district, says he is able to share his stories with Voice of Life - a local radio station based in Arua town - and sometimes Speak FM. He is also able to easily share content using his smart phone, connecting to a local radio station based in Gulu town and other media houses across Northern Uganda.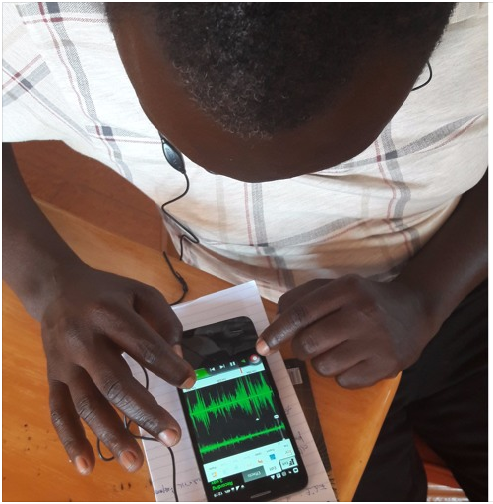 George Driliga practices how to use the Wave pad recording app on his smart phone during a training session in Gulu district.
Hadia Hassan, a community reporter from Palorinya refugee settlement camp in Adjumani district, says the biggest challenge she faces in sharing her pieces. Adding that the telephone network is poor in some areas in the camps and access to high speed internet is a challenge since most of the apps used require internet for them to function except wave pad and call recorders. She added "sometimes I have difficulties sharing the news I have because of the lack of data and access to fast internet".
Importance and impact of the training on the participants and audiences across northern Uganda
After the second training, radio managers from South Sudan and Northern Uganda were called by DWA for a meeting to forge ways of giving opportunities for the trained citizen reporters to share their articles. Seven radio stations across northern Uganda and South Sudan participated so that the citizen reporters have platforms to produce content for and practice what they were trained to do.
Lydia Nairubya the editor in chief of Voice of Life FM in Arua, says they have given chances for the community reporters who have underwent the mobile reporting training to send articles from the camps. This in turn boosted their news coverage in both depth and weight from the camp area to cover important issues happening to this segment of the South Sudanese population residing in Uganda.
This piece is part of Andariya's coverage in Uganda in partnership with the East Africa Media Lab.