Everyone originates from somewhere, but this is what unites us in Uganda.
Uganda has managed to maintain her title "The Pearl of Africa" and earn trillions of Shillings from showcasing the diverse culture her people enjoy. The country has a series of tribes, with the main being Banyankore/Bakiga, Baganda, Banyoro/Batooro, Alur, Ateso, Bagweri, Basoga, Bamasaaba, Bakonjo, Batuku, Acholi, Luo among others. In total, 65 tribes practice different customary beliefs that connect them together and lets them live in harmony. Descendants of these cultures have intermarried, had children, while others have moved/migrated from one region to another, prompting them to practice both their culture and that of the people they have found in the new area.
As such, Ugandans have lived happily ever after with one another despite the different customary practices, food and languages. This is what attracts millions of tourists who visit the country every year.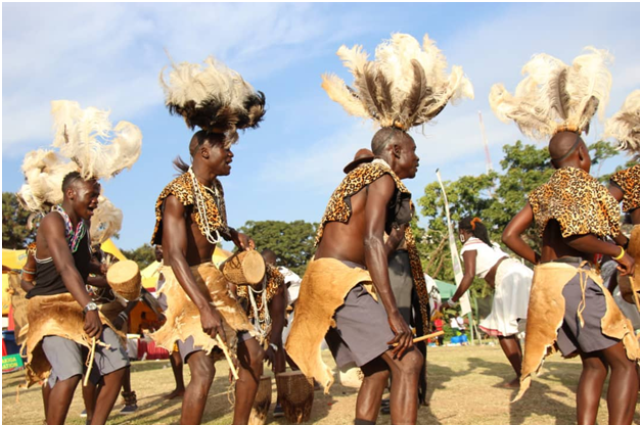 A dance group entertaining people at Uganda Museum in Kampala. Phot by Emma Kintu
Several festivals are held every year to celebrate culture, music, film and art. A notable one is the Nyege Nyege Festival that takes place at the source of the Nile each year. This brings together people of diverse cultures, white or black, young and old to have fun for three consecutive days at the source of the Nile in Jinja. It is embraced by both Ugandans and Foreigners. Also notable is the Bayimba International Festival of Music and Arts. This festival also lasts three days and was originally held at Uganda's National Theatre, but has recently moved into the wilderness where revelers enjoy camping. It brings together local and international musicians and artists showcasing the best of their handiwork. It is also enjoyed by Ugandans as well as foreigners.
Another notable festival is the Ekyooto International Cultural Festival, and I would like to focus on it in this article. Ekyooto brings together different countries with embassies in Uganda to showcase/exhibit their cultures/uniqueness through cuisines, fashion, music and poetry. Literally meaning "the fire place" the idea of Ekyooto was hatched by Perfect Events, a youth led organization that aims at bridging gaps in society. The inaugural Ekyooto International Cultural festival was held in 2016. The annual event is held at the Uganda museum and lasts three days, spanning the weekend from Friday to Sunday.
This year, Ekyooto focused on food as the main subject, though other activities like storytelling, music and dance also took place. With the help of the ministry of Tourism, Wildlife and Antiquities, Perfect Events held a successful 3rd edition of Ekyooto from Friday September 21st to Sunday September 23rd 2018 at the Uganda museum.
The event attracted thousands of people from different countries, some as exhibitors and others as revelers. The three day event saw people spend at least 6 hours around the fire place (Ekyooto) for three night, enjoying riddles, storytelling (old tales) and poetry from Uganda's best poets. Notable names of the poets were; Andrew Sebbagala of House of Talent, Zoey the storyteller, Rap Poet, Robert from Kigezi, among others. Several parents brought their children every evening, to learn about their past, since most of these activities are no longer common in society.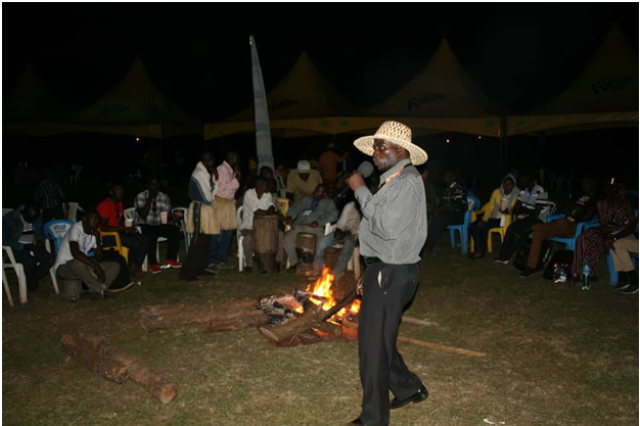 Storyteller entertains people around the fire place
Local brew from all cultures of Uganda including Tonto, Omulamba, Enturire, Ajono and African traditional snacks like roasted coffee were plenty. Roasted Coffee is a snack in Buganda culture. It is served to elders in the evening or when they visit, and in-laws who visit in search of a wife. It is believed, coffee seals a friendship between people or families. Coffee was served at the perfect time to explain to children and youth who may not have known why it is served.
One of the most enjoyed activities apart from eating was practicing on a grinding stone from Ankole. The people of Ankole (Banyankore) are known to love millet (Oburo/Karo). In the past, before the introduction of millers, the process of turning millet into flour and the mingling of Karo took place on a grinding stone, locally
known as Orubengo. This important stone was brought to the exhibition by a group of exhibitors from Igongo cultural museum. Children, women and men were
seen struggling to take pictures all in smiles while practicing the grinding locally known as "Okusa Oburo." They smiled and took pictures that were posted on the internet to showcase the pride for Ankore culture. To many, this was a special moment.
Several international communities were also represented. Announcements were made via different embassies calling their nationals to come and showcase their uniqueness and they turned up. Some of the communities at the festival were; Turkish, Chinese, Indians, Kenyans and Rwandans. At the end of the three days, the Turkish community won an award for Best International Exhibitor. The Turkish stall was the most visited throughout the three days. Revelers were mostly excited by the taste of Turkish cuisines and beverages. Revelers were seen sitting on mats, to comfortably enjoy these meals. Turkish dress code and music also played a big role in attracting hundreds of revelers to their stall.
Locally, Malakwang won the most famous cuisine. The Luo delicacy cuisine attracted attention from both locals and international revelers. Several people tasted and praised the dish. It is a mixture of G.nut paste and local herbs.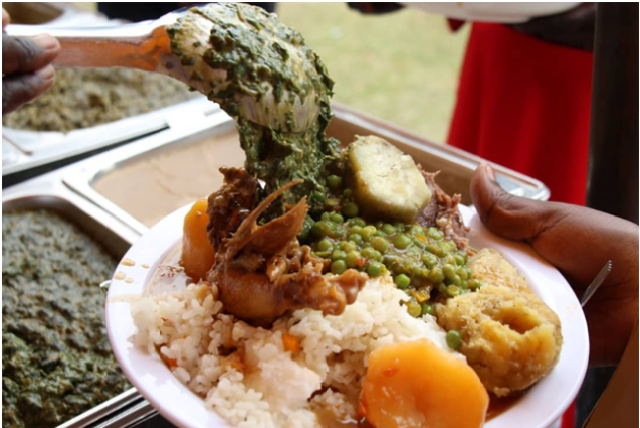 Malakwang is added onto a reveler's plate. The reveler was serving local Ugandan food
According to Mr. Moses Bakora, one of the event organizers, the event attracted over 5,000 people from all walks of life. He tells me that Ekyooto International Cultural Festival aims at promoting tourism in Uganda and that the event will be made one of the biggest tourism expos in Africa, where people from across the globe can showcase their unique cultures.
The event was crowned with an awards ceremony. The chief guest was speaker of the Ugandan Parliament Rt.Hon. Rebecca Alitwala Kadaga. The speaker who is also the patron of the event inspected stalls before thanking organizers for keeping Uganda shining on the global map, and ensuring that the title, Pearl of Africa is maintained.