Since COVID19 began spreading in Africa, people and entities have been spreading rumors daily on social media about Uganda confirming a case. The Ministry of Health under the leadership of Her Excellence, Minister Dr. Jane Ruth Aceng continued to communicate and share useful information as well as bust myths about COVID19 cases. For days, fake stories spread like wildfire on social media, prompting the minister to write a statement clarifying that no case had been confirmed, but rather two people had been tested and the results were not yet out. In the evening of March 21st, Uganda recorded its first case of COVID19; a Ugandan traveling from Dubai via Ethiopian Airlines.
To iterate that Uganda was testing passengers and potential cases, Minister Dr. Jane Ruth Aceng wrote on the morning of March 21st "a total of 2,278 travelers including Ugandans and others traveling back home have been identified as high-risk and identified for purposes of follow up and institutional quarantine. So far, samples from 54 persons who presented signs and symptoms similar to that of COVID-19 have been tested. 52 tested negative while 2 are pending results from Uganda Virus Research Institute" the minister wrote.
On Wednesday March 18th 2020, President Yoweri Museveni addressed the nation and ordered the closure of all schools from Kindergarten to University. The president further ordered closure of all places of worship, cancelation of political and cultural gatherings, closure of bars, discos and clubs among other things. He did not close markets as these would be needed for the sake of feeding Ugandans. He however recommended that authorities ensure that people visiting these markets and the vendors are safe. He said they all must have sanitizers offered to everyone entering. However, this seems to not be working. Following the President's directives, thousands of Ugandans ran to markets hoping to buy some food stuffs to stock up for the next 32 days that facilities are expected to remain closed and children will be home. By Friday afternoon, Ggaba market where I do my grocery shopping, had nearly run out of Irish potatoes. I hit the market to buy a few things to take my family through these tough times, but was shocked to learn that it was impossible to buy some food stuff as prices had skyrocketed.
Part of Ggaba Landing site with very few people as compared to normal days before COVID-19
A small tin of Irish potatoes that we would always buy at Ushs.1, 000 is now at 5,000. I found there was no Irish potatoes being sold below 5k. It wasn't just me, but many other people moved from one vendor to another, seeking a fair price in vain. I inquired from one of the vendors, who told me they were selling their final stock and were not sure if they would get more. In Uganda, Irish potatoes are usually grown in the hills of Kabale, in South Western Uganda, with some villages and farmers very hard to reach. A vendor told me "you see, we are not sure about new stocks. People who bring us stocks usually find it in those markets, but now, everyone has to go to the farmer's home as per the President's directive. This means a lot more in transportation. Plus, farmers are also expected to take advantage of this shortage to hike prices of commodities. So we can't be sure of business tomorrow, we shall just take advantage of today and see what tomorrow brings".
However, the same couldn't be said of the fish sellers. Ggaba landing site feeds hundreds if not thousands of Ugandans with fish on a daily basis. While some prefer to sit with family and friends at the site to enjoy the delicacy, others like me, prefer to buy and take it home. On Friday, I witnessed people eating fish in their cars instead of the usual open-air restaurants at the site. I believe this was one way of practicing social distancing. The fish market was not as crowded as on other normal days, and the hygiene was as scary as usual. Dirty Fish stands and buckets used to keep potato chips welcome you. No sanitizers or any efforts to tidy up the place were seen. Men were busy arguing about football which won't be here until next year and generally all seemed unbothered with what is happening in the world.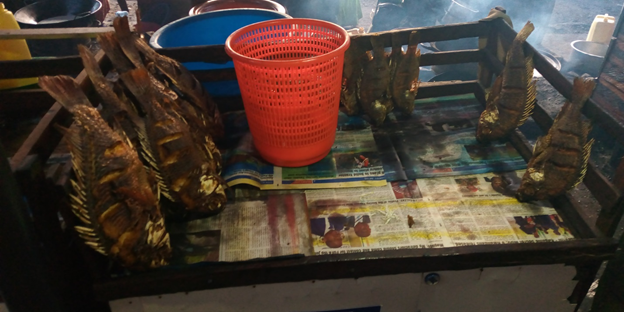 A fish stand at Ggaba fish market. The bucket is supposed to have potato chips sold to customers
I inquired from a female vendor why she had not taken any precautions to keep herself and the customers safe during the pandemic. With a sarcastic laughter which left me in a state of confusion she told me it was impossible for the outbreak to reach them. She noted "you see madam, some years ago there was an outbreak of some eye infection. While nearly the rest of the country suffered, nothing happened to us here. We are in a village and those diseases never come here, so we shall keep working". However, fish prices remain high with those in the picture going for as much as UGX 20,000, while back in the day, the same was only 7,000 Shillings.
So, off I went to buy tomatoes, onions and whatever vegetables I could find. Part of the market was cleared; especially where people selling cabbages normally station. I asked the young man, you receive at least 50 customers a day, how do you deal with them without a mask or sanitizers? He quickly told me that viruses catch women since our immune system is weaker than that of men. He continued arguing "madam, I have not suffered from malaria since 2004. When I catch flu or cough, it is gone in a matter of hours. You see, such viruses weaken you women because even a simple flu gets you down. So, I don't expect Coronavirus to come my way or even affect my colleagues here". In awe, I asked his friend selling onions what his opinion was and he shared the same thoughts. They had also reduced the number of onions and tomatoes, explaining that only people known to them are receiving the usual genuine amounts, but first-time customers must feel the pinch. It was also noted that the onions are out of season until May, which could also play a role in prices rising. The groundnuts, beans, salt, posho and rice prices have also risen and will continue rising every day that goes by.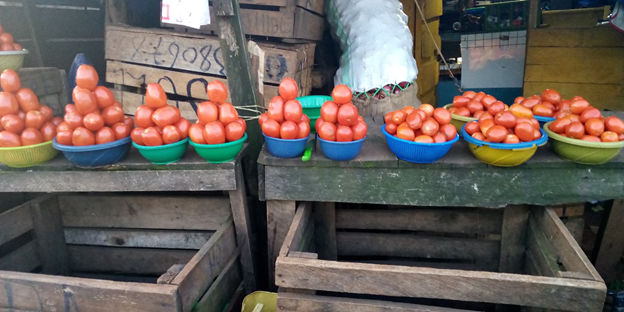 Boda boda riders are still going by with their work unbothered, and so are their taxi counterparts. While Kampala Capital City Authority, KCCA claims to have put hand washing materials in the different taxi parks, most taxis pick passengers by the road side with no precautions taken. This means it is still difficult for the government to protect a very stubborn citizenry. Despite the President's directive to keep all bars, even those inside hotels closed, police made arrests over the weekend of some bar owners and individuals who had gone on a drinking spree as though everything was normal.
According to the World Health Organization (WHO), standard recommendations to prevent infection spread include regular hand washing, covering mouth and nose when coughing and sneezing and thoroughly cooking meat and eggs. It is also recommended to avoid close contact with anyone showing symptoms of respiratory illness such as coughing and sneezing. However, this sounds just like a song to many Ugandans who seem not to care, despite the first case being confirmed on the eve of March 21st.
On Saturday afternoon (March 21st 2020) President Museveni hosted a group of religious leaders to pray or the country. He also called upon all Ugandans in their homes to join in the prayers and pray that the virus does not at any point enter the country. Several measures have been taken to keep foreigners and Ugandans traveling from category 1 countries under quarantine for 14 days. President Museveni warned that those who travel to Uganda from countries like China, UK, Germany, USA, Italy, and France among other category 1 countries, would have to foot their own quarantine fees for 14 days. During the course of the week, some Ugandans and foreigners were isolated at a local hotel in Entebbe at a fee of 100$ per night. The minister warned that they could either accept the terms of quarantine put in place by Uganda, or get on the next flight heading back to their homes. On the evening of March 21st, President Museveni ordered the borders of the country and the airport shut down by midnight on the 22nd of March, effectively grinding movement to a half except for cargo and humanitarian services.
Ugandans are not allowed to leave the country until after 32 days, as per the President's directive. However, traders downtown who import commodities rom China have been crying since Wuhan and other parts of China closed down, with some offering to risk their lives to go pick up their goods. Traffic is still insane on all roads in Kampala as many offices remain open for business for fear of losing money. Other employers have told employees to come to work at least twice or thrice a week. Congestion in markets like Owino, where people are using lemons as sanitizers also leaves tens of thousands of Ugandans at risk of contracting the virus.
Many are losing money in business, others who had paid money to service providers for wedding ceremonies have also had to cancel or postpone, those that love to have a drink outside the comfort of their home are crying, bar owners are in tears, while others have taken advantage of the situation to deliver alcohol to the homes of their frequent customers. Some have decided to drink from friends' homes so as to keep sane.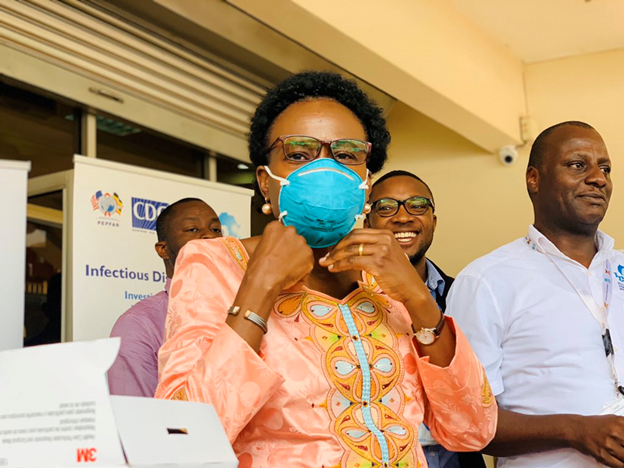 Minister of health, DR. Aceng demonstrating proper use of masks recently (via @MinofHealthUG on Twitter)
Children were sent home by Friday (20th of March) noon and some are yet to understand why. Some teachers were kind enough to explain to little ones what was going on. My daughter for example, understands that Coronavirus is a disease that could kill anyone and has learned to stay home instead of going to play with friends as she usually does on a normal day. University students are celebrating being sent home, while we parents are crying, especially since we had fully paid tuition and the terms ended prematurely. This affects the academic calendar and students and pupils in candidate classes, as well as those doing their final year at university.
With many parents unable to make money during the pandemic, many are worried about sources of next term's school fees. Pastors who depend mostly on the faithful for offertory and tithe are also crying after they were told to carry on with service using live stream. This is a pinch to many who are used to robbing unsuspecting desperate Ugandans searching for the gospel of success. Many have been seen on social media and TV requesting their followers to send tithe and offertory through mobile money.
Socially and economically, the virus remains a challenge to Ugandans of all walks of life. If only they all could adhere to the regulations set by the health ministry, maybe the country can beat the disease without it spreading past the dozen or so cases identified to date. As of today, March 25th, the death toll worldwide is past 19,000 people, with Italy accounting for the most deaths at 6820. By the morning of March 25th, data from Johns Hopkins University in the United States showed that more than more than 430,000 cases were recorded worldwide.
The first identified case of COVID19 in Uganda was late evening of March 21st, yet it seems many Ugandans do not care. The country still has no capacity to deal with a huge outbreak, the more reason for the Ministry of Health to encourage prevention. Ugandans are known to use alcohol to kill stress and many are asking whether restaurants can be allowed to sell them a given amount of alcohol at a designated time of day or night. Some are making fun on social media, asking if they can be allowed to drink in shifts so as to avoid crowds. "Mr President, can't we drink in shifts. Some drink in the afternoon and others at night to avoid congestion instead of closing bars" someone wondered. The president recently said drunkards sit close to one another, talk a lot with saliva coming out of their mouths, which is very dangerous for everyone next to them. Many continue to praise Minister Aceng for the job well done in ensuring the country remains relatively safe, albeit the discovery of some cases. Screening at all border points remains intensified, and they closed at midnight on the 22nd of March. The Uganda Media Council has ordered the press to avoid carrying any live coverage of events to do with COVID-19 until now, we are to see if this will change. All press conferences have been cancelled and media houses were advised to concentrate on doing one on one interviews, and ensure that all journalists are well facilitated with masks, sanitizers among other preventive gear.
Despite the President's announcements over the last few days, people in different parts of Kampala are yet to act as per the advice of the health ministry. When I went out to buy breakfast a few days ago in Munyonyo, taxis were full to capacity as they went by with business as usual. At the bakery, three employees sat in the shop with not masks or even sanitizer for customers. I also made a quick visit to the pharmacy where the employees were wearing masks, but still had no sanitizer for customers. People are walking around as though no case has been confirmed, and this is dangerous. It is crucial for the specialized institutions to bolster up their efforts to raise awareness, as the government strives to control the spread of the virus after it was confirmed in a handful of cases in the country.