In 2008, Beverley delivered her first child and that experience stirred in her a sense of purpose that she had never tangibly had. Being passionate about poetry and the empowerment of women and girls, it didn't take her long to realize that a fusion of these two would yield the purpose she was seeking. The Babishai Niwe Poetry Foundation journey began as a simple thought placed into action, shared with a few visionaries and boom! The Foundation recently celebrated ten years this year in 2019.
Where are they Hiding?
'In 2009, there were few poetry spaces in Kampala; and even fewer spaces for Ugandan women poets' she reveals. She wondered where they were all hiding. Beverley beams with joy, revealing that she wanted an answer and further sought it by conceiving the idea of a motivational space that would support Ugandan female poets, giving birth to the Beverley Nambozo Poetry Award. The annual poetry award seeks Ugandan women between 18 and 40 years and celebrates their work. She felt that younger women needed this opportunity much more than older women because they had not had as much exposure.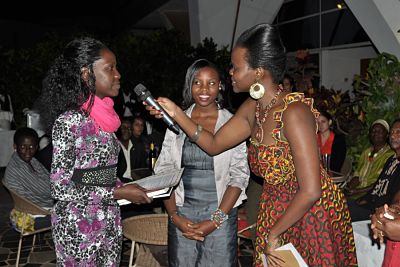 It was then that she shared the idea with a couple of literary friends and they loved the novelty. Before long, she had started sending out the call for submissions for the first Beverley Nambozo Poetry Award. The goal of this award was to promote Ugandan women; give them publicity and share their works with the world. Grand as this was, she still found it unbelievable that they actually received submissions.
The events after that fell into place, one after the other. With growing excitement at the submissions and the prospect of an actual award-giving ceremony, the first judges of the award included; Hilda Twongyeirwe, Susan Kiguli and Iga Zinunula who are all renowned and accomplished Ugandan published writers and editors. The judges reviewed the submissions and emerged with a unanimous winner, a law student at the time, Lillian Akampurira Aujo.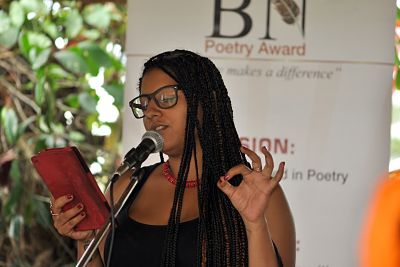 Planning for the first award ceremony was exhausting and exhilarating. The Deputy Speaker of the Parliament of Uganda Rt. Honorable Rebecca Kadaga was the chief Guest who graced over the event. At Fang Fang Restaurant on 21 August, 2009, with over a hundred guests from academia, arts, the corporate world and government, the first Beverley Nambozo Poetry Award was launched. A prize of $250 was given to Lillian Akampurira Aujo for winning the first prize. In second place was Catherine Kemigisha, who won $150; followed by Sophie Alal, who won $100. Rt. Honorable Rebecca Kadaga spoke highly of the event; about its novelty, its sheer genius and the potential for it to become a national celebration. Beverley stresses that the speaker's words reverberated across the Nation.
Growth
For the next five years, they continued promoting Ugandan women's poetry through the annual award. After 2013, there was a need for growth. Ugandan women have shown their mark and proven that they were passionate about poetry, highly gifted and some had extended this across borders. It was that year when the Award grew to include all African poets. The name changed to Babishai Niwe Poetry Award, including all African poets on the continent. It was in 2013 that they also called for submissions of their very first African poetry anthology titled "A Thousand Voices Rising: An African Poetry Anthology". Many of the leading African voices on the continent were generous enough to participate. Beverly's milestones in this period were being the first promoter of Ugandan women poetry through an annual poetry Award and launching an African poetry anthology.
Poetry and Scenic Sites
As the Babishai Niwe Poetry Foundation continued promoting poetry through annual poetry competitions, in 2015, they launched their first poetry festival. Since then, they have continued on to hold four other annual poetry festivals. Each festival was focused on promoting Uganda's most scenic sites. In 2016, they held the festival at Mount Rwenzori, taking a splendid, exhilarating walk across the breathtaking Mt. Rwenzori, while sharing poetry with the Bakwonzo of the region. In 2017, they trekked across Mabira Forest, raising awareness about the danger of the depleting forest, through poetry. In 2018, the destination was Sipi Falls in Kapchorwa district in Eastern Uganda, where they camped for the festival, enjoyed cultural tourism and poetic festivities during the Babishai Poetry Festival.
Over the decade, Babishai Niwe Poetry Foundation celebrated being the pioneer of an annual poetry award for Ugandan women, a significant voice for African poetry based on the continent; and having a real time interaction with poets living in Uganda and the region. The Foundation published three poetry anthologies; A Thousand Voices Rising; an African Poetry Anthology, Boda Boda Anthem and Other Poems: A Kampala Poetry Anthology and When Children Dare to Dream: A Children's Poetry and Short Story Anthology.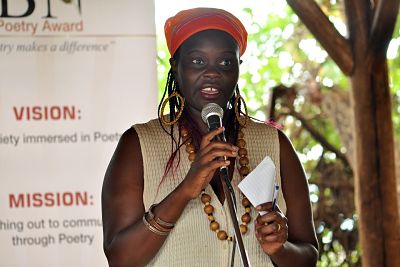 In 2017, they launched their first children's poetry production, 'When Children Dare to Dream.' which was followed by an anthology. Furthermore, the Babishai Haiku Award was launched in 2016 partnering with the African Haiku Network. Beverly is also proud to have launched the very first Luganda poetry workshop in 2019, marking significant growth with regard to promoting Luganda poetry.
The Babishai Niwe Poetry Foundation has grown in leaps and bounds since its inception in 2008. For 5 years, they were the only poetry award dedicated to Ugandan women. From 2014, they extended the award to the entire continent and included men too. This decision was based on signs of growth and spurts of need to be more inclusive.
Celebrating 10 Years
This year, on World Poetry Day, March 21 of 2019, the Babishai Poetry team departed from Kampala, Uganda's Capital to Kabale, a district in the Western part of Uganda; where they held their first tenth anniversary celebrations. The delegation to Kabale University included the Babishai team of writers and poets like the very first BN Poetry Award winner of 2009, Lillian Akampurira Aujo, Native American award-winning poet, Simon Ortiz, highly prolific Danish poet, Cindy Lynn Brown, Writer Davina Kawuma, Poet George Gumikiriza, a team from CivSource Africa, artist and designer Sarah Ijangolet and American poet Jami Proctor-Xu.
To date, the Babishai Niwe Poetry Foundation is the only organization coordinating annual African poetry competitions, whose secretariat is based on the continent. The Foundation coordinated the first Poetry Library in Uganda, an initiative of the African Poetry Book Fund, and the first Luganda poetry workshop in January of 2019. The Foundation further curated the first collaboration of Ugandan poets to the Storymoja Literary Festival in Nairobi. Beverly and her team have been featured in many media outlets including interviews in the leading dailies of East Africa, BBC 3 Radio Verb literary programme, PBS News Hour on NPR (U.S.A) and others. One of the proudest products of the Foundation is the development of Poet Tricks, a toolkit for children who read and write poetry, unveiling many paths to identifying key elements in poetry. To date, the Babishai Niwe Poetry Foundation continues attracting tens of thousands of African poets annually through The Beverly Nambozo Poetry Award.

Main image: Afro Women Poetry
In-article images: http://babishainiwe.com/