The artistic movement was one of the most important dynamics driving and influencing the December 2018 revolution. In a new project combining sociological research, artistic expression & tangible documentation, we seek to go deeper and discover the dialectical relationship between art and politics. This project, titled "Unpacking the #SudanUprising: Art, Artificial Intelligence & Grassroots Activism" is funded by the Research in the Arts Program grant through the Arab Fund for Arts and Culture and the Arab Council for Social Sciences. It deals with art production in times of uncertainty and political change, and the major role art played in communicating information about protests and political imaginations during the recent revolution in Sudan.
The research this project undertakes explores how the Inqaz government's war on artistic principles transformed the arts & culture in Sudan and shaped the art produced for three decades, up until the 2018-2019 uprising that partially expelled the regime. We expect that a reproduction of the artists' histories and the Sudanese communities' collective memory regarding the early years of Inqaz will lead to the comprehension of Sudan's contemporary history, whilst constructing an overarching narrative that makes visible to us the thought, theory and principle that shaped artistic resistance from 1989 until today. We hope that the results of this research will provide knowledge on complex political narratives in an accessible and digestible way that intersects gender, generational gaps and ethnic backgrounds.
Research During COVID
The project preparations started in January 2020 with a workshop in Beirut organized by the Arab Fund for Arts and Culture and the Arab Council for Social Sciences. The ground preparations in Sudan began with meetings that led to valuable discussions to develop a good working relationship and chart a path for the 18-months-long project. In April, when the team expanded to include the Research Assistants, Covid-19 was already an emergency in Sudan and the country was on lock-down.
The team faced many challenges, the most difficult of which were the health conditions resulting from the Coronavirus pandemic. Nonetheless, the team's insistence to move forward with the project was greater than the restrictions imposed by the pandemic; thus, the work flow continued using digital communication channels.
In Sudan, online work is a challenge due to the unreliable internet connection and power cuts that continue to plague the country. In addition, some options such as Zoom were inaccessible inside Sudan unless you purchased or installed a VPN, and due to the lockdown, it was difficult to find IT support services. Moreover, most of the team didn't have a space that was optimally designed for work-from-home, and not all had the equipment needed to work. The team continued to have discussions about improving productivity and finding space and peace in the chaotic Sudanese households that constantly reminded everyone that working from home equals not having a job at all. The team did succeed in finding what works for everyone and settled on using Jitsi as well as email & file sharing for effective communication & meeting the project's work-plan targets. The experience has been positive so far and the project is now facing lesser restrictions on movement and will continue to find better tools for communication to facilitate the research work during the ongoing Covid-19 crisis.
Research & Resources: Accessibility, Documentation & Sanctions
During the search for studies related to art in Sudan on Sudanese universities websites, the team found that most of the research available on the internet was related to certain arts but not others. Unfortunately, there is no solid documentation of Sudanese art and a clear lack of information about artists and various art programs taking place over the past three decades. The team hopes this project will be a valuable contribution towards tangible documentation of Sudanese art, because we believe in its worthiness & the need to understand the extent of its impact.
Researching in Sudan is an exercise in facing the structural barriers of access that face Sudanese at the sociopolitical level. The effect of sanctions is not only an impediment to our often-discussed economy, but can also be traced digitally and technologically through blocked websites, unattainable software, and unavailable technology. During our research process, these bindings manifested through the inaccessibility of global research through international journals. However, circumventing institutional barriers can be a blessing in disguise: it calls for creative solutions, such as calling on the international community of Sudanese scholars with access to these archives to direct those resources back to us, and a shift to local foci. Furthermore, it meant we were intentional in centering the research conducted by local scholars, found in the libraries of local universities and the archives of seasoned academics.
Outputs
The team will spend the next couple of months researching arts & revolutions in different Sudanese states. Andariya will publish a bilingual book compiling the findings of the in-depth field and desk research. We will also curate several cultural and literary events in Sudan & Uganda to share the experience of researching & documenting arts & revolutions. The team will work on several multimedia content that will be shared across Andariya's website and social media platforms, as well as in scholarly outlets.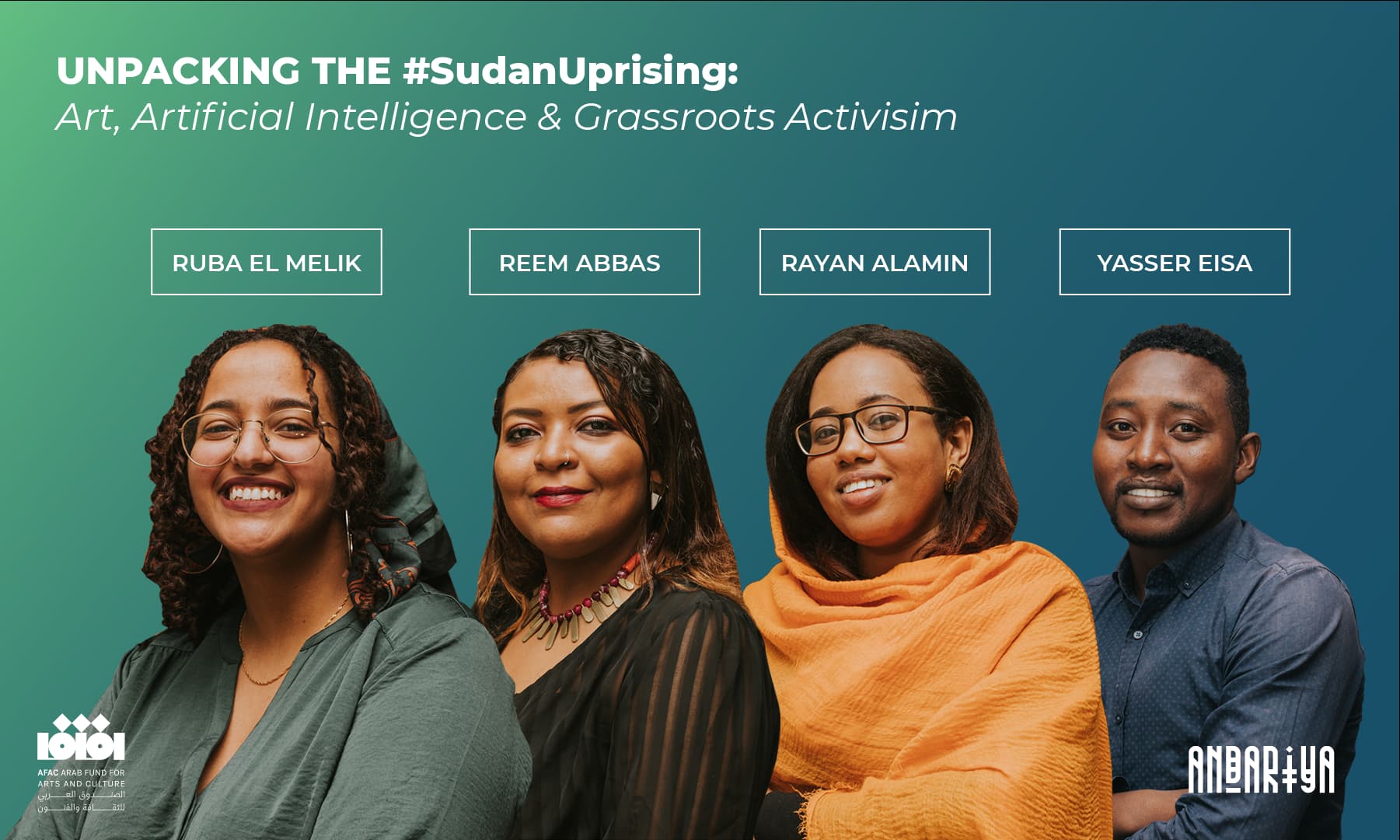 Reem Abbas is a freelance journalist, writer, researcher and blogger. Her writings on press freedoms have appeared in the Index on Censorship and the Doha Centre for Media Freedom. Her articles on human rights and socio-political commentary have been featured in the Christian Science Monitor, the Washington Post, Al-Jazeera, Al-Araby, Al-Monitor, the Guardian, Open Democracy, African Arguments, Middle East Eye, Medium, Nuba Reports, Women's E-News, Africa Review, the East African newspaper among many other media outlets. She was a columnist at Open Democracy in 2012 and 2013 and a Women Deliver fellow in 2013. Reem is currently a Senior Researcher at Andariya researching the effects of arts censorship and suppression on cultural resistance.
Ruba El Melik is a sociocultural anthropologist and independent researcher interested in creating possibilities for African scholarship by shaping a future for academia on the continent that exists outside of institutions. She completed her undergraduate education at UCLA where she received a B.A. in Anthropology in 2018. Her research interests include race in education, Nubian indigenous languages and the paradigms of hidden power that affirm Black Muslim women's seizure of autonomy. She is currently a Researcher at Andariya where she studies the fallen Inqaz regime's erasure and suppression of art and artists after 1989 as a method of altering collective memory and social ideology amongst the Sudanese population. She is based in Khartoum, Sudan.
Rayan Alamin is a social worker and researcher focused on reducing social issues in Sudanese society and enhancing the potential for decent human life. She is a double graduate of the University of Khartoum where she completed a Bachelor's degree in Sociology and Social Anthropology as well as a Master's of Social Work. Her passion for the field lies in understanding communities through the exploration of diverse issues facing their members, with a focus on disability and refugee status. Her previous work in research includes conducting refugees' livelihood evaluations in refugee camps in Eastern Sudan, as well as working with refugees in camps in Shagarab and Wadsharefy. She is currently a Research Assistant at Andariya, where she researches the effects of arts censorship and suppression on cultural resistance.
Yasser Eisa graduated from the University of Khartoum with a Bachelor of Science with honours in Sociology and Social Anthropology, and is now enrolled in a Master's degree at the Doha Institute for Higher Studies. He has research experience at the Epistemological Enlightenment Centre, where he collected field data, reports, articles and papers, and co-organized weekly intellectual forums and panel discussions about various issues. Yasser joined the Andariya community as a Research Assistant in April 2020.