In late 2015, Sawtna published a bilingual e-book authored by Dalia Haj-Omar, titled "Guidebook for the Strategic Use of New Media for Peaceful Social Change". The elegantly designed e-book is divided into five chapters tackling digital media tools such as blogging and social media platforms, crisis mapping, crowd-funding and digital security. The author styled the e-book so it provides theoretical frameworks as well as grassroots examples from digital platforms users and builders.
Dalia presents facts supporting what most people already assumed; Sudanese users are populating digital media platforms and utilizing tools despite the sanctions and relative backwardness of the infrastructure, education, utilization and implementation.
The first two chapters tackle the evolution of community building platforms; from blogs to Twitter, Facebook, Tumblr and how Sudanese users put their footprint on each.
The chapters on crisis mapping and crowd-funding brush the surface of these two digital tools, but the case studies (both from Sudan) demonstrate ideal uses. In the last chapter Dalia exhibits some of the gruesome ways internet freedom is, and has been, further constricted by authorities all over the world when digital organizing spread its power and governments felt the repercussions. The case study of Sudan further zones in on the darkest hours for digital security crackdown and persecution.
What makes this book distinct is the comprehensive list of sources and references compiled for further reading; citing local, international and regional examples of relevance to the reader. Overall, the book exposes readers to a diverse set of the fantastic ways the digital age has empowered Sudanese people to connect, organize and carry out civic responsibilities, ranging from the humanitarian to the creative arts spheres.
In the next section, the author elaborates on her inspirations, the process of writing and some of the notable trends surrounding the book's core content.
Andariya: Why did you include both theoretical backgrounds and case studies in your book?
Dalia Haj-Omar: The book is mainly about capturing best practices and successful examples of the utilization of information communication technologies (ICTs) for social change/advocacy. It's not about the technology as much as it is about how the technology can be innovatively used to bring about change. Therefore the case studies from a number of countries and interviews with practitioners (local and international) are the main highlight, since at the end of the day, technology changes fast and what's more important than the technology itself is how we use it to bring about lasting change that contributes positively to the advancement of our societies.
A: What were the most notable challenges when collecting data? How did you overcome them? What data would you have wanted to include now when you're reflecting in retrospect?
DHO: Although this book was inspired from my personal experience I also covered topics that I don't consider myself an expert in, such as crisis mapping, crowd-funding and digital security. However, I had a lot of support in the sense that I had those chapters reviewed by experts in those fields; and I interviewed a lot of experts as well. I also attended a number of digital security trainings myself and learned by doing. So the challenge was not as much a challenge of collecting data as much as broadening my knowledge in areas beyond my direct practical expertise. It was also about deciding how to narrow down case studies and expert interviews—I had a lot of information and I had to compress it to what is relevant to the main audience of this book.
If there's a future edition there would be an additional chapter on audio and visual documentation tools.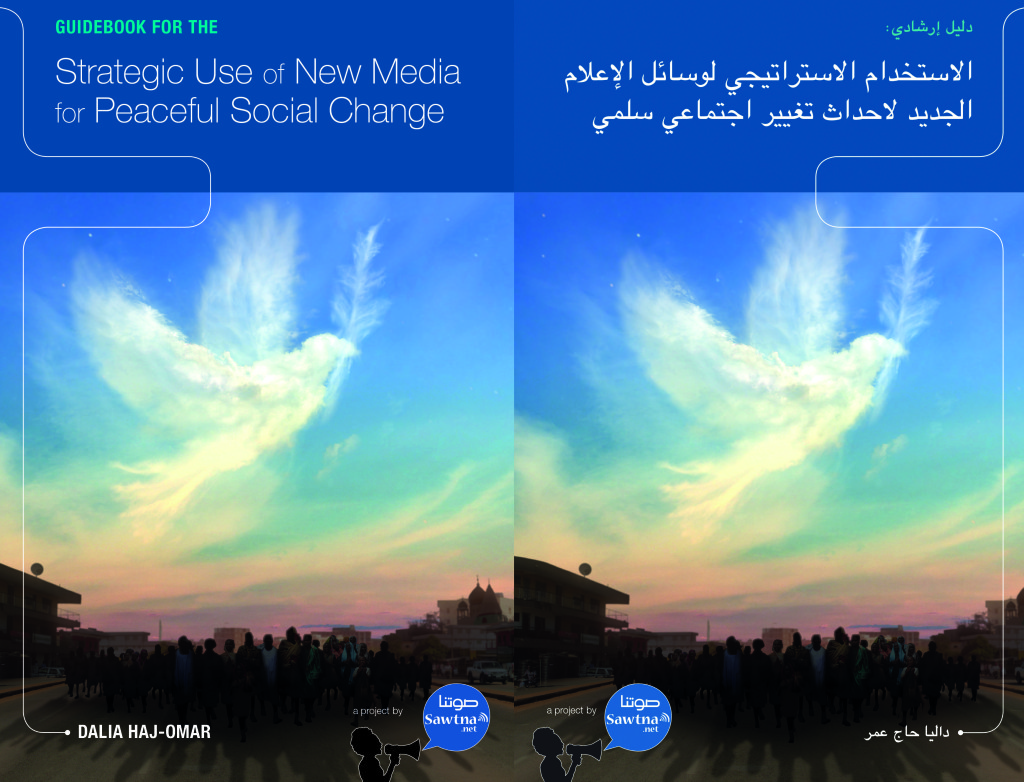 A: The Sudanese digital footprint is small, why do you think that's the case?
DHO: We are there, we are participating and creating a lot of noise, but our digital imprint is minuscule because we are not organized and not strategic in how we use digital platforms. For example, many great writers are using Facebook as if it is a permanent blogging platform -and it is not. It is not an archivable, searchable platform and it is only one of many social media tools, but we tend to rely too heavily on it and to use it like a personal blog or website. Additionally, Sudanese media, even the ones that have transitioned online in the last couple of years, remain traditional in their thinking. They are not taking discussions and user-generated content from platforms like Instagram, Facebook, Twitter etc. and curating them into stories that can be digested by a bigger audience that might not be following Sudanese users of these platforms. The curation of online content is done by every large news agency and even online magazines nowadays, but as Sudanese we are not doing that. Hence we are not highlighting our presence online to a more diverse and/or global audience.
A: What would enhance our digital footprint?
DHO: I would say the answer to this depends on what we want to achieve exactly. Who do we want to reach? What do we want to change? In a general way, we need to start telling stories better. We are starting to see this shift, but very slowly. For example, given that we are a very oral culture, it is surprising that we are still behind at using audio-visual tools of expression such as video-blogging, photography or photo-documentaries and pod-casts. As a matter of fact 2015, has been called the "year of the podcast" in the US, meaning that podcasting is the new blogging. It is super easy to set up a podcast given how advanced our phones have become. There are now podcasting apps that do everything from recording to basic editing to posting online–all from one app and device. We need to look into the various tools that will enable us to reach a wide audience, all while practicing culturally appropriated norms i.e. oral versus written.
A: There are developments towards lifting tech sanctions on Sudan; how would this affect our usage especially pertaining to social change and businesses?
DHO: There was indeed a big shift in US policy in early 2015 that led to issuing a general license that lifted most restrictions on technology sanctions. There was a 2-year intensive campaign led by Sudanese citizens that led to this, but now many are complaining that they are not seeing changes from US-based technology companies. The main reason is that follow-up on implementation of the general license is required since Sudan is not a big market that US companies care about. Perhaps what is needed is a follow-up campaign. Citizens who are concerned should start by familiarizing themselves with the general license which should have already resulted in lifting sanctions on things like purchasing original software online, as well as having access to apps that are free. The one thing that the general license does not fix is the fact that Sudan remains under economic sanctions, and hence doing financial transactions online is still not possible. In the past many only had access to pirated software that was impossible to update remotely and that was exposing people to malware and viruses. This was a problem for both the private and non-profit sector, including universities.
A: The e-book title can be thought of as exclusionary- do you think it is useful for for-profit companies and independent bodies or individuals as well?
DHO: I don't believe in catering to the broadest audience possible; my recipe was to tell a story that only I can tell. I really wanted to write a book tailored for the Sudanese civil society in a general way including active citizens, journalists etc. It's my parting gift after 10 years of exclusively working on Sudanese pro-democracy issues. There are many books out there geared towards using ICTs and social media to support for-profit entities; I didn't want to replicate that. There are overlapping uses for sure, but I know for sure that my intended audience was a specific audience that I know intimately.
This book is a product of my experience as an activist working in Sudan and globally. I used to get a lot of requests to support trainings in using social media and ICTs strategically for advocacy, and I realized there is nothing out there that is ready-to-use and tailored to our experience/needs, showcasing the best practices. There was also the problem of not having relevant materials translated into Arabic. The book attempted to address all of these needs and gaps. It is written as a practical "user manual" with every chapter having a theoretical part, case studies, interviews and additional resources such as videos to watch or/and articles to read. It is an ideal reference for trainers in the subject.
A: Why is this book relevant now?
DHO: Sudanese civil society are constantly reacting to the reality on the ground, and rarely stopping to assess and document successes and/or challenges. I think the work done on campaigning and advocacy, especially by the youth-led civil society in Sudan (and globally), in the past 5 to 6 years has been exceptional and executed with limited resources and under tremendous pressures. This book was written to acknowledge that and to make sure that a new generation does not start from zero. It was also written to popularize that knowledge outside what I consider a very small and diminishing civil society that is also mostly urban. The book will be available in Sudan in hard copy (free of charge) and the aim is to make it available to active grassroots groups outside the urban centers.
The book can be downloaded in full or as separate chapters in English or Arabic. The book is also available in hard copy upon request. Follow Sawtna on Facebook and Twitter for more information.