Co-written by Hadeel Kabosh
Akau Jambo Daniel is of South Sudanese origin but has been living as a refugee in neighbouring African countries all his life. His story highlights the struggles of war victims and the several phases of survival for members of the diaspora. Despite the harsh circumstances, Akau pursued his passion for comedy with nothing but determination, patience and optimism. In this interview, conducted in Kampala, we reveal some of the highlights from Akau's life that trace the paths of many before and after him, moving across African borders surrounding Sudan and South Sudan, to escape war and conflict.
Omnia Shawkat: Uganda hosts many South Sudanese refugees, what are the dynamics at play for you here?
Akau Jambo Daniel: a lot of people seem not to understand our stories; they don't know how we had to move from there to here. Here, some people see me and they're like "hey why don't you go back to South Sudan?" I actually wasn't born in South Sudan; I was born in a refugee camp called Kakuma in 1997 and we lived there for some time. Life in the camp was tough. You have to wait for help since no one is working in the whole camp. You have to wait for food to be delivered by the UN. My mom being a single mother had to raise me, my elder brother, and my half-brother all on her own. I must admit Uganda has been nice to me, Uganda raised me and made me what I am and I appreciate that. As a matter of fact, I respect every Ugandan and Kenyan because these guys accepted me and raised me when my country was torn apart by war.
Omnia: What are your memories of life in the camp as a young boy?
Akau: it was fun, being a child you didn't really know what was happening. I used to hear people every evening listening to the radio, waiting for news that confirmed Sudan is safe now and they can all go back home. Until now, that's what we've always wanted. In my mind I didn't know what home was, home to me was the tent we were sleeping in; I didn't know that Sudan was the home they were talking about. I like saying this a lot: being born in a camp is like being born HIV positive, you can't do anything about it you just have to accept it and try to make things work. Eventually, someone told my mom that she could make some money outside the camp, in Nairobi, where she could sew bed sheets and then sell them. And so I started primary school in Nairobi, but it was tough; we'd go days without food. I don't know why she decided to bring us to Uganda, we first visited Uganda in 2003 and then we all came to stay. We lived in a single bedroom –I shared the same bed with my mom. We kept on moving to different places, my mother always wanted to live close to her relatives, I guess so that she could seek help in case she is badly off.
In 2007, she decided to take us to Sudan and introduce us because no one knew me; no one knew there was a boy called Akau. My dad died back in 2001 and growing up we didn't really talk about him as much because talking about him would make my mum sad and that's the last thing I ever wanted. When we were in Sudan, she introduced us to the whole family and we visited our dad's tomb. That's when we took back our half-brother and brought him with us to Kampala.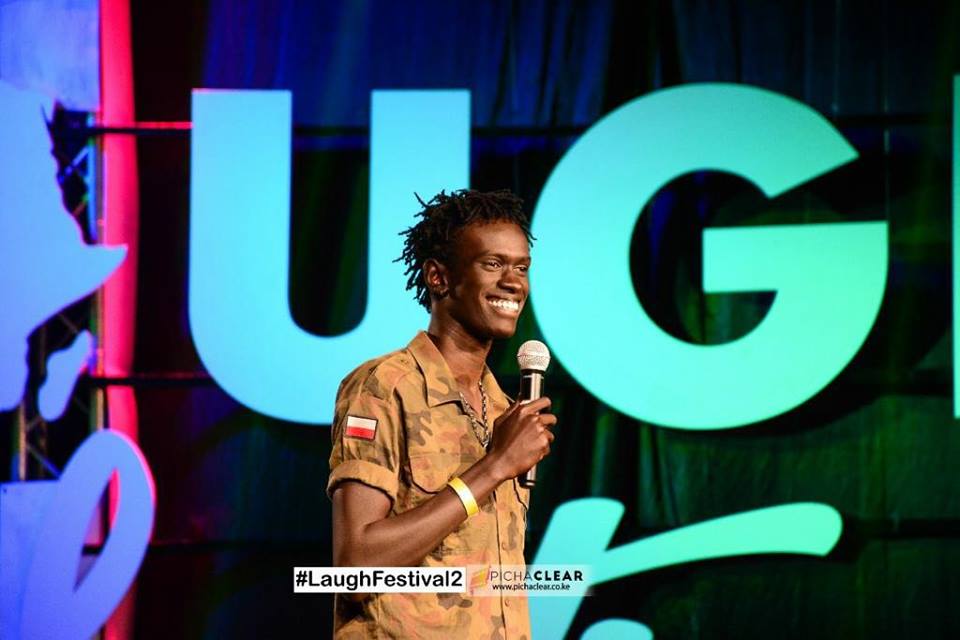 Omnia: what was your mother's impact on you growing up?
Akau: our mother always wanted us to be in school, she told us "whatever you do, you just had to be there and get the knowledge and most importantly learn how to associate with people in society". I wouldn't say I feed from what I learned in school; but I feed from what I've learned from my friends at school. Not what mathematics or science had taught me, but how I have to behave, how I have to treat other people. With my life intermingled with war, I really needed to learn how to socialize with people, because the last time I checked, war doesn't solve anything in the 21st century and my friends in school taught me that.
Omnia: true, a lot of learning happens outside school curricula, it is an accumulated experience.
Akau: exactly. When we came back to Uganda in 2007, money was a problem so my mom decided to move to South Sudan and work in a prison ward, she got a job there. She worked there for a few months but the weather there was hot, it was tough, so in 2008 she fell ill. She was brought back to Uganda and then on the 9th of September she passed away. My brothers and I remained in Uganda and we had to figure out how to survive. I was eleven. A few relatives showed support, but we knew that wouldn't last long. In my senior year, I started working at Nsambya and I could finally afford my own room. I had to leave my brothers because it was cheaper here and I made some money, sent some back to my brothers and so things started to come together. It was 2016 when I actually decided to join stand-up comedy.
Omnia: how did you start and what has the process been like?
Akau: Well, it all started as a joke. I was in the kitchen with my friend, Ebayo. He was cooking and I was just talking and he was laughing all along so he told me to give comedy a try and I said I would consider it. I was on Facebook and I saw a post by a comedy club called Comedy Files that held shows every Wednesday. I went there and met a gentleman called Moses, I told him I wanted to join and he introduced me to a man that linked me up with Timothy, a renowned comedian in Uganda, he's a very talented guy, he's the type that listens to your jokes and helps you develop them. I had jokes, but I didn't have the standup character in me so I kept on coming back and he helped me through my first seven minutes. I stepped on my first stage in Makerere University in front of a crowd of 400 people. It was beautiful.
After that Okello Okello announced that he was going to have a one-man show and he wanted me to open for him. It was a good opportunity, and after
opening I got my first appearance at the Comedy Files weekly event, it's one of the biggest stages here in Uganda. One of the things that are actually helping
us as new comedians is this bar called Kubbys that offers five minutes of open-mic, every end of the month, where we could just do our thing.
After Okello Okello's One Man Show he took me across the country on his comedy special program called Rich Friends Poor Family where I got to share the stage with some of Uganda's top comedians like Omara Daniel, Napoleon, Akite Agnes, Don Andre, Cotilda Inapo and Optional Allan. It was just like a dream to me because I used to watch some of these guys on TV when I was a kid.
After the tour, Omara Daniel, one of the comedians with us on the tour got a gig in Rwanda called the Kigali International Comedy Festival and he asked me and my friends to join him. So we went to Rwanda in late 2017. I remember seeing him ask the organizers to give him some slots; he was given three in which we performed and had a great show. In Rwanda, I got a recommendation to perform at the Laugh Festival 2 in Nairobi, Kenya.
It has always been God's way of helping me, and the few chances I got I used them to go up the ladder from one level to the next. I believe in this world, everyone deserves a chance to show what they got. There are a lot of people with talent but no chance or opportunity to show what they got.
Omnia: do your brothers come and attend your shows?
Akau: they attended once and I was talking a lot about my mom, they liked it.

Omnia: did you ever perform in South Sudan?
Akau: no, I never performed in front of a South Sudanese audience.
Omnia: did you, as a non-Ugandan, get featured in Ugandan media?
Akau: no, actually my first interview was with a Spanish magazine called Mundo Negro which means the black world. It sounds racist but it shouldn't be, it tries to educate Spanish people about life in Africa.
Omnia: what's next for your career and life here?
Akau: I will continue doing stand-up comedy in Uganda and events in the region. I'm also planning on writing a book with a friend of mine, he's from the UK but lives in Spain- we actually met on Facebook. It was World Refugees' Day and I wrote a post; everyone was celebrating and as a refugee I don't think
there's something that should be celebrated. He liked my mindset and we started talking. I feel like it's going to be a good comic book. I appreciate the
Ugandans I have associated with; these guys have been a blessing. All of my best friends are Ugandans, the only South Sudanese friends are relatives but
the South Sudanese in me will never change, I know it.
All I can say is, I'm going to use my career to show the world the South Sudan they don't know. I don't want people to think about war when they hear the word South Sudan. I want them to think about the beautiful people, the beautiful art or even the beautiful dark skinned fashion models.
You can follow Akau on his Twitter, Facebook and Youtube page to learn more about his work.