According to 2015 statistics, the population of differently-abled individuals of both sexes was 4.9% of the total Sudanese population. Most of the differently-abled in Sudan suffer from a lack of services in all fields, and due to the economic situation, the services are slowly improving if at all, leaving most of them in a state of abandonment and isolation. This in turn leads to less participation in society, which could lead to mental health issues, possibly starting at a younger age due to many factors, e.g. as a result of the shock of the parents and societal stigma and attitudes towards differently-abled individuals.
We spoke to Waleed AlNagar, an activist working on the issues and rights of people with disabilities, and he highlighted 5 mental health hurdles facing differently-abled people, the reasons behind them and what can be done to avoid and solve some hurdles.
1. Lack of educational institutes and training to guide professionals about the mental wellness of differently-abled people.
This is the main reason why people with different abilities may grow up with a lot of hard feelings caused by inappropriate treatment methods that don't suit their
situation. Whether it was a lot of attention in terms of fear for their safety or ignoring their needs completely, both acts are a result of poorly trained skills based on traditional and outdated information or even wrong information. These factors lead to mental and emotional disorders which are aggravated with time and become more complex and hard to overcome as people grow older.
2. Facilities lack services and professional help.
The current situation isn't promising when it comes to the rights of the differently-abled, and we are in desperate need to be rehabilitated to accommodate all categories. Waleed noted that the types of services provided must consider the needs of the person, which means it needs to be in full compliance to all standards and cases of differently-abled people and provide proper services. He added "psychological services are unavailable and there is no governmental interest to improve the situation, besides low community awareness about the importance of psychological support and mental health awareness, even in the media. Psychological services are also expensive, leading some families to resort to alternative solutions".
3. Social Stigma
Societal involvement in this issue is a huge part of the development process for people with different-abilities, to grow emotionally first then mentally. Being surrounded by a supportive community adds a huge value to their lifestyles, while facing social stigma sets a lot of pressures on differently-abled people, and for them to generate adaptable mechanisms goes at the expense of their mental & emotional stability.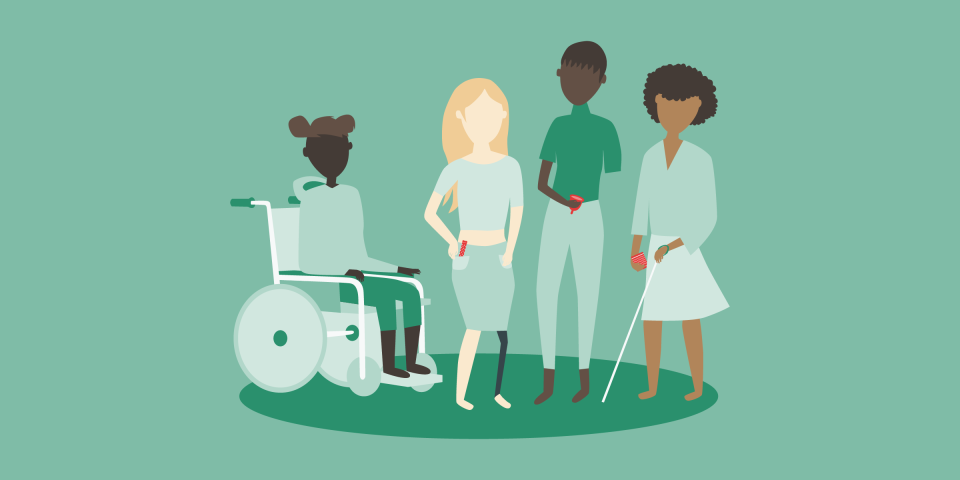 Illustration by Marta Pucci
4. Mental health specialization for the differently-abled.
To consider the mental health situation for differently-abled is a very sensitive topic. Therefore, the importance of investing in specialists through specialized training and studies is highly recommended to be able to understand and maintain a healthy mental state for the differently-abled.
5. Age old tradition of brutality.
Until today, most of the differently-abled people are exposed to all kinds of brutality, abuse, torture and beating. Waleed said "one of the biggest problems is not
accepting them and showing them the shock and denial and even violence in many situations. There are many cases of children with different abilities who suffer from restriction and confinement and all kinds of torture, such as preventing them from eating or entertainment, and interactions with their surroundings, such as with the family, school, and streets".
In Khartoum, there are some specialized centers for different forms of different abilities for both children and adults, such as the Khartoum Autism Center (KAC), Rida Integrated Academy in AlMugran, Al Amal Institute for the Deaf in Al Daim West and others. It is unquestionable that people with different abilities remain an integral part of our society; many have untapped potential to contribute to our society in many ways. Through awareness and constructive changes to our system, policy, infrastructure and social norms we can guarantee that things will transform positively for our collective communities, inclusive and conducive of people living with different abilities.