The narrative comedy film aKasha by Sudanese filmmaker Hajooj Kuka premiered in August of 2018 just a few months before the uprising began in Sudan. Since its premiere at the Venice Film Festival, it received a lot of attention and awards globally. At a time when Hajooj and the talented cast were supposed to be celebrating their success, they were in the midst of the crowds chanting for freedom, peace and justice. He said "I wasn't present during festivals or award and the cast could not tour with the film either, due to their refugee status. I wanted to contribute to the revolution and that caused me to not really focus on what was going on with the film."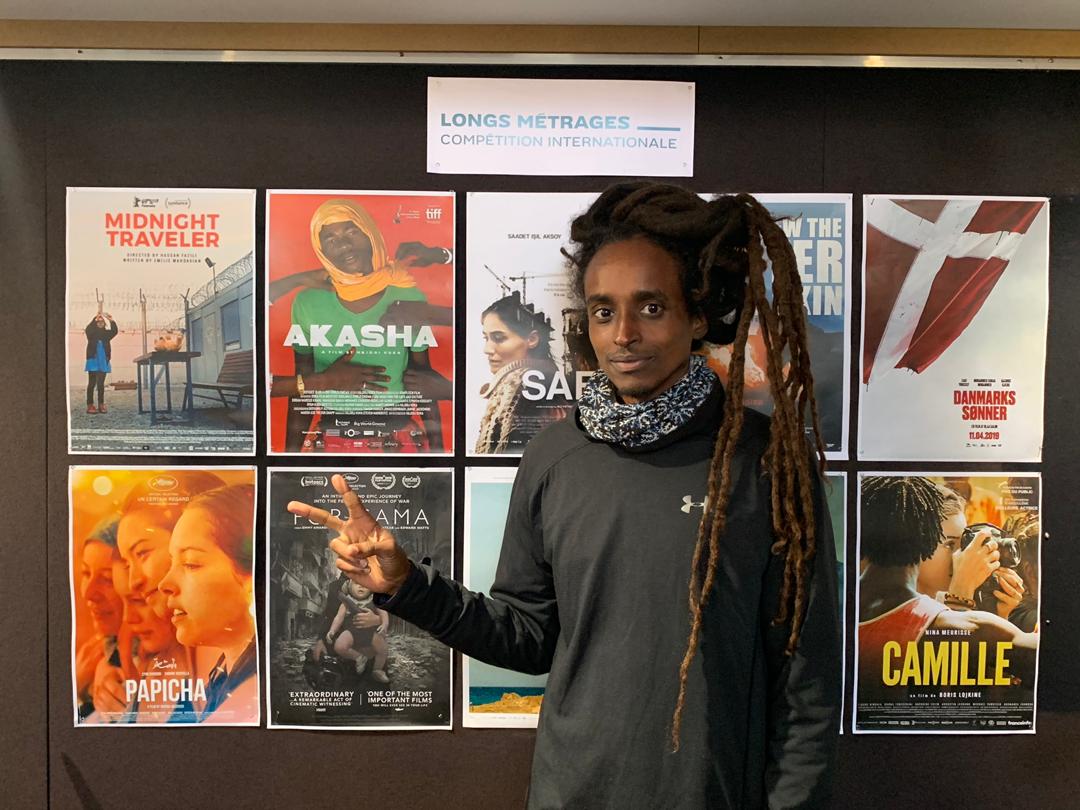 Source: aKasha on Facebook (Hajooj Kuku attending the War on Screen Festival in France)
Kuka's decision to fight for his country comes as no surprise given his long history of activism through various tools including art and film. He started his journey as a visual artist before getting into photography which led him to filmmaking. He reflects on the evolution; "the more I got into filmmaking, even the way I watched movies changed. I began to notice and understand how the movies I loved were made. Emir Kusturica's Black Cat White Cat was one of the reasons I decided to create my own." Inspired by the French New Wave, Italian and African independent films, Kuka's filmmaking style is bringing radical change to Sudanese cinema. He added, "both Beats of the Antonov and aKasha reflected the reality that I was experiencing at the time. When Beats of the Antonov was being filmed, the circumstances were different and the civil war was strong. We became used to the fact that we were settled and living in a conflict zone and we grew more accustomed to genocide and death."
aKasha- which translates to "the round up"- zoomed in and out of the reality of residing in an area where armed conflict has been persistent over a long period of time. With aKasha's lighthearted scenes, Hajooj gives us a glimpse of how the heavy weight of war translates to genuine connections. From cross-dressing to disguise gender, to flowers, to strong women and a community connected by love, music and solidarity. Kuka captured the beauty of the Nuba Mountains which often remains hidden.
It might be strange to some that a film set in a conflict zone is a comedy, but Hajooj explains that this is the reality of living in the mountains. He said "in 2017, the war was over and as people living in these areas we wanted to find some sort of entertainment to fill that void. We turned to acting and theatre of the oppressed, this then transformed to forum theatre and short films. Because of how enthusiastic the young people were about these small projects, I wanted to create something bigger." Adding, "When we screened Beats of the Antonov in the mountains, the way that people reacted to the scenes was very similar to the theme of Akasha. People would gather to watch and find humor in the scenes. I created Akasha as a comedy because of the way its people watched and reacted to films." People living in areas of conflict are not as secluded as one would think. There are many details in the film showing just how much people in the Nuba mountains are exposed to other cultures and different forms of art. Hajooj added another layer to that by choosing to name the lead actors and actress after the Arabic dubbed Future Boy Conan characters. He noted "Hayao Miyazaki is one of the directors that I admire and anime in general has had a huge role in shaping who I am. What inspired me the most about Future Boy Conan was how the hero was fighting something that was a lot larger than he was, but still living his day to day life."
While the spontaneity and natural talent of the cast members is evident in the film, it also reveals Hajooj's talent as a director. Hajooj selected a cast with little to no experience in acting, each playing a role that represents a piece of himself and the faces of a revolution. About this, Hajooj noted "to me each character was a symbol of the different parts of a revolution, Blues is the intellectual revolutionary who is not as connected to his surroundings, Adnan with his Nancy (his ak47) represents a love for heroism, Absi represents art and spontaneity and Lina is the most realistic one who knows what she wants." Adding, "There's a part of me in each character, there's the artist that wants to focus on his craft and leave it all behind- especially after the revolution ended- to be an artist without being an activist. There's another part of me that acknowledges that my art is a weapon and wants to walk towards danger, there's a part of me that wants to understand more about the revolution and to start building. Like Blues, there's another part that wants to dive deeper, read books and talk in a complex language."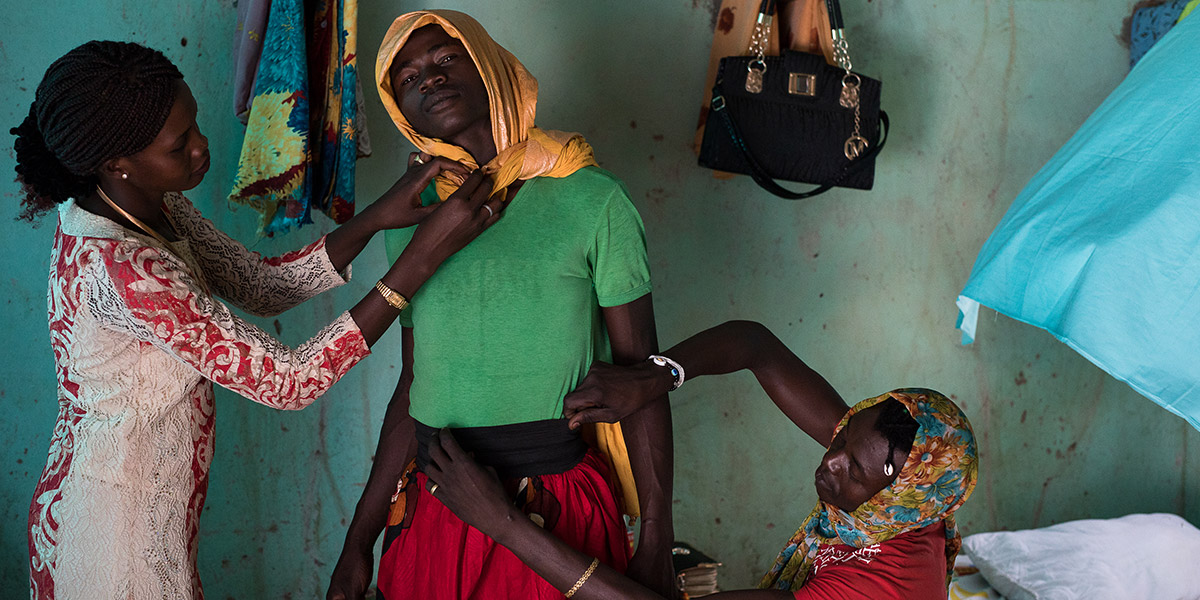 Source: Deadline.com
December of 2019, marks one year since the revolution began in Atbara. December is also known as the month of weddings, diaspora return and now filmmaking. AKasha was screened in Khartoum for the first time at the House of Heritage as part of Locale's exhibition and at Goethe-Institut. Showing it in Sudan was important, Hajooj comments "I want people to watch the film, to see the lead actors and the mountains and think: how beautiful. I created this film for Sudanese people who are used to watching National TV which broadcasts a certain type of beauty standards, specific skin shades that narrows the diversity of Sudan to one style of dressing and dialect." Kuka managed to break these stereotypes through aKasha and started a dialogue in the city about what is really going on just a couple hundred miles away and on the search for the meaning of a revolution.
Hajooj's filmmaking days since the beginning were connected to activism at a time when holding a camera was considered a crime. Now that Sudan is transitioning to a democratic state and the Sudanese cinema is making a big return in a new light, it is difficult to tell where it is heading. Hajooj believes that Sudanese films need to become more authentic and reflect our reality as Sudanese people. "I've seen short clips online created by Sudanese people that made me laugh because it was made for me, for us. It doesn't have to market or paint Sudan in a better light for the world to see. The future of Sudanese filmmaking lies in our truth. Would it be possible to also look back on the previous years and retell them honestly?" Kuka stressed that the first step would be to provide artists with a space to gather, think out loud, make mistakes, collaborate and create. He noted "what was great about the sit-in is that we had a space, just seeing other artists around doing their thing made me happy. The spaces available are not open to the public. Our country is big, but there is still no place for us." We all hope to see Hajooj's vision come to life but not only does it require artists to collaborate and take initiative, but a lot of support from the Sudanese people as an audience and as decision makers.
Watch aKasha's trailer here.