Music is the food to my soul. This is a phrase used by many people in the world under different circumstances. Imagine this, when one is depressed, they have a certain kind of music that gets them through tough times, when one is happy, they will sing and dance to their favorite tunes. So, music is therapy for every situation a human goes through, and that's why at Andariya, we love to collaborate with artists and share their stories and music.
This Sunday 8 March 2020, the world celebrated the International Women's Day. This year's celebration runs under the theme; "I am Generation Equality: Realizing Women's Rights." According to UN Women, the theme is aligned with UN Women's new multigenerational campaign, Generation Equality, which marks the 25th anniversary of the Beijing Declaration and Platform for Action. Adopted in 1995 at the Fourth World Conference on Women in Beijing, China, the Beijing Platform for Action is thought of as the most progressive blueprint for the empowerment of women and girls around the world. The year 2020 is a pivotal year for advancing gender equality worldwide, as waves of women's rights progress get acknowledged since the adoption of the Beijing Platform for Action.
In 2019, Andariya celebrated Ugandan women in the film industry by sharing their profiles, contributions and challenges. Eleanor Nabwiso and Kemiyondo were some of those that made the cut. This year, we celebrate our sheroes in music. Ugandan female musicians who for many years, have kept us entertained and fed our souls with sweet ballads. Earlier this week, I revealed some inspiring messages from my interview with Afro-pop artist turned politician Rachel Magoola, and in this interview we meet the award winning rapper Tushi Polo Nabakyala.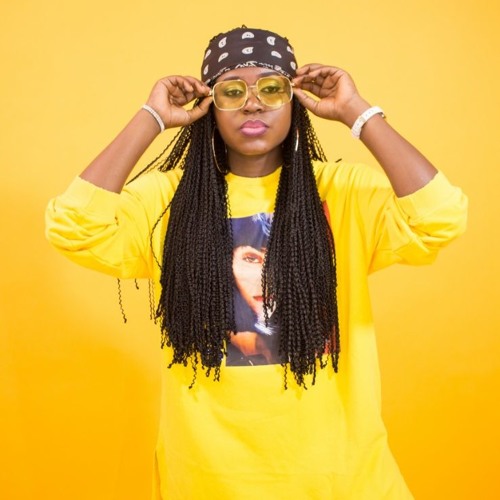 Credit: Tushi's Soundcloud channel
Born and raised in Kampala Uganda, Namujjuzi Patricia Tracy, also known as Tushi Polo Nabakyala, is a 24-year-old rapper. She started singing at the age of 8 and later fell in love with rap, which she switched to at the age of 14. "I am a rap artist, singer, and song writer. I'm versatile when it comes to genres but I mostly represent hip hop and Afro-soul" Tushi tells me.
The 'Kajanja' singer has been in the music industry for what she terms as 'too long' and does it full time, saying "only that I have to share it with a bunch of other on and off jobs that generate some income." As a multi-talented young lady, she mostly writes her own songs, but says she has had a collaborative writing session in Vienna (Austria) where she was part of the Amadiinda sound system, a project that was a fusion of Ugandan local instruments and sounds with Austrian and EDM sounds. She elaborates "the theme was mainly peace and globalization and as the main writer, I had to research, write about the similarities and differences between both parties and also the solutions that are likely to unify us as one. It's an album we worked on with the Austrian legend DJ. Wolfgang and performing live with the Amadiinda singled out as the main instrument which we traveled around with for workshops, tours, the ImPulsTanz (Vienna International Dance Festival) and up and close intimate performances with various talented artists and the fans. It was an amazing experience".
Asked which female musician in Uganda she would love to have a collaboration with, Tushi said she would consider many ladies including Lilian Mbabazi, Juliana Kanyomozi, Winnie Nwagi, Irene Ntale, Lady Slyke and so many others. Adding that she would like to work with singers mostly "because the fusion of their harmonies with my rap verses would probably create master pieces." Her favorite musician in the entire world is Kendrick Lamar, she says "he has this intellectual and humble personality yet he's aggressive and dominant when it comes to spitting bars. A great and energetic performer to top all of that talent, I mean who wouldn't want all of that?" I then asked if female musicians in Uganda were getting as much support as their male counterparts, her answer was as brief as "I'm just going to say no and leave it as that."
Tushi recently won the Collaboration of the Year award at the MTN UG hip hop awards, and has been nominated for many other awards. Given a chance to change something in Uganda's music industry, the young rapper would change the way female artistes are perceived, how music is received and distributed, the exploitation, the labels. "Truthfully this question is too deep and as much as I would love to see change in all the thousands of things, I want to see change in this industry, it can't be done solo. Most of these things you can't do alone if given a chance" she told me.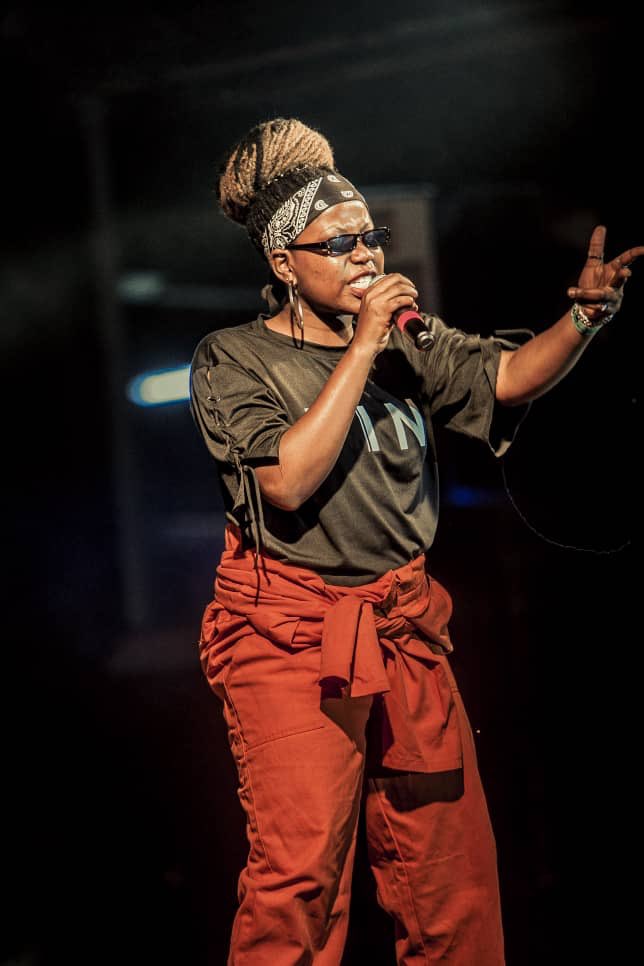 Tushi performing at the MTN hip Hop Awards via @theninjafelix on Twitter
Tushi's turning point in music came during the youth and hip hop bootcamp with Bayimba Festival where she worked, recorded, performed and got to associate with the big people in the game. She recalls 'I met my mentor after all that and I wanted more! I wanted to give the best version of myself that I possibly could, so I started again' she narrates. She describes the music industry as the trickiest and toughest industry from her experience but if one is strong, resilient, patient and focused to top up their talent, then they are good to go. Tushi adds more to her list of pro-tips; "also find a mentor, you need someone with all the experience who has been there before to share some honest advice, guidance and criticism with you."
The famous Big Poppa by Notorious B.I.G is the most inspirational song to Tushi's career and personal life. "This song introduced me to rap. We had an argument with my brother, I had to challenge my big brother when I over-heard him rapping to it. The challenge was about me proving that rapping was way easier than singing by doing exactly what he did, and eventually I fell in love and got hooked. We never settled that challenge though!" she concludes with a smile.
The biggest challenge she has faced as a rapper is expectations, acceptance, exploitation and under pay. Tushi tells me she has never buried herself into Women's Day as she always takes Mother's Day "because the focus is always put on my mother on such days!" Tushi is a force to reckon with; her single Kajanja shows off her beautiful voice and talent. It is no secret that she is going places and determined not to look back. While no date has been set for any concerts, Tushi says she has something planned and will keep Andariya in the know.