It is no secret that the world is fighting a vicious war against an invisible enemy known as the Coronavirus. Asian countries like China and South Korea, that were first struck and suffered earlier damages, are now slowly returning to normal life while the catastrophe merely begins for the rest of the world. African countries in particular are expected to suffer the most damages if proactive responses and measures are not taken immediately. Most notably, every Ministry of Health must now prove itself and stand by its commitment to protect the well-being of its citizens. But for Sudan's Ministry of Health, the response to COVID-19 has raised questions of its competence, integrity and reliability.
Immediately after the first case and its death were announced on March 16, the government declared a month shutdown for all educational institutes. In the weeks that followed, another case was discovered and more entities were forced to close their doors. Awareness campaigns and advertisements were quickly set-up across telecom networks and the national TV station. Most recently, more cases have been discovered and several Sudanese returnees were put in isolation centers in the country. The government enforced a curfew limiting the movement of civilians in an attempt to contain the spread of the virus, followed by a complete lockdown starting on April 18th. The response of the ministry is laudable. Isolation centers are being established in every state of Sudan, help hotlines for case-reporting and enquires were created. Local affordable sanitizer is being concocted as a collaboration between different universities and the Ministry of Health and mobile-campaigns to raise public awareness about the virus are all impressive preventative efforts to combat the pandemic. The Ministry was quick to action but the results of their efforts are minute. Why?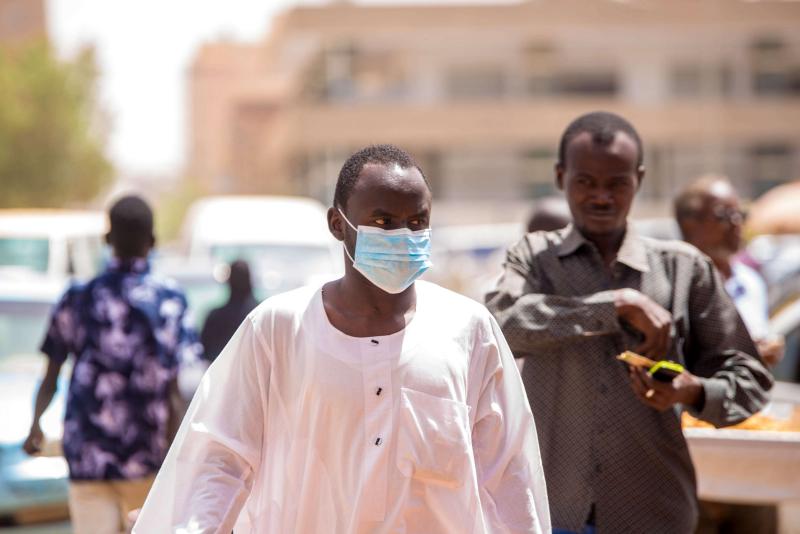 Image credit DPA via thearabweekly.com
Half-measures, Poor Planning and Lack of Transparency
For starters, many people are not complying with curfew laws nor following preventive protocols. Most particularly, the lower socio-economic segment of society that often works in the informal sector doing hard labor jobs like: tea-selling or 'kisra' selling, storekeepers that handle freight products or domestic workers. Such individuals earn less than standardized minimum-wage and simply cannot afford to stay at home nor purchase quality disinfection products. If this group is not specifically targeted, educated and protected against the virus, they have the capacity to spread it to an enormous amount of individuals, if they themselves are infected. These groups need a welfare system to encourage them to stay at home as well as provide for their basic human needs. In America and Canada, this kind of safety blanket is called "Employment Insurance". An identical system cannot be recreated here in Sudan, because the individuals who work these low-wage jobs do not have stable contract occupations that are insured. Nonetheless, the core principal of right-protection can be implemented in Sudan after careful study and consideration by the Ministry of Finance and the Ministry of Welfare & Social Development.
Until today, with a partial-lockdown in effect, these low-wage workers still roam the streets in the mornings, scampering to sell as much as possible before the dreaded hour of 12pm – the new curfew. They are gripped by fear of getting infected and equally so by the consciousness of their financial burdens. They could stay at home, but they simply cannot afford to. Although a partial-lockdown seems like a midway solution to allow these strata to earn and also stay safe, it completely defeats the purpose. In the few hours before the lockdown begins, thousands flood essential utilities like shops and petrol stations where they are at the highest risk to get infected. People spend their few "free hours" in highly contaminated and susceptible environments, only to return home and possibly infect their loved ones. Not to mention that after the lockdown begins, movement is in no way stopped – it is merely redirected to inner neighborhood lanes. The effectiveness of the lockdown approach is to entirely prohibit movement. Unfortunately, the MoH has missed the mark with its half-hearted measures and so have the Sudanese civilians.
Aside from financial security, another reason that explains the root of this civil disobedience is perhaps the lack of trust that millions of Sudanese harbor towards the Ministry of Health. This mistrust stems from the lack of transparency in the entire reporting of COVID-19 in Sudan. Majority of the news or facts obtained by everyday citizens were obtained through rumors or forwarded messages on social media apps like Facebook or WhatsApp. Had the Ministry actively updated everyone with accurate facts from the beginning, maybe the response to these calls of social distancing and staying at home could have been more instantaneous. Unfortunately, this lack of transparency doesn't end there.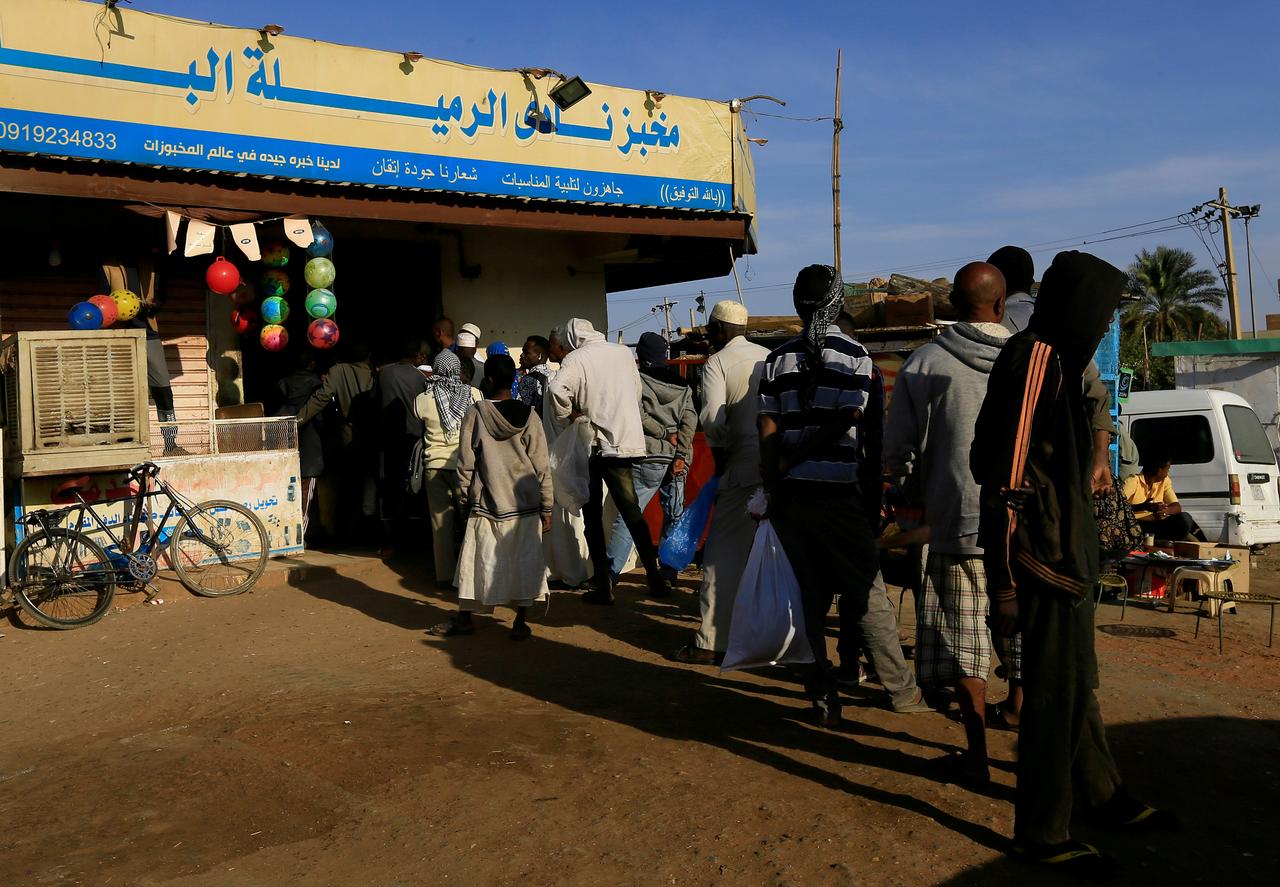 Image credit Reuters via aawsat.com
Quarantine Dilemma
With the influx of Sudanese returnees from all over the world, there were many reports circulating of people running away from isolation camps in hospitals or after being asked to take the test for COVID-19. Although many of these reports were initially dismissed as "fake news", evidence surfaced on foreign news outlets confirming these horrific claims. Why must we look abroad for facts about our own country? To make matters worse, until today the Ministry has not formally acknowledged nor addressed these issues which are crucial in their overall response to COVID-19. If runaways are not immediately quarantined and released when cleared, these individuals could potentially infect the entire population. From the transport bus they use, to the cup they drink in, to their family members that share the same homes.
These phantom cases are the most plausible explanation to the current surge in cases which now stands at 375[1] as opposed to its single digit days. When the one-month stay at home order was introduced, Sudan had only one case – a death. This meant that the MoH already started the race late. A response that should have begun with immediate disinfection campaigns and a total-lockdown, wasted time with media decorum and very poor follow-up on returnees - chronic symptoms of incomprehensive planning and communication from the Ministry of Health. Pre-emptive measures should have taken into account the diaspora's panic and "retreat mentality", respective facility and staff should have been properly established before Sudanese borders were ever re-opened.
The question that begs to be asked is: why would these returnees runaway? Are they intentionally attempting to spread the Coronavirus? Or was this an attempt to avoid the stigma associated with being quarantined? One witness reports that the facility set-up by the government and ministry to quarantine and isolate the returnees was ill-equipped and under-staffed [2]. Without the facility nor personnel, how were the quarantined expected to survive or even recover from COVID-19? As a matter of fact, the entire healthcare system suffers from those same ailments, so how does the Ministry of Health plan to tackle the outbreak on behalf of the Sudanese people?
Prevention is the only Salvation
For now, it seems that the only active response is prevention. And while prevention is better than cure and incredibly effective, it will never equal cure. Governments across Africa are busy placing their hands over their heads begging citizens to stay at home and disinfect but this will never change the inevitable - there will be severe and critical Coronavirus cases. When that happens, where is the medical equipment, qualified staff and de-stigmatized community that will help those patients overcome the illness?
It is evident that healthcare systems across Africa and particularly Sudan are fragile and in no position to combat the Coronavirus. However, the Sudanese government and Ministry of Health must utilize the head-start and lockdown state of the country to stock up on medical equipment, train personnel and set-up health facilities. Of course these tasks are not completed over-night nor alone. Considering that these are hefty financial commitments, the Ministry should partner with private hospitals and businesses to create these reserves until government owned ones are compiled. So what has the ministry done to address this shortage? They asked for $120 million dollars to respond [3]. Not only is this number ridiculously high and suspicious, it is also not the solution.
Firstly, the ministry has already received financial aid from various NGOs operating in Sudan. For example, the UN Children's Fund (UNICEF) has mobilized $370,000 for Infection Prevention and Control supplies for use in points of entries to Sudan as well as in ambulances. An additional $200,000 has been mobilized for communications to prevent the spread of the outbreak. The Sudan Humanitarian Fund has allocated $500,000 to support COVID-19 preparedness in Sudan. Moreover, the Sudanese private sector has contributed nearly $2 million as a first payment in support of the response. Finally, a study conducted by the Ministry of Health itself with guidance from the World Health Organization (WHO) estimated a $44 million needed for response against the virus [4]. What this proves is that although money is a gigantic factor to consider in the COVID-19 response, it is futile and ineffective without a detailed strategy to counter the outbreak. More importantly, considering the funding already provided to battle the virus in Sudan and inconsistency in financial estimations made, it is feared that the situation may be abused to embezzle money under the guise of COVID-19 response. No one is claiming that that is the case, but the concern is a valid one nonetheless.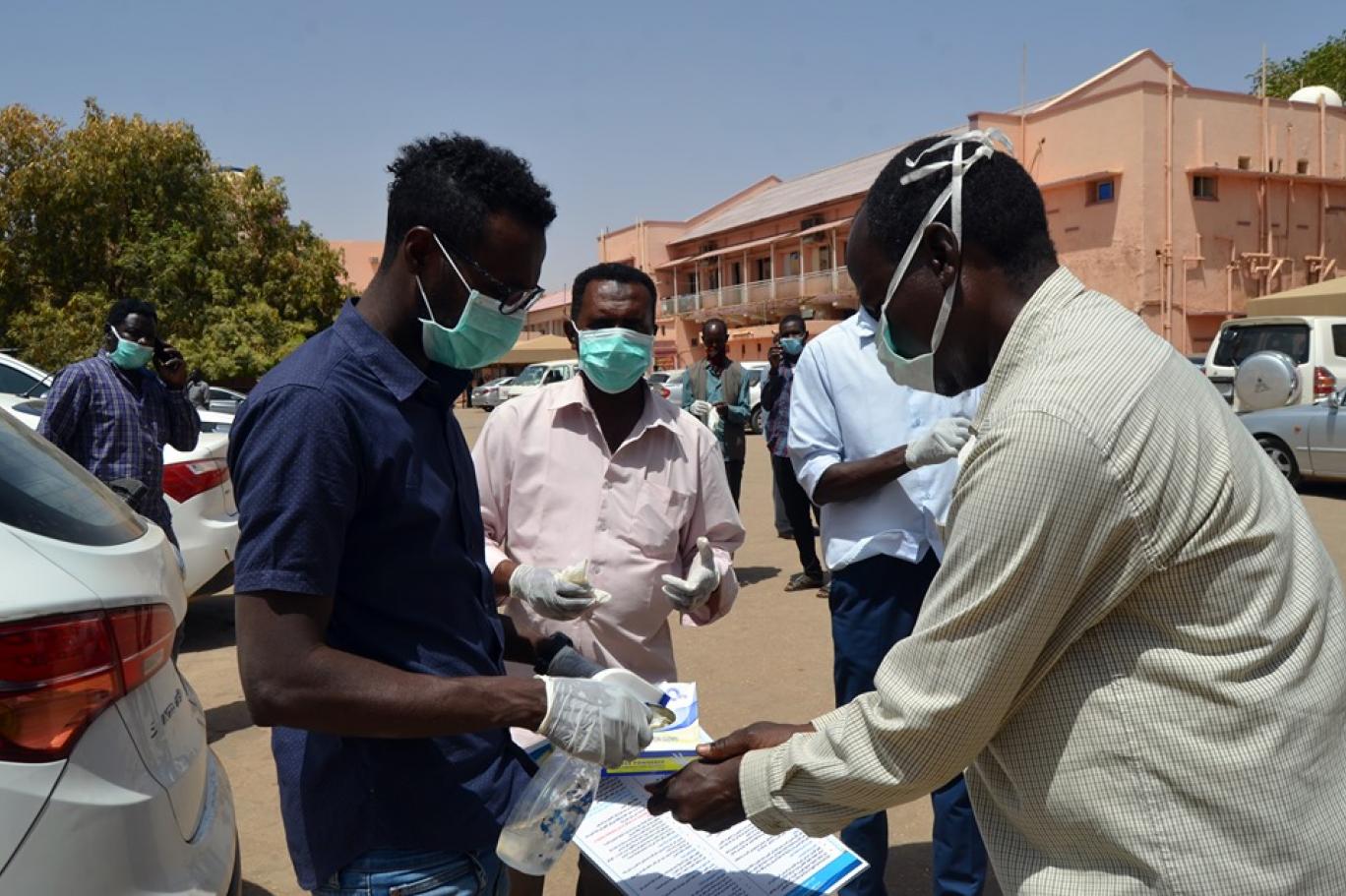 Image credit: Hassan Hamid via independentarabia.com
The Ministry must now construct a comprehensive strategy to combat the ailment. It must clearly outline how expected funds will be delegated and how these investments will contribute to curbing the outbreak as well as improving the overall health system. This document should be shared on their website for public opinion to be taken into consideration and should be rigorously examined by experts in the field of health emergency response. Most importantly, this document must be written in a clear and informative manner unlike several of the reports provided by the Ministry. For instance, everyday a status quo report is released by the ministry regarding the current number of active and suspected Coronavirus cases. However, these reports are riddled with data-gaps and written in such a complicated structure that a reader ends the report without any added information nor understanding of the current situation – not to mention the chasm between the critical information in the report that is neglected by the media.
For example, early update reports mentioned several suspected cases that were released and to be monitored via phone calls. However, majority of these individuals gave false numbers or would not return the calls of the ministry. Ultimately, vanishing into the wind without a trace nor record. These second-wave phantom cases are also to blame for the horrifying rise in cases. Most importantly, the MoH should have had stricter policies in place to eliminate such systematic loop-holes.
Aside from the financial aspect and quality of health facilities, other countries prove that the fight against COVID-19 is a team-effort. Lombardy, Italy was famous for its top-tier medical facilities and professionals. Today, hospitals there are overwhelmed and more doctors are dying of the very illness they are treating than counterparts in Wuhan, the previous epicenter of the virus. First world countries like America and the United Kingdom are barely providing adequate care to infected citizens if not ignoring a considerable amount of people. Despite tough laws to implement social distancing, extensive observation of suspected cases and having fully-furnished quarantine centers, these advanced countries are quickly drowning in their response to COVID-19. The driving force that is exhausting their medical capacity is the fact that their citizens are not complying with preventative protocols. This is leading to the rampant spread of the virus within their communities. What these examples prove is that no amount of funding nor medical facilities can win the battle against COVID-19 unless it is coupled with robust nationwide preventative measures. When everyone plays their role – the government, ministries, private sector and civilians – the pandemic can be successfully chased out.
Together against Coronavirus
The Sudanese people must look past their differences with the current government and ministry and focus on upholding their responsibilities. Staying at home, washing your hands and even raising the awareness of others about the virus whenever possible are all critical behaviors. Ultimately, waiting for the Ministry of Health to spoon-feed every individual a cure or high-quality medical care is not only fictitious but unprofitable. After all, it is better to prevent than to cure. Particularly in the case of COVID-19 where a cure is not yet a viable option.
Despite the shortcomings and holes in the Ministry of Health's earlier response, there is still plenty of time on the clock to overcome COVID-19. This outbreak, as devastating as it may be, presents an opportunity for the Sudanese Ministry of Health to redeem itself and re-gain nationwide respect and confidence. Retrospectively, the Sudanese Ministry of Health is actively responding, regardless of its elaborated drawbacks, but this alone is not effective enough to eradicate the novel Coronavirus. Nationwide cooperation, in-depth strategy and transparent communication are the way to defeat this pandemic and minimize human casualties.
References:
1. Worldometers. (2020). Coronavirus Updates. Taken from https://www.worldometers.info/coronavirus/
2. Middle East Eye.(2020). Coronavirus: In Sudan, confusion reigns as hundreds escape quarantine centres. Taken from https://www.middleeasteye.net/news/coronavirus-sudan-confusion-reigns-hundreds-escape-quarantine
3. Reuters. (2020). Sudan's health minister says country needs $120 million to fight coronavirus. Taken from https://www.reuters.com/article/us-health-coronavirus-sudan/sudans-health-minister-says-country-needs-120-million-to-fight-coronavirus-idUSKCN21T0SY
4. Radio Dabanga. (2020). OCHA Sudan: Response plan to combat the spread of coronavirus. Quoted from https://www.dabangasudan.org/en/relief-news/article/ocha-sudan-response-plan-to-combat-the-spread-of-coronavirus