Today we are witnessing a shift in the global energy landscape away from fossil fuels and towards renewable energy sources. However, this transition needs massive flows of funds in order to accelerate the process. For example, the International Renewable Energy Agency (IRENA) estimated that to fully exploit Africa's significant potential of renewable energy, USD 32 billion will be needed on average every year from 2015 to 2030 [1]. The Figure below illustrates the evolution of annual investment in some renewable energy technologies between 2013 & 2016. [2]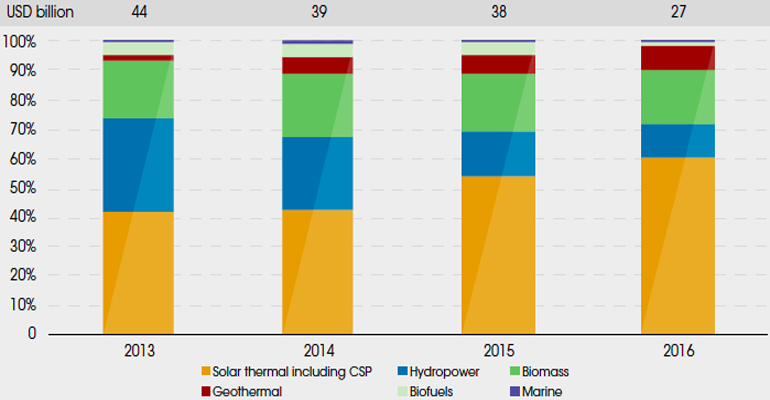 Annual investment of some Renewable Energy technologies (IRENA)
There are three main reasons that should encourage the Sudanese government to invest in renewable energies instead of fossil fuel
projects: energy security, energy equity, environmental sustainability and economical/social benefits.
Energy Equity: currently about 35% of the Sudanese population has access to electricity [3], and the expansion of the national electrical grid is not feasible due to technical and economical restrictions. Renewable energy supply models can provide the opportunities needed for improved off-grid rural electrification as well as to reach remote isolated areas.
Energy Security: electricity generation is provided by a mix of hydro-power and thermal generation using refined oil products that mainly operate by diesel /gas turbines which incur high electricity costs due to high fuel expenses. Also, most of the Diesel is imported which makes Sudan energy dependent on the diesel providers' political relationship. Utilizing renewable energy will increase security through the diversification of energy sources (Solar/Hydro/Biomass) and decentralization of energy sources, which in turn can make the energy system less vulnerable to energy supply breakdowns due to improved system resilience.
Economic/social benefits: the current energy system incurs high electricity costs due to high fuel expenses. Furthermore, the dependency on expensive, sometimes unavailable, fossil fuels is one of the main barriers for sustainable development in rural areas. High costs lead to insufficient energy supply which in turn impedes economic development. Utilizing locally-available renewable resources can contribute to economical development.
Environmental sustainability: Sudan is extremely vulnerable to climate change with more than 70% of the population living in rural areas and dependent on natural resources that are extremely sensitive to climate change [4]. Food security- which is determined by rainfall rates in these areas- has become erratically and increasingly unpredictable. Inserting clean energy elements in the national energy mix can contribute towards de-carbonization and will reduce local environmental degradation.
The Sudanese government stated in its Intended National Determined Contribution (INDC) document to the United Nations Framework Convention on Climate Change (UNFCCC) its intention to integrate renewable energy in the power system of the Sudan. The government set a target of 20% by 2030 (including a 1000 MW Grid-connected wind energy, 1000 MW Solar PV, and 100 MW Solar CSP Technology) [5] . The private Sector has -globally – played a vital role in accelerating the energy transition process under the framework of governmental policies and legislation. In Sudan there is currently more than 30 companies and startup enterprises that began working in solar systems and the number is increasing [6]. However, private market growth is constrained by governmental laws and regulations; for example the government's thermal/hydro power generation companies are the sole ones responsible for electricity generation. A good example from a neighboring country, Egypt, is the Renewable Feed-in-Tariff Framework which proposed providing loans to 10-15 individual private developers for a total amount of up to USD 500 million to finance the construction and operation of renewable energy projects in Egypt (such as solar photovoltaic plants of 20-50 MW capacity) [7] . To achieve these goals the government has to use potential financial tools, including direct grants and investment, loans and tax incentives to help improve the financial plans of initial investment.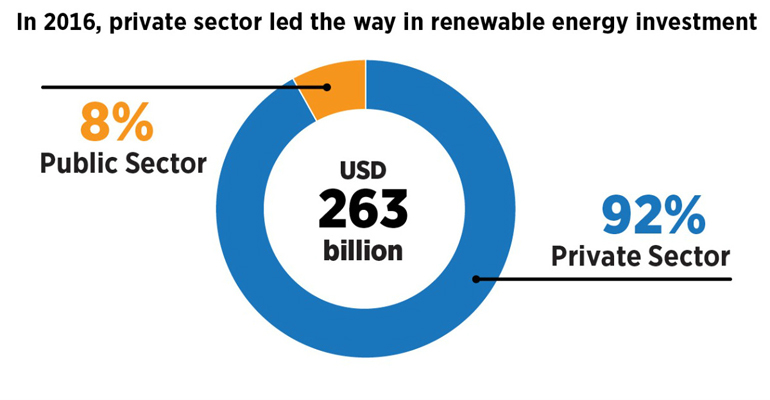 SourcE: IRENA
At the moment, the Sudanese government offers no subsidy programs for renewable/alternative energy. However there is currently a tax-exemption for importing solar panels. The Renewable Energy Policy draft prepared by The Renewable and Alternative Energy administration is meant to catalyze the process and facilitate the engagement of the private sector by easing the import process of renewable energy equipment. Personally, I believe that Sudan has a great opportunity to use the global social and environmental
goodwill to access financial and technical resources to accelerate the energy transition process. For example the Green Climate Fund (GCF) fund reached US$10.6 billion in 2015. But first, Sudan has to develop the right strategic and design procedures in order to best deploy theses funding resources in the transition process.
References:
1- UNTAPPED POTENTIAL FOR CLIMATE ACTION RENEWABLE ENERGY IN NATIONALLY DETERMINED CONTRIBUTIONS, IRENA,
2- Global Landscape of renewable energy finance, IRENA , 2018.
3- Long and medium term Power System plans, ministry of water resources and electricity
4- Sudan Second national communication under the United. Nation Framework Convention on Climate Change
5- Intended Nationally determined contribution (INDCs) – Republic of Sudan
6- Unofficial Market Survey by Sudanese Solar Energy Society.
7- Egypt Renewable Feed-In-Tariff Framework, European Bank For reconstruction and Development
(https://www.ebrd.com/work-with-us/projects/esia/egypt-renewable-feedintariff-framework.html)