Interest in fine arts in South Sudan is still very limited compared to other forms of art. Many questions regarding fine art remain unanswered; especially in the absence of specialized institutions that host continuous activities, except for the Faculty of Arts at the University of Juba and some of the associations and gatherings established by the artists themselves. Nevertheless, in the capital Juba, a remarkable movement has seen the light, aiming at creating a cultural and artistic environment. The movement is led by youth groups who took the helm in introducing fine art through beautiful innovative works that reflect the local African identity, heritage and cultures. Moreover, the art produced by these groups also focuses on political issues and social problems through paintings, sculptures and drawings
that breathe life and creativity.
A number of names come to mind when speaking about the young generation of artists, such as: Akot Deng, Thomas Dai, Abul Oyay, Suleiman Ahmed, Jalpan Bol, Sarah Juma, Emmanuel Michael and others. Most of these artists studied arts or other disciplines at Juba University. In this article we present to you a glimpse into the worlds of these artists who span professional and amateur ranges.
Akot Deng
Akot Deng is a fine arts painter, also known as Akot Solip, residing in Juba. He has recently graduated from the Faculty of Arts at the University of Juba, and is active in literary and artistic societies and forums.
He began drawing since he was in elementary school and continued to develop his talent until he entered the Faculty of Arts at the University of Juba, where he learned the theoretical aspects of various art schools. "I started painting since I was at elementary school, and I wanted to choose between studying arts and engineering. However I was more inclined to art, and thank God I could study it later in college," he says.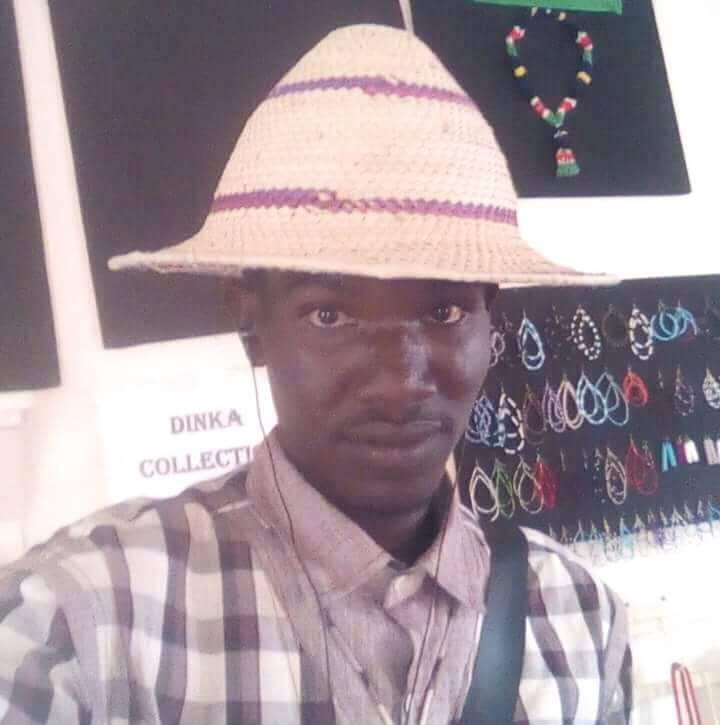 Akot participated in various exhibitions inside and outside the university. His style combines realism and abstract art. Through his pieces, he tackles issues and topics related to children and women because they are the most affected by wars and crises. He often draws paintings that depict the current political circumstances. "I have drawn a picture in 2014 about the political state, and it was received positively. I called it Black Disaster. The painting has many dimensions. If you look at it, you will see the face of a character, but if you look closely, you will see many scenes and drawings expressing the crisis".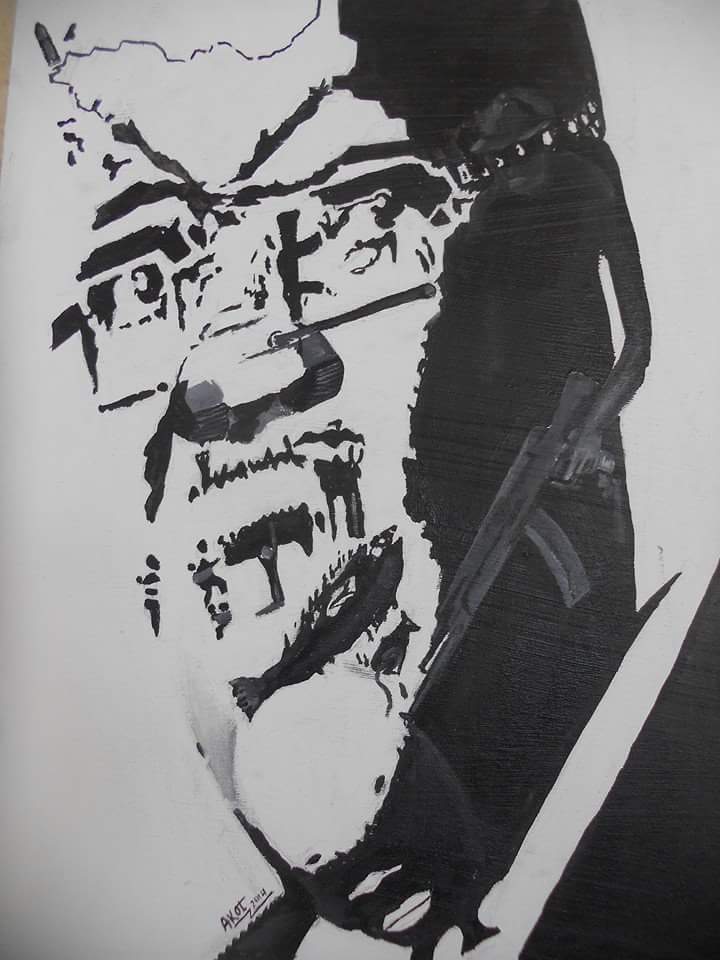 Akot thinks the biggest challenge facing fine art professionals is the lack of interest in the arts, in addition to the lack of tools and materials, which are usually imported from abroad at high prices. The absence of an entity that brings together fine artists is also an issue. Nonetheless, he said that they are seeking to establish a body that brings artists together.
You can contact Akot via his Facebook account Akot Solip.
Abul Oyay
Abul Oyay is a female artist born in the Gambela region of Ethiopia in the late 80s to a South-Sudanese father and an Ethiopian mother. She spent her early years moving among many parts of the South at a time when war was intense throughout the region. She spent her childhood years away from her mother's
arms and father's care. Her father, Oyay Deng Ajak, was a leader in the Sudan People's Liberation Army (SPLA), which was leading an armed revolt against the
government in Khartoum.
She started her schooling in Renk in the South of Upper-Nile state. She describes her early beginnings by saying: "I've always been like any typical rural child, spending time swimming in the river and going to the neighboring forests. My life was wonderful".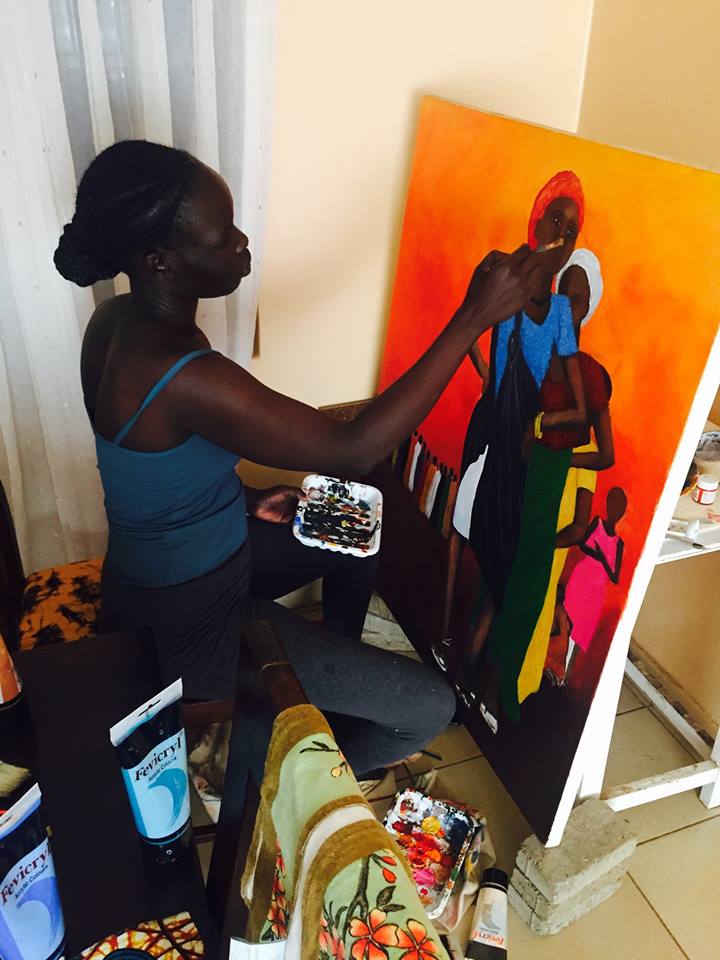 Oyay became more interested in art when she joined the Uganda-based "Green Hill" academy to learn arts and became involved in painting. She recalls that
period "during schooling years, you do it just to pass through the semester's final exam and get excellent marks." She finally started taking care of her
artistic talent, while she was in London studying Business Management. She added "I started painting seriously in 2010. I was able to buy most of the tools
and raw materials I needed. I drew the first piece and sent it to my father, who in turn contacted me back and encouraged me a lot."
Thomas Dai
Thomas Dai (Tom Dai) is a fine artist and cartoonist based in Juba. He graduated from the Faculty of Economics at Juba University and specialized in Statistics
in 2008. He currently works as a civil servant. Thomas also worked as a cartoonist in a number of newspapers in Sudan and South Sudan, such as: Al-Dar,
Khartoum Monitor, and Sudan Tribune, along with "Al-Maseer" and "Al-Mawgef" newspapers. He is currently working at Juba Monitor English newspaper, where he publishes his caricatures and satire on a daily basis.
"I started drawing from an early age, and I still learn new things from painting every day," Dai says of his drawing experience. "I did not study drawing, but I like to present myself as an artist, because art is what brings me together with people."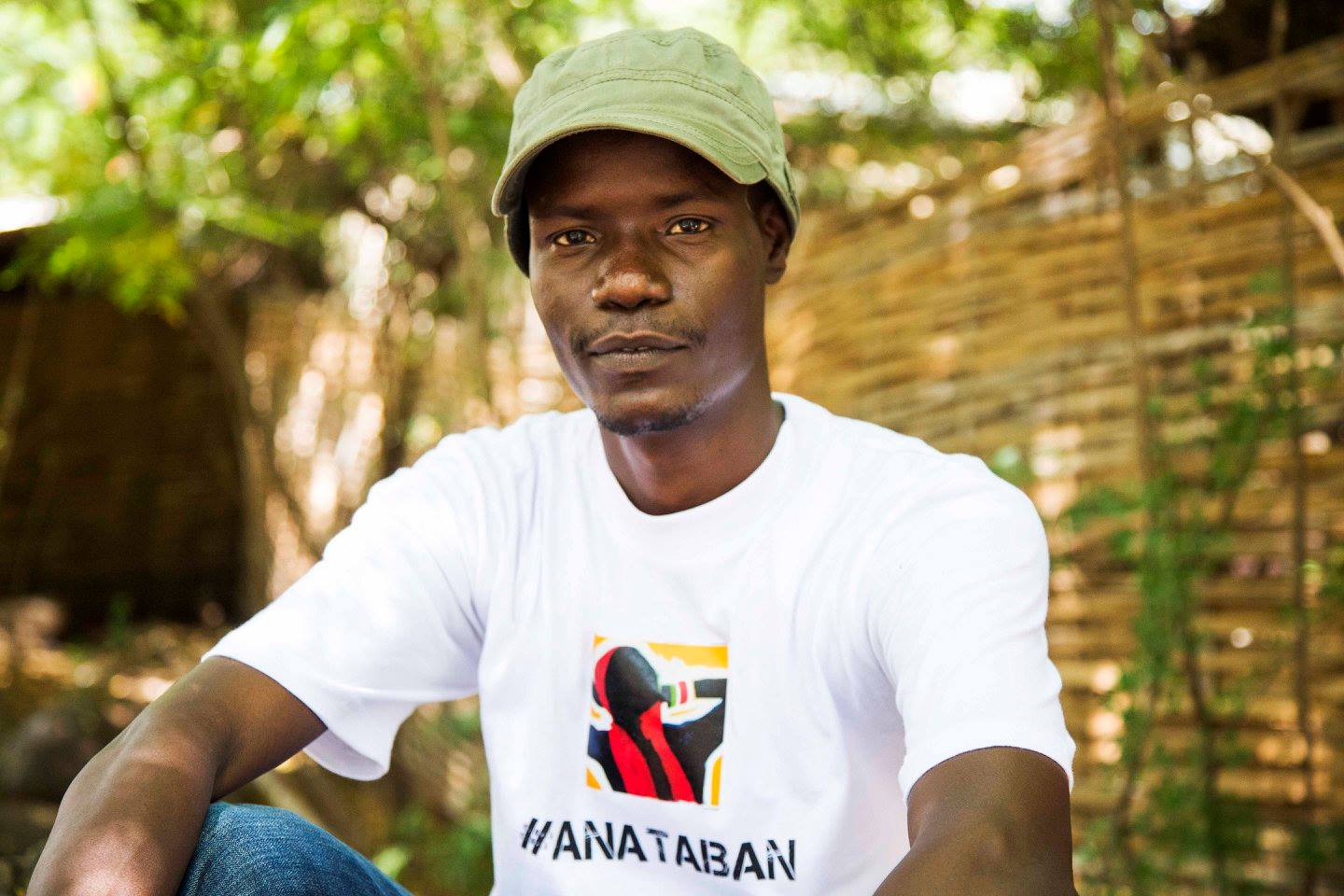 Tom Dai speaks through his drawings about the issues that face regular simple people on a daily basis. He adds: "my cartoons and drawings always tend to raise issues that are of interest to citizens so that they can be heard by the officials."
Dai says that as artists they find it hard to find drawing tools, and struggle to buy colors and brushes from Uganda. He pointed out that fine art is not as popular among the public, so most artists don't do direct business and sales with the public. Dai added "we do not paint only for money, but painting
has become an identity and a breather for us."
For more information on Tom Dai, visit his page on Facebook: Tom Dai Dai.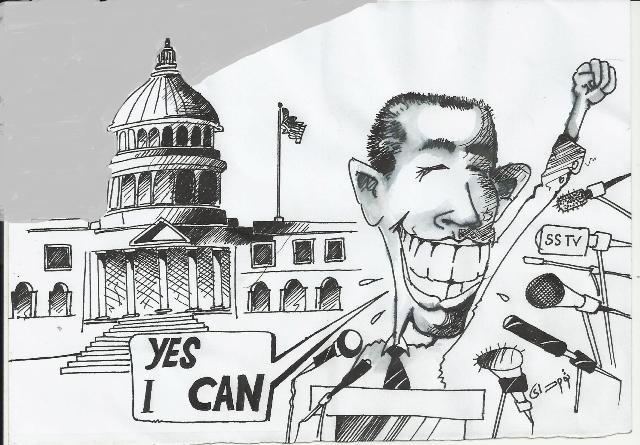 Jalpan Bol
Jalpan Bol Ottour is a 24-year-old artist who lives in Juba and studies Computer Science at the University of Juba. He is known for his realistic drawings and sketches of portraits. He noted "I started painting since I was young, using pencils and colors. In Juba, I've been drawing continuously since 2014". Adding "I'm trying to make a difference with my drawings. Through my work, I speak of historical themes as well as realistic pictures and observations."
For more information, you can follow his Facebook page: Jalpan Bol.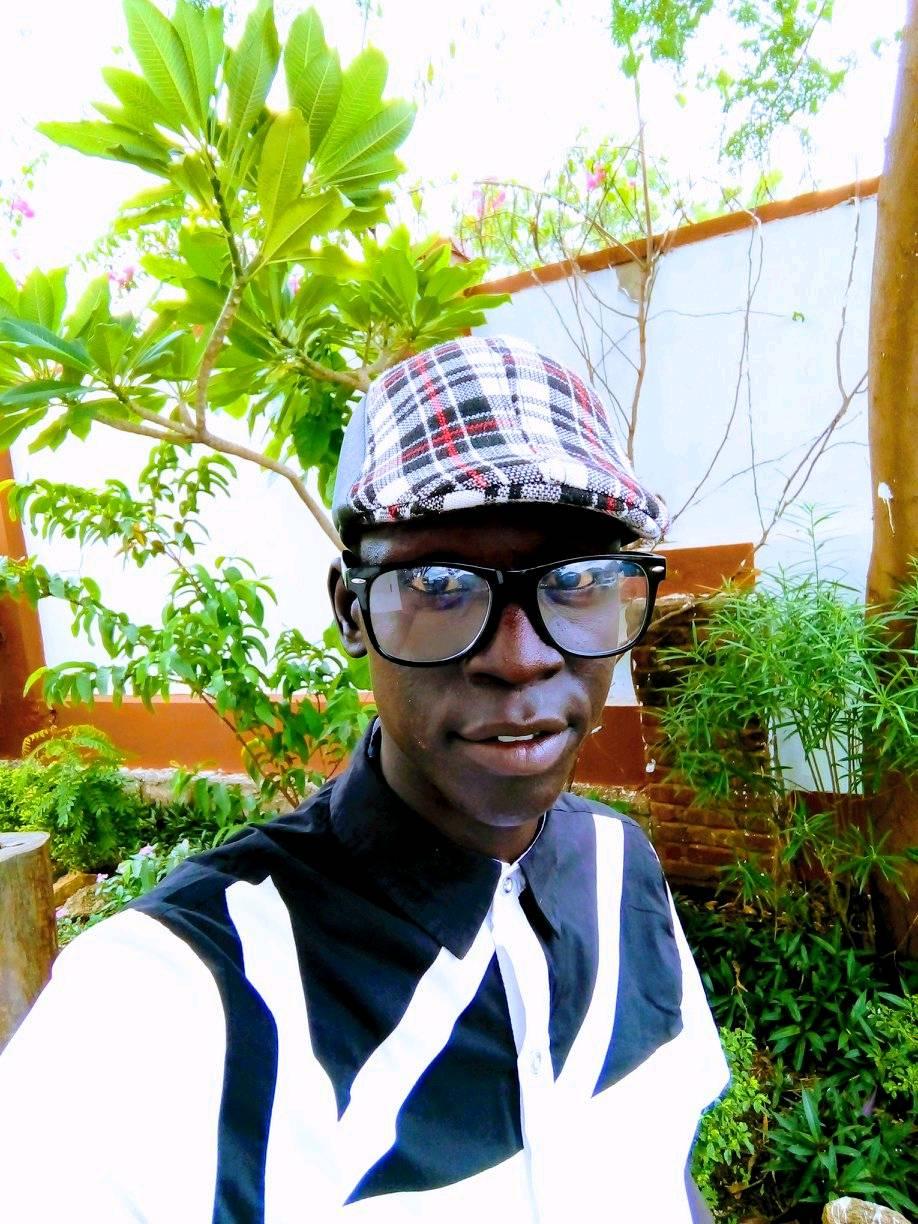 Sara Juma Anjlo
Sara Juma Anjlo is an artist based in Juba. She graduated from Juba University in 2010, but started drawing at a young age. Sara recalls "since my early childhood I used to paint and during my primary school, I used to doodle and draw during classes. Teachers used to get upset and ask me to focus on the
lessons."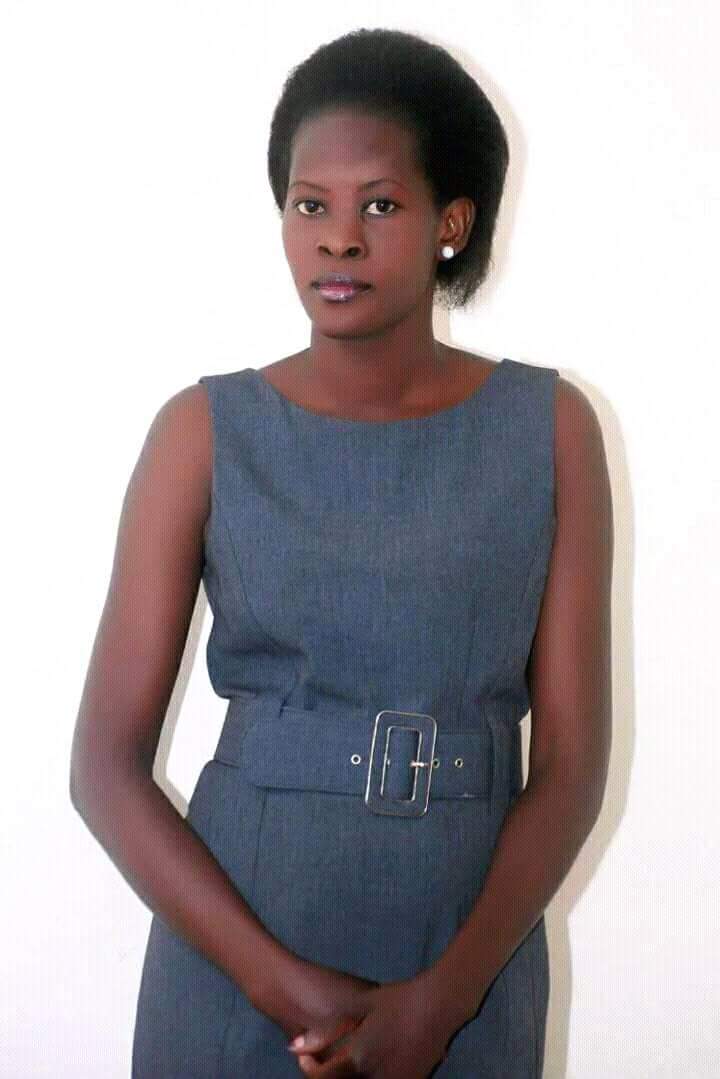 She adds: "I was the only Southerner and Christian girl in the Abu-Anja school when I participated in the drawing competition and won the prize. The school administration refused to award me the prize for unfair considerations, and they kept the prize in the management offices. I was affected by this
situation".
Sarah says that art is more powerful than any other major; the artist is able to convey messages of peace, love and beauty through art. She added that the artist should always be prepared to answer questions and queries from people, excite the masses, satisfy tastes, and give them enough appeal to accept your work.
Sarah also revealed some of the annoyances that artists face in South Sudan; "sometimes someone can come to you and find you busy drawing yet ask what you want to do with the painting."
Sarah has a Facebook account: Sara Juma Anjlo.
Emmanuel Michael (Mawkly)
Emmanuel Michael –also known as Mawkly – is a young artist born in 1991 and currently residing in Juba. He is currently preparing to study engineering
at the university.
Mawkly started to draw a long time ago, and continues to present new ideas when he participates in art exhibitions held in Juba. He described his journey noting "I started to draw in 2002, but did not find encouragement at first from the family, but I continued to paint until I got to what I am today".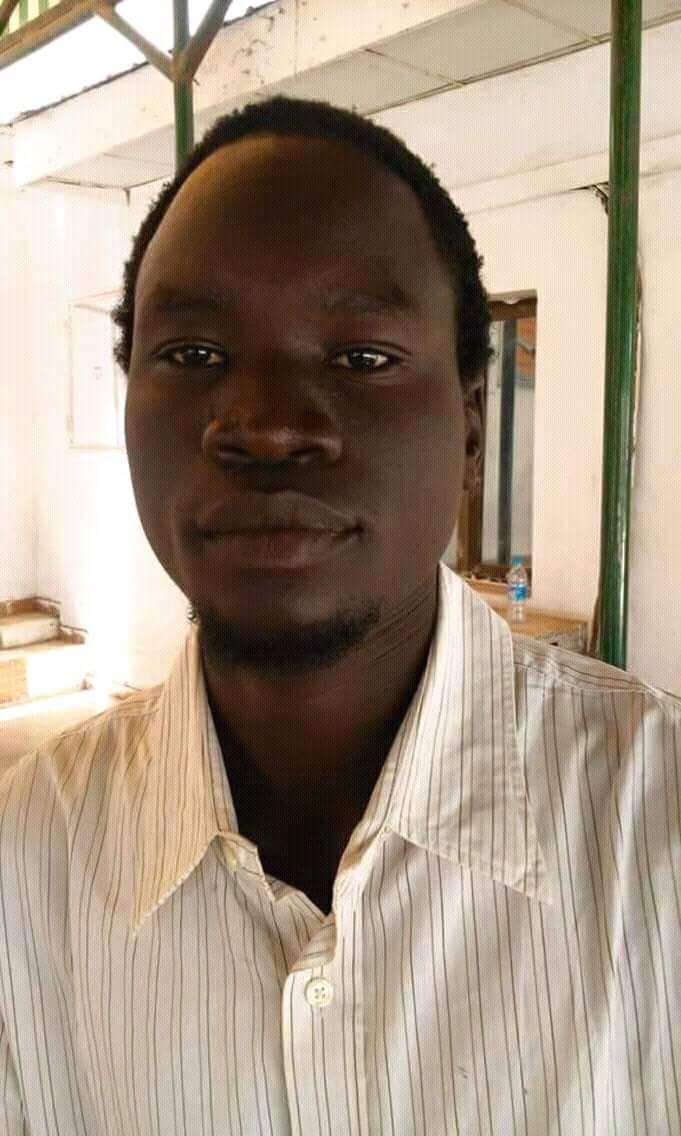 With his drawings, Mawkly addresses issues related to women, noting "most of my drawings deal with the issues of women in the country, as well as other works that address the general life situations." Adding, "I invite my young peers, especially those who are talented in drawing, to work
hard to develop their talent."
You can communicate with him via his Facebook account: Mawkly
Sulieman Ahmed
Sulieman Ahmed Morjan, is an artist, songwriter and poet. He studies administration at Juba University. Sulieman discovered his talent in painting early on and was influenced by great artists.
He faced troubles with his family at the very beginning, because they wished for him to study medicine. He said: "my family hoped I studied to become a doctor, while I was trying to study arts. Nonetheless, I studied administration, but I continued doing art because it was running through my veins. I am in the
College of Management now, but I am fond of art. Art means everything to me."
https://res.cloudinary.com/andariya/image/upload/v1530722182/qcrgehloo8uuulgwv7f7.jpg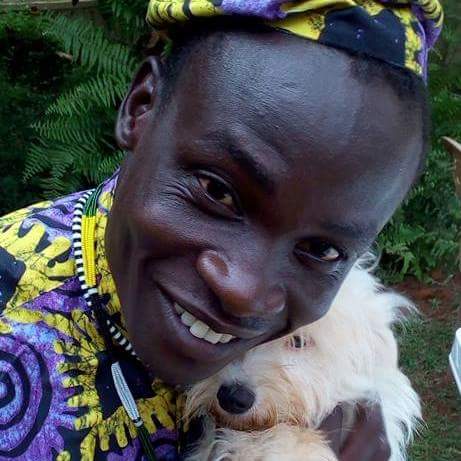 In his drawings, Sulieman often addresses topics related to social and family life, and tends to paint abstract paintings although he began with realistic drawings. He continues "we display the paintings we draw at Studio One in Juba, and anyone who wants to see them can visit the studio."
For further information about Sulieman, you can reach out on Facebook: Sulieman Ahmed Morjan or via email: Suliemanmorjan@gmail.com
Winnie Gode
Winnie Gode is a South Sudanese men, women and children fashion designer who lives in Juba and runs a fashion shop in Moniki District, west of Juba. She taught herself the art of fashion design and practiced then took short courses in design and sewing.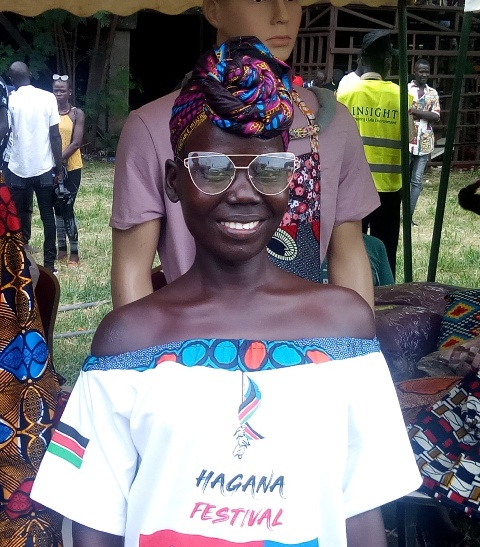 Winnie commented on her art "I did not study fashion design at the university, but I learned from practice and effort. I was reading books on fashion design, and later, I did short courses on design and sewing." Winnie says that the economic crisis in the country has affected her work and the promotion of the commodities, adding "we import fabrics and tools for tailoring and sewing from abroad in hard currency, and this is a major challenge for us."
You can follow Winnie on Facebook: Winnie Gode, or visit the Facebook page Winnie Vision, where she shows her designs.